It was just a blind shot. The name of the Riviera stop promisingly resembled a chance to soak blisters in a beautiful lagoon. The trail from Gnejma Bay through Qarraba Bay to Popeye, however, after crossing, is perhaps the most beautiful walking trail in Malta.
More beautiful and challenging than Dingli, wilder and more desolate than the cliffs of the Blue Lagoon on Comino Island.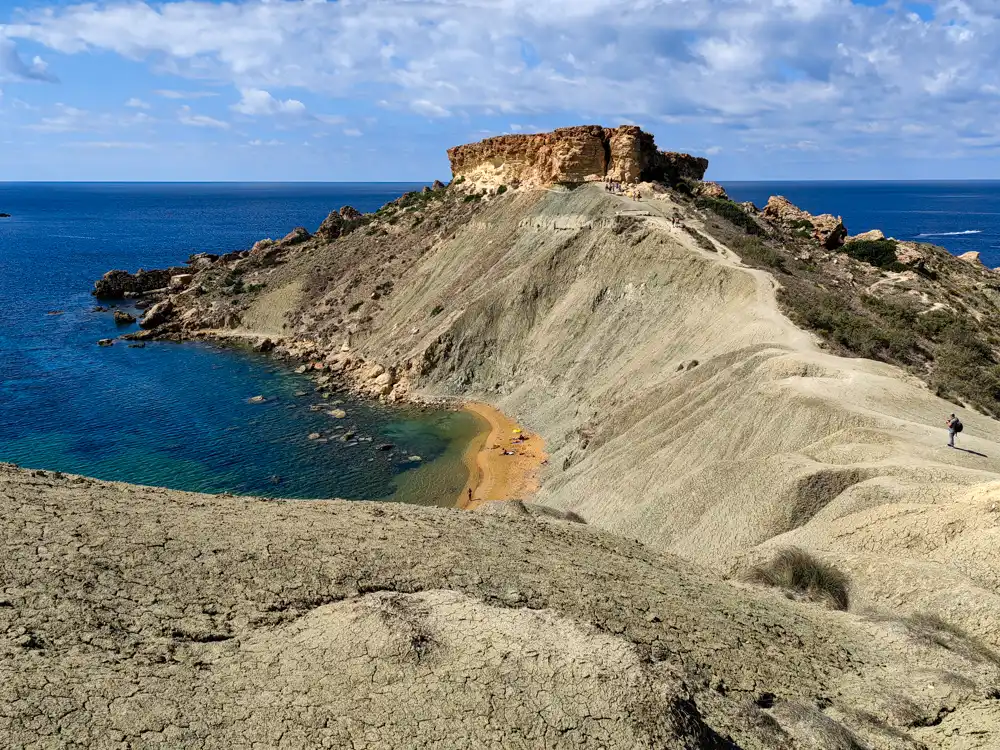 Radisson Blue Golden Bay
There is only one perfect hotel and a nature reserve around you and numbered maniacs dragging heavy tyres up the slope from the beach to the hotel.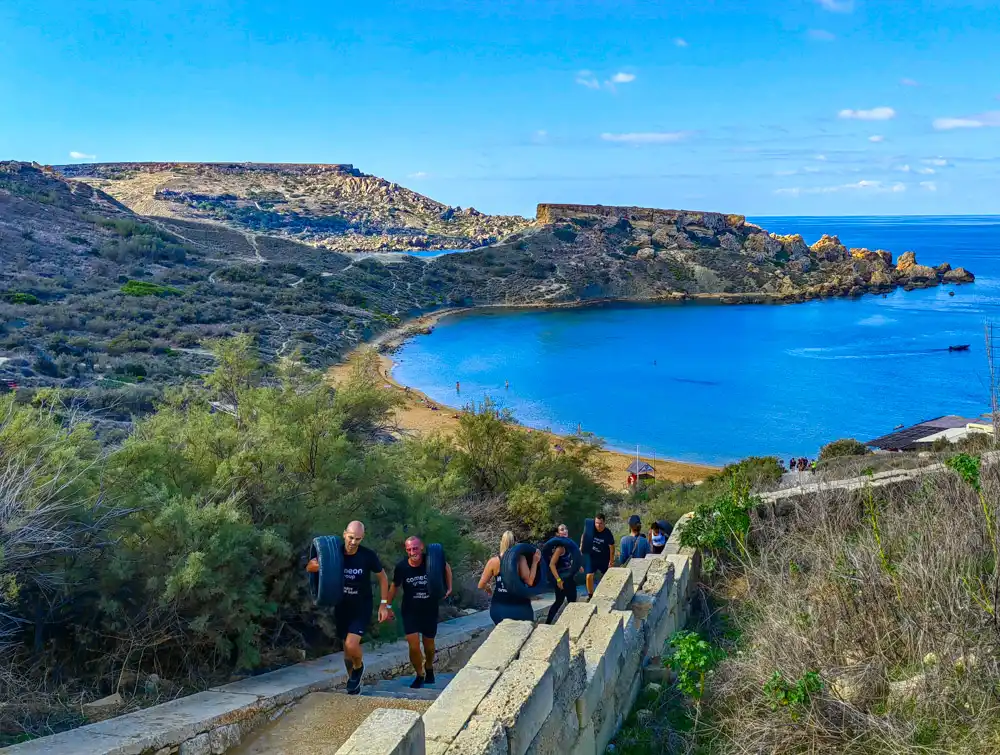 Others running down the slope were jumping over metre-high hurdles. Wherever you looked, there was someone in motion. It was immediately apparent that this was not an eco-friendly rubber waste collection. As I approached one of the stands, the answer was clear.
Dumb luck. I had just become a passive participant in the Red Bull Pokerstars ultra race in Malta. I looked exhausted because the young hostesses offered me a Red Bull and a glass of water, but I proudly declined.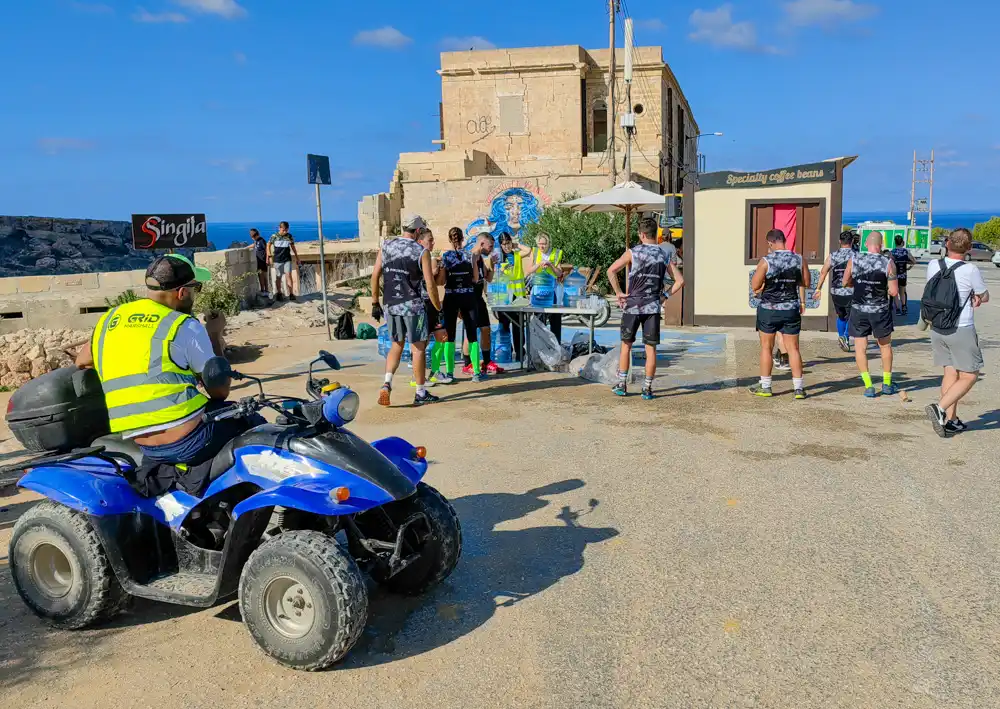 Il Quarraba
Neither the beginning of the trail, nor the end. The first time you see the headland, something draws you to it. Could it be the vast weathered rock or the play of light and shadows? I don't know what gave this piece of land that cosmic feel. The sea, the sea, I had to go all the way under the rock.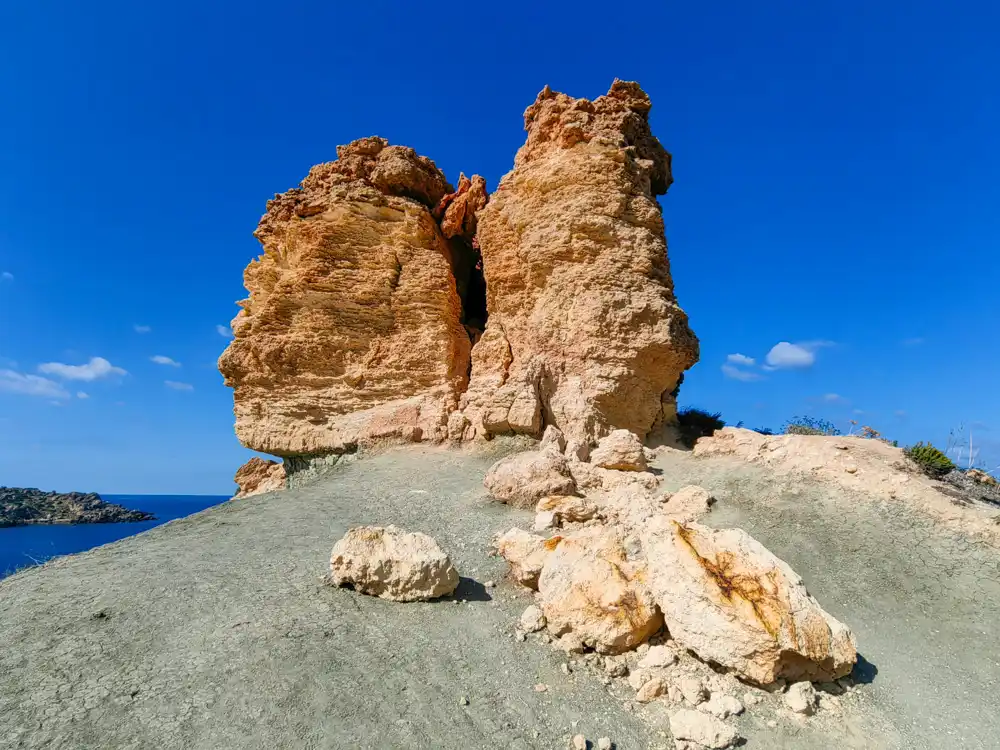 Canyon of Fallen Rocks
I'm figuring out how to call this route something other than a canyon. Although it is not a canyon. Every step opens up a new panorama.
You can only guess how many millions of years it took that rock to form this phenomenon. I don't mean the sea or even the people. I'm alone here, wondering how I will climb over the next meter-high rock. I choose it over the navel. Good thing it's soft enough, and my legs and arms are free.
No. I wouldn't make a climber. But I have to give this one.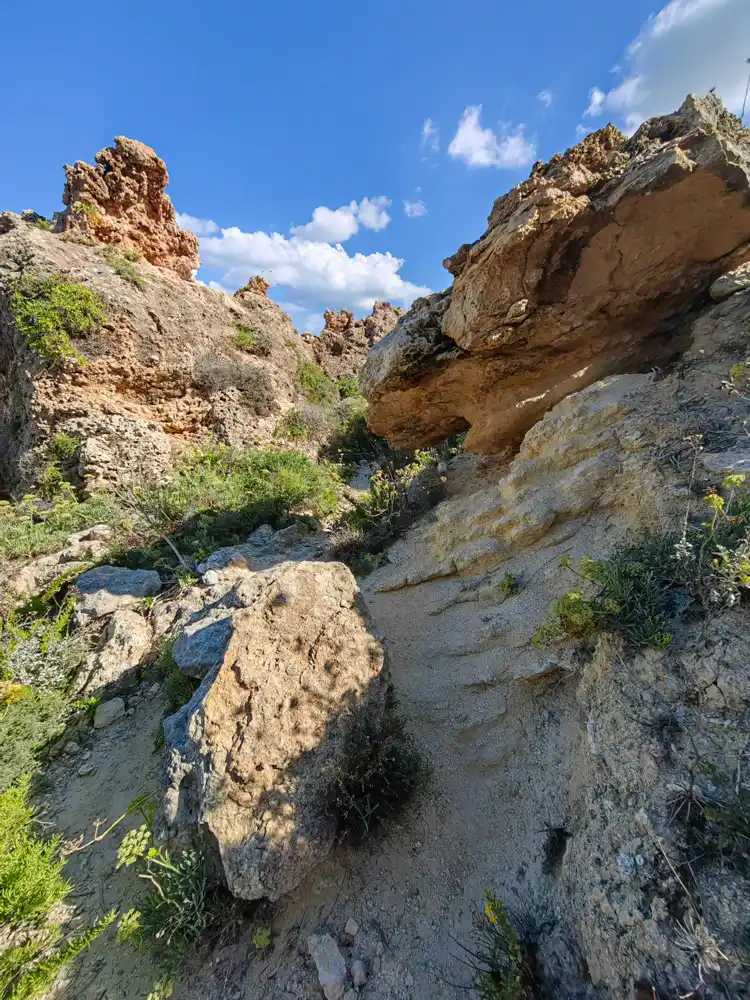 Don't drink tap water
Something like civilisation looms in the distance at the end of the cliffs. That's what I call infrastructure. I can see stalls at the end of the rocks selling magnets, towels, mugs and souvenirs. A fridge with Coca-Cola and frozen popsicles. Pieces of pizza. They even take credit cards. Who built this place and for whom? The sun is over 38°C today, and I haven't eaten yet. Not too bad for October. From afar, I can already make out the smiling face of the salesman: "Enjoy."
He offers me everything. Magnets in a thousand ways. Sea and rocks, sea and sky, sea and Valletta, sea and coral, sea and sea,… and I love Malta. All are on sale for 4€. Cisk, Heineken, Sprite and Coca-Cola in the freezer in cans for 2€. They also have a portable toilet. 50 cents. Super location here at the end of the canyon. Who the hell thought to set up a stand here? At the end of the world. Well, nothing. High temperatures, indigestion, and dehydration can do great things to the imagination. Another rock. All I have to do is move on.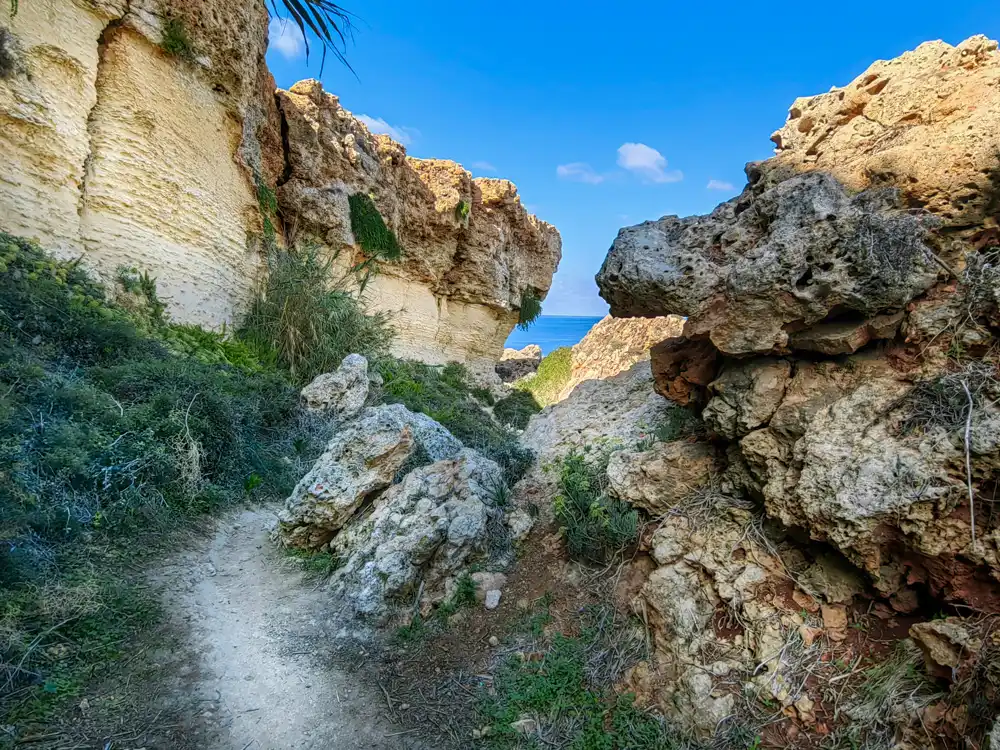 Strange. For once, I'm in no hurry to get anywhere. I'm here alone, and it's quiet. It's monumental. Nothing is rushing me. I sit on a rock and watch the sea. Not even a splash.
I'm here alone because most tourists give up on the rock. There are those bans and warnings again. It's bigger than I anticipated. I hesitate to make it over those several feet of rock. However, there are more fools like this, and they have already relocated the trail. I start climbing, but I really have a big belly.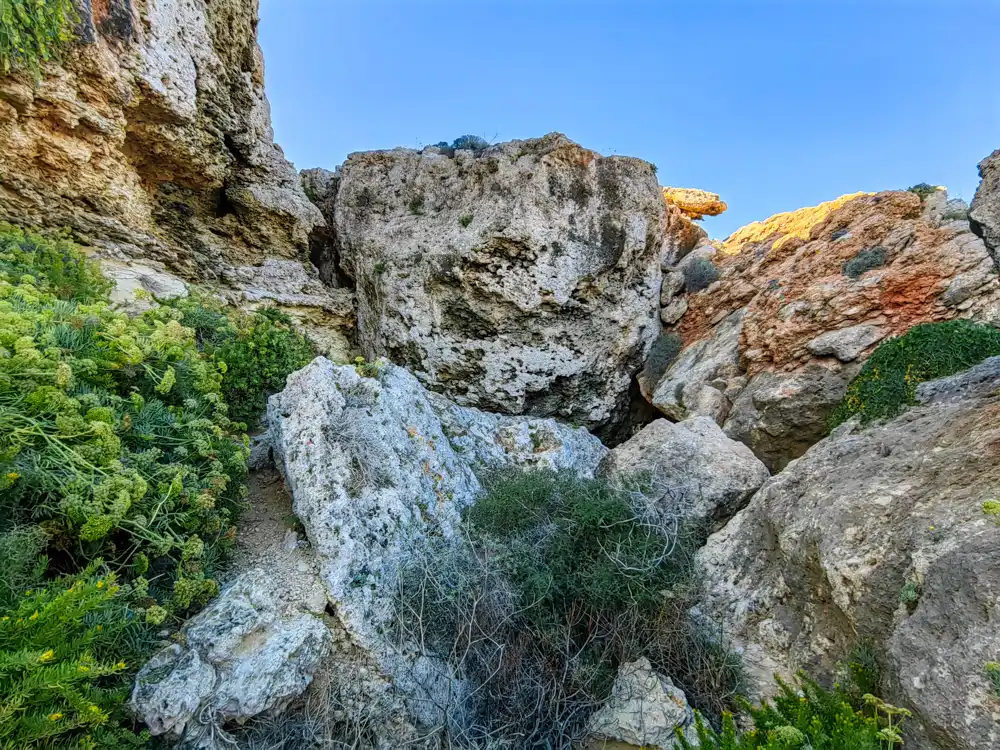 Hiking trail Il Qarraba
I could have sat by the pool, had a drink, hired a boat or guide, or lounged on the beach. And here I am, crawling in the rocks and getting drunk on the light play of bizarre shapes.
I mean, not only. Oskar Petr and his Ice Cream Man album are playing in my ears: We're as old as children. You still remember that I always carry my Freebuds 5i. Sorry for the promo insert, but they play really great. I mean, not only the Marsyas but also the headphones.
Ever since I've had them with me, the experience on the mountain has taken on a whole new dimension.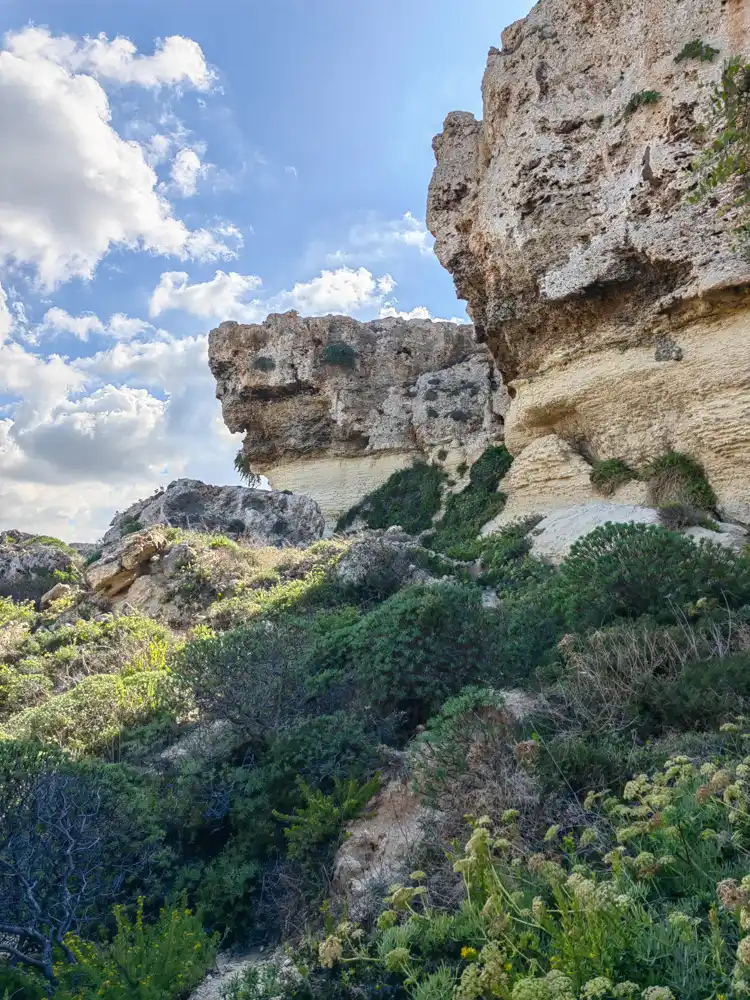 Singila Beach
This morning I took a sip from the tap water. Thirst is a bitch and a terrible counsellor. In Malta, the water is undrinkable. Only desalinated sea water runs in the taps, which is really disgusting. I shouldn't have given it. I'm beginning to understand that I will only move on with marking the terrain several times. Luckily there's lots of dry grass everywhere and the most gorgeous deserted lagoon down below.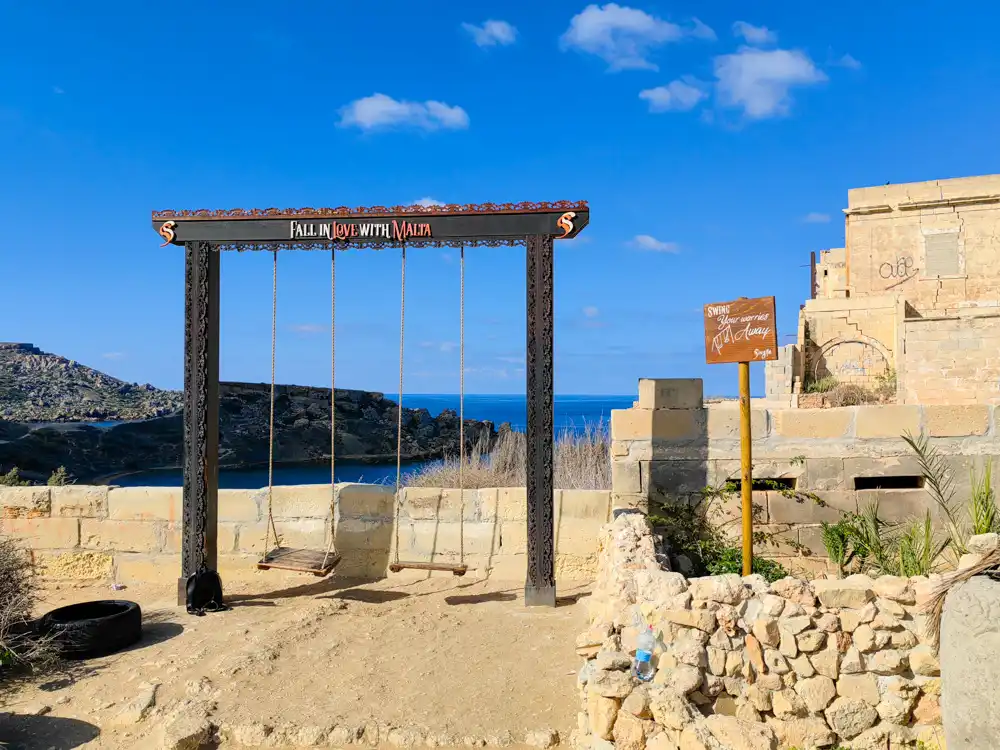 One wouldn't believe how sweaty one can get traversing rocky terrain. Or is it something else?
Anyway, I happily threw myself into the clear 26-degree water. I don't know if I was more relieved above the beach or when I jumped into the water afterwards. Both were fine.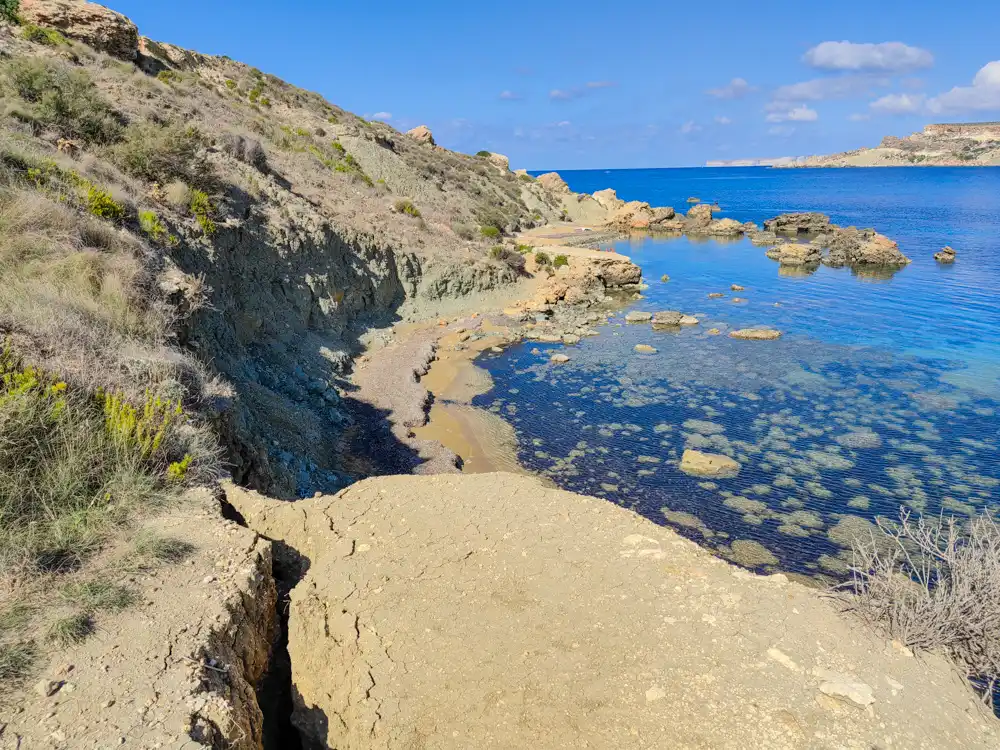 Gnejma Bay trail
I know I'm slow. I should have gone the other way. But the view from above just won't let go. I have to scramble up there, and you have to see it.
Some runners were passing me, and others were making it four-footed. What they had in common was determination and a smile on their face.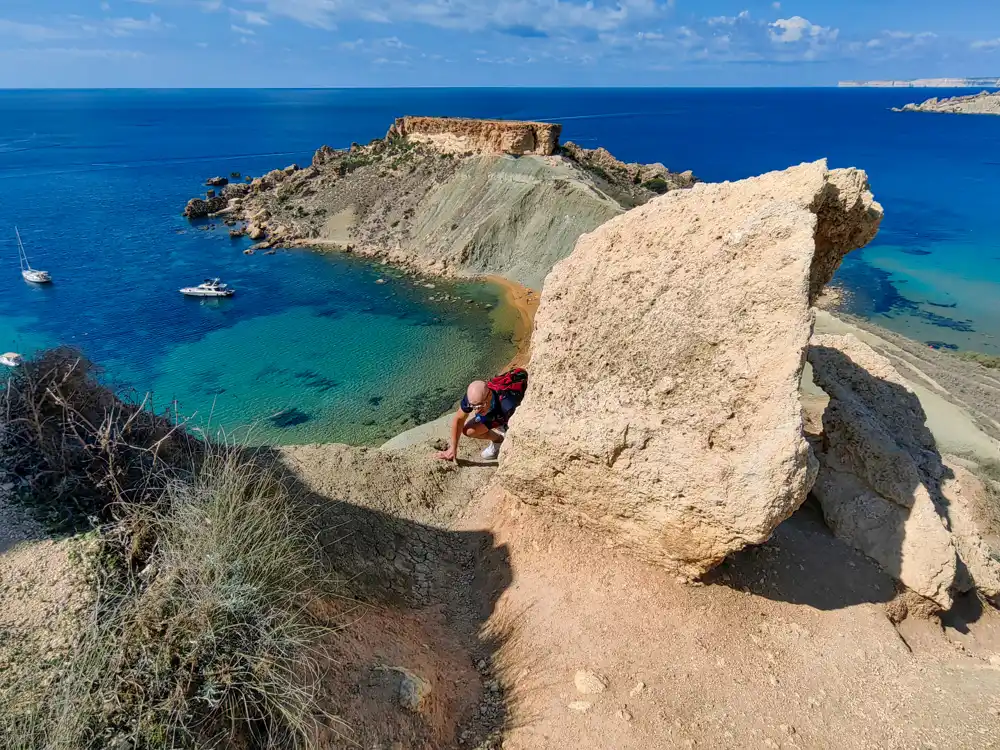 Rock trails through the Golden Coast
The view of Gnejma Bay from above will open your eyes. Below are dozens of kilometres of rock trails and a landscape so unusual that you have to take pictures. Some paths are passable, others less so.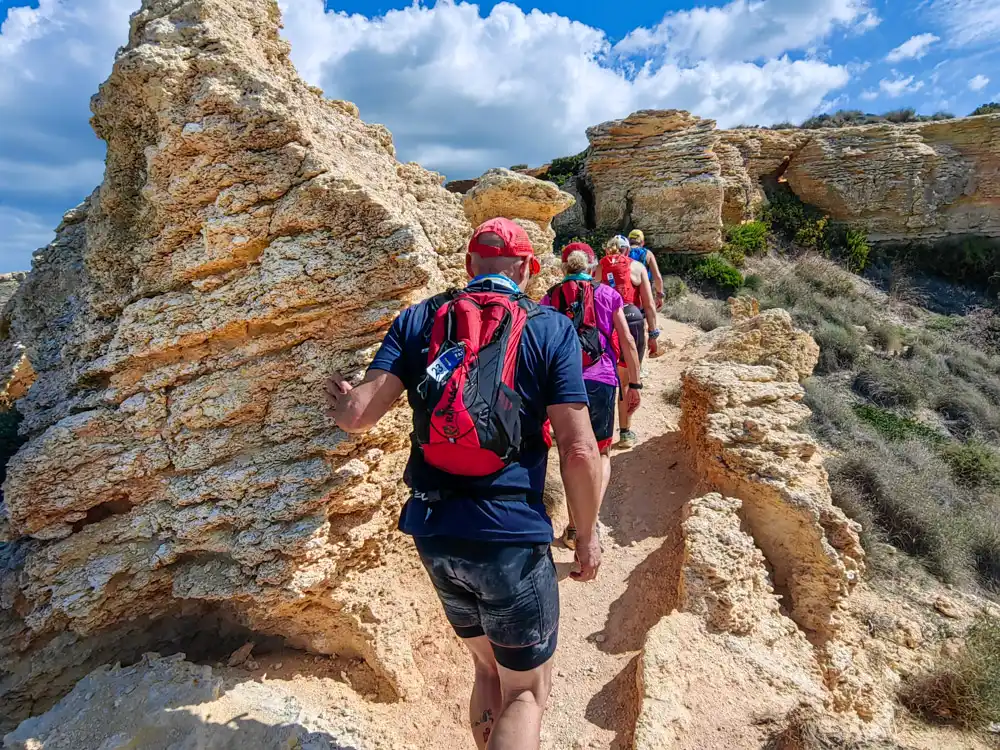 Why didn't I know about it until now? Why don't they write about it anywhere?
Maybe because everything is still being sold here. It's just a few fools with sticks, backpacks, wild rabbits, and unspoiled nature. And that's very rare in Malta.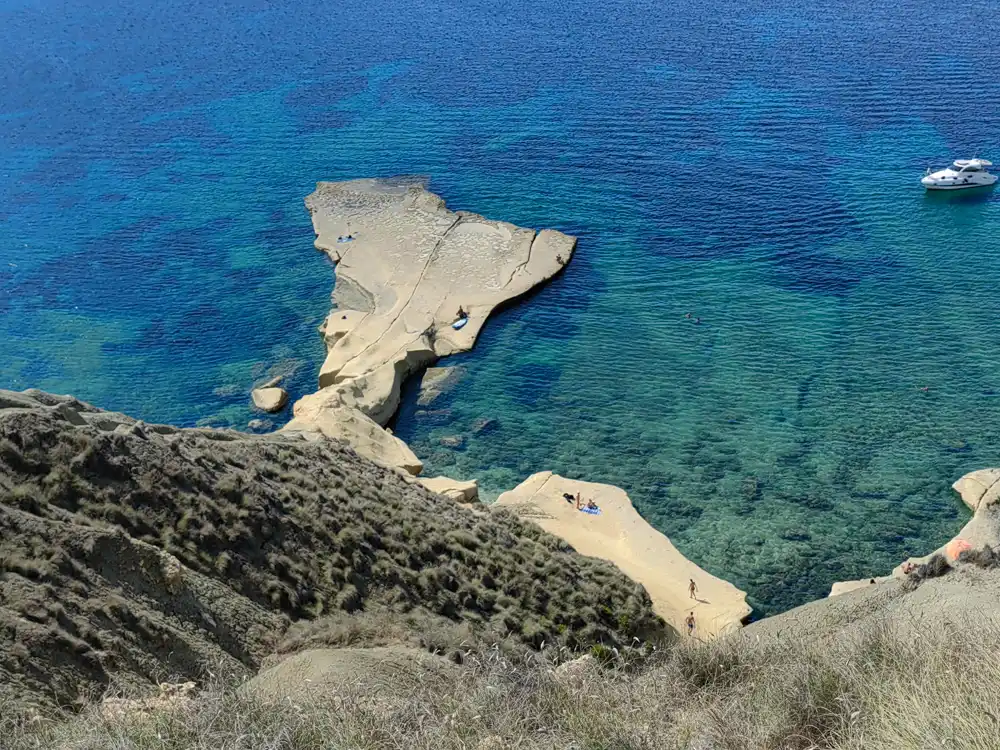 Suddenly an Indian appears in the rocks. We smile at each other. For me, it means: 'You can go higher.' I'm already in a state of not speculating.
One always has a choice. I don't know whether to call it a blessing or a curse when one always has only one word in one's head: "Next."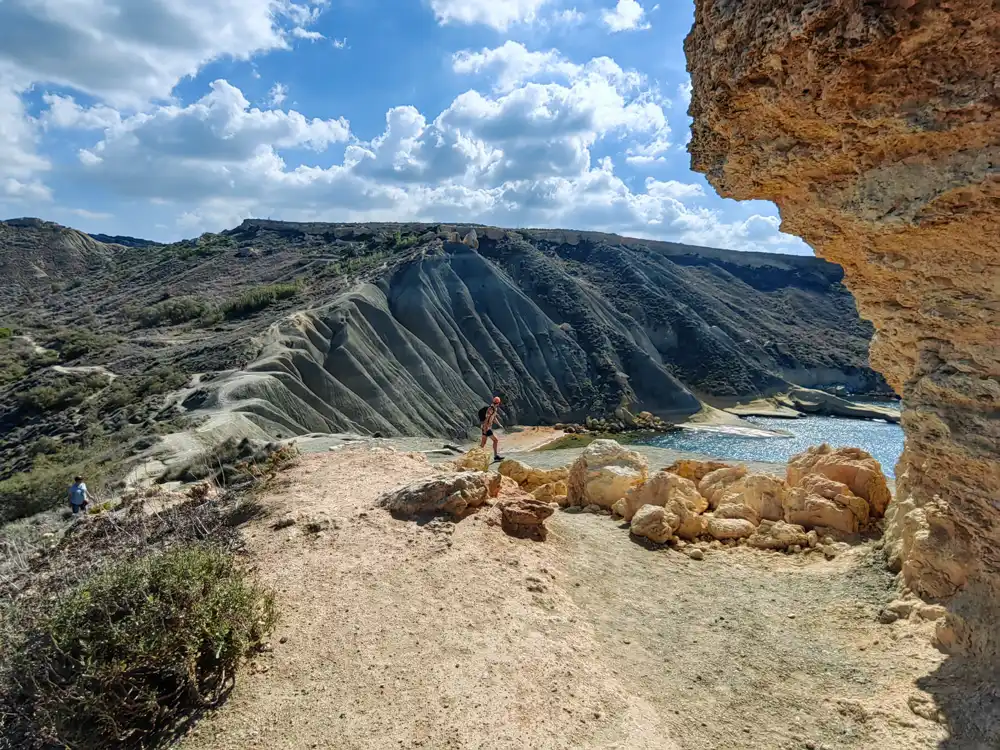 Malta Hiking trail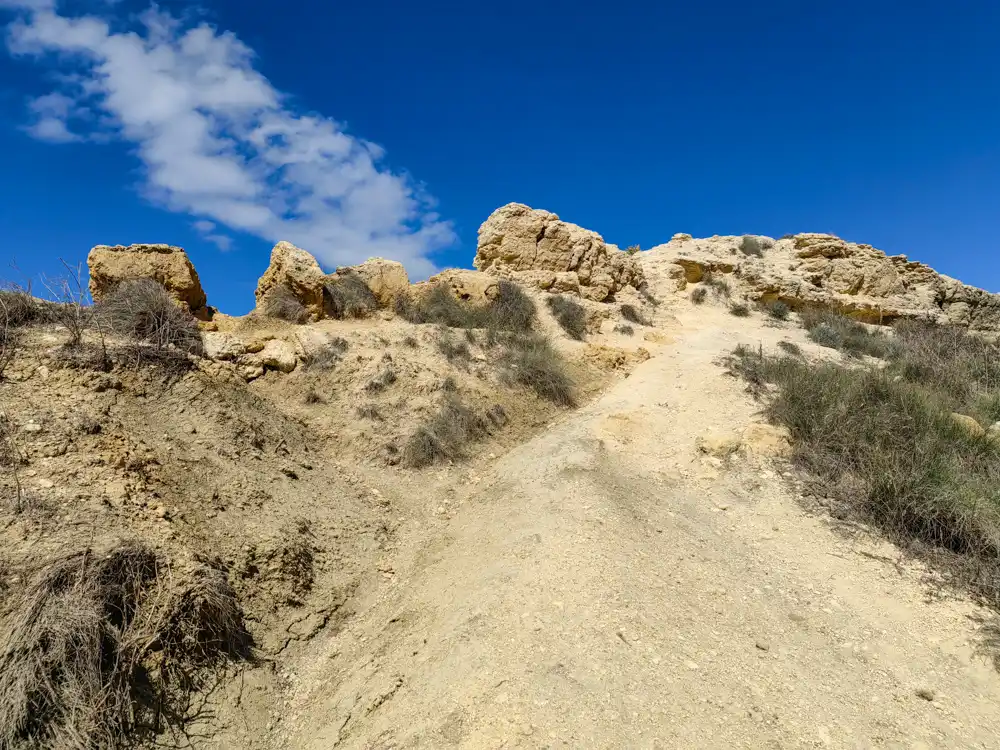 I reach the border of Il Majjistral Nature Reserve. It's a few minutes after lunch, and I'm on top of my drinking regime. One Cisk and one ion drink. I took them from home. Ion drink for dehydration and a Cisk for encouragement because the lazy in me starts screaming at the top of his lungs, "Enough. Take a bath."
I won't do it.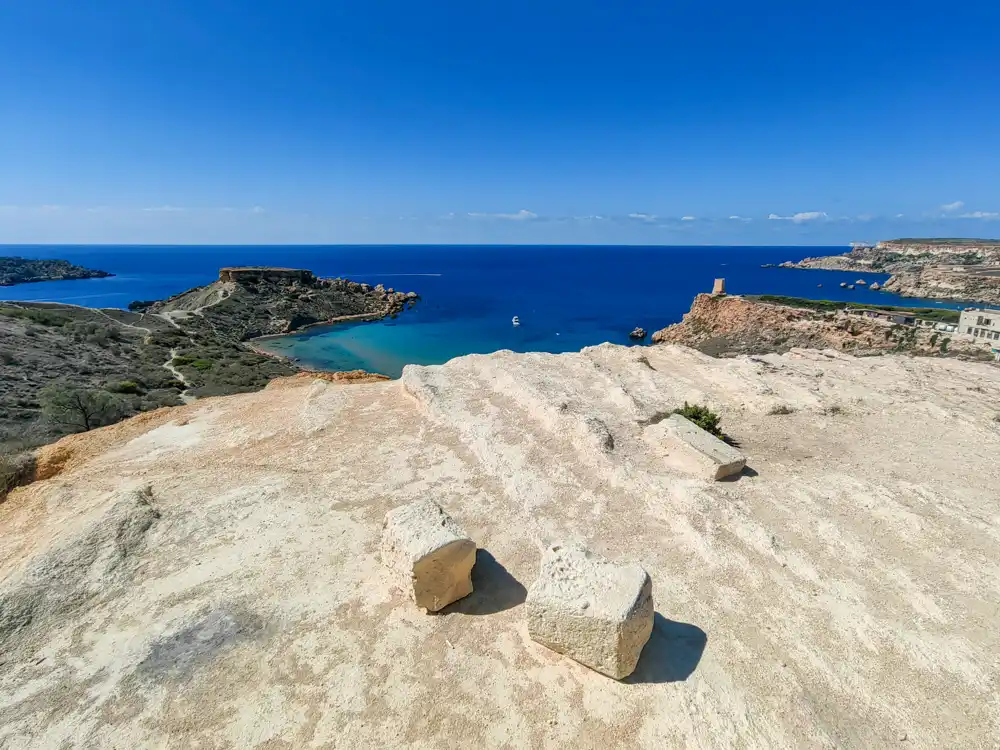 Il Majistral National park
The crossing through the park is just over 8 km of terrain challenging for ankle sprains. The paths along the edges of the cliffs are hard to identify. Many people don't do this trial anymore. Looking at my PUR soles, I hesitate to give it a go on those sharp rocks.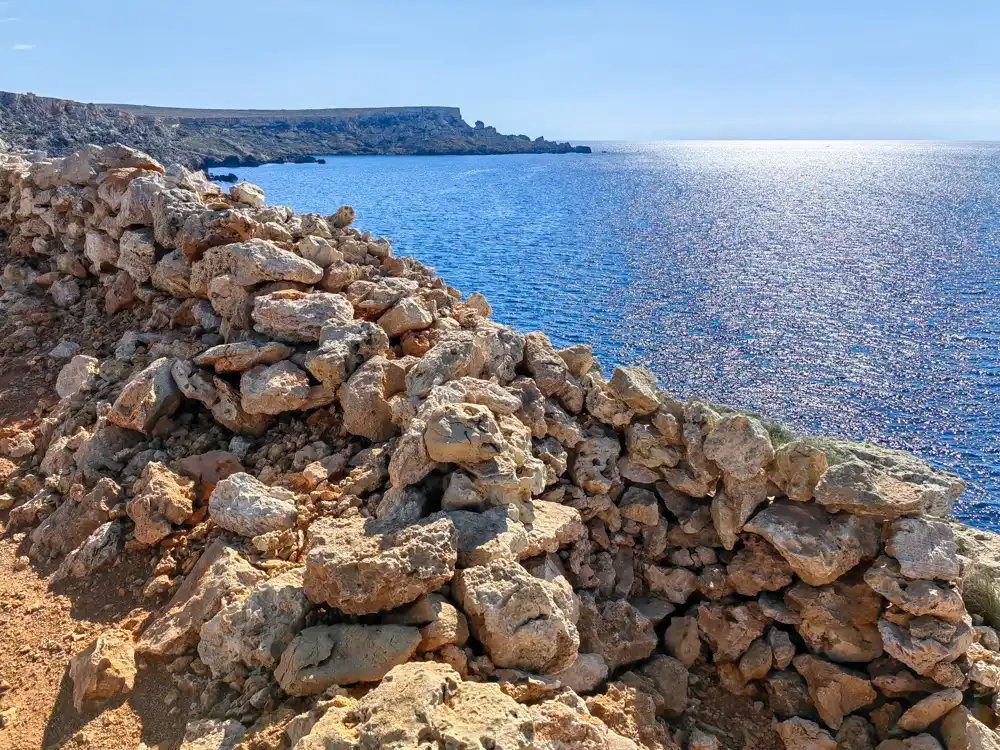 The passage through this national park was also mentioned by Boyan. I'm beginning to appreciate his business acumen. If you don't splatter the whole bike and yourself, you'll chop the tire at least a few times. For a bike rental company, a guarantee of income.
There are places on the fringe that need to be approached. It's really not advisable to go beyond that edge. But what I wouldn't do for a nice shot.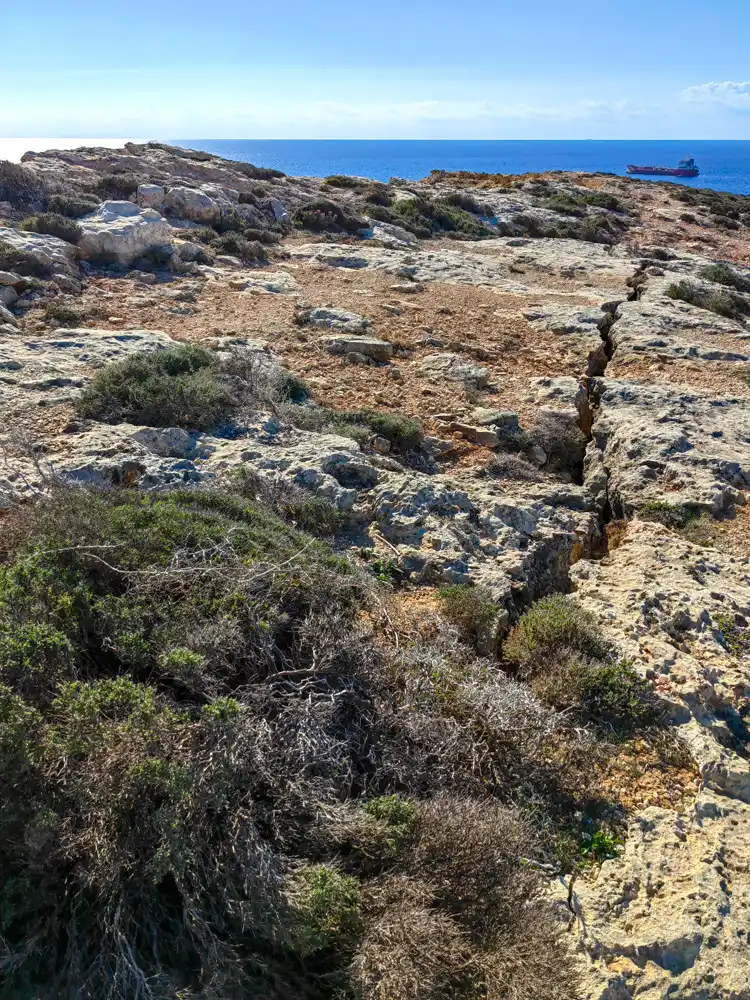 You can see beautiful beaches, 150 metres below, clear sea and sea corners. But there's only one way to get to them besides by boat. What attracts me more to Malta? The sea or the cliffs. They are not alpine trinity cliffs, but they don't have the sea in Switzerland.
Sea caves
Many people in Malta head to the Blue Grotto or Blue Lagoon.
However, Malta is full of sea windows and caves. You don't get to see them just because you don't know about them, and no local will take you there. Because they don't charge admission.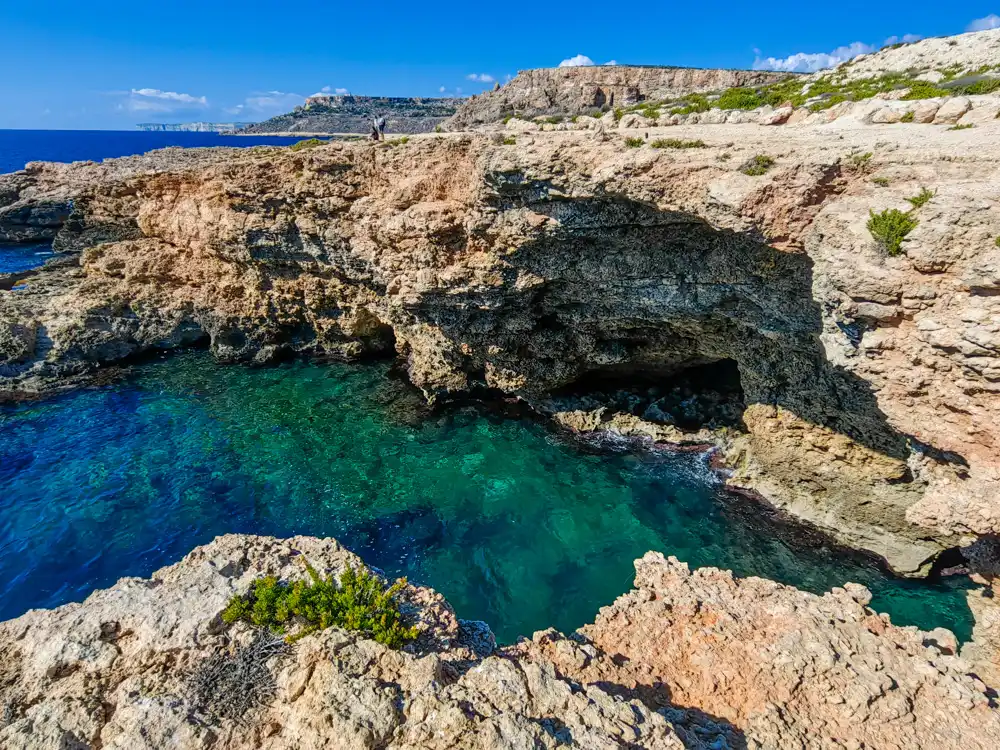 But the locals are happy to take a ride. The most common means of transport in this wilderness were cross bikes. And I have to admit, the noise really sucked my blood. As did a few dozen other hiking fools who took on this trail.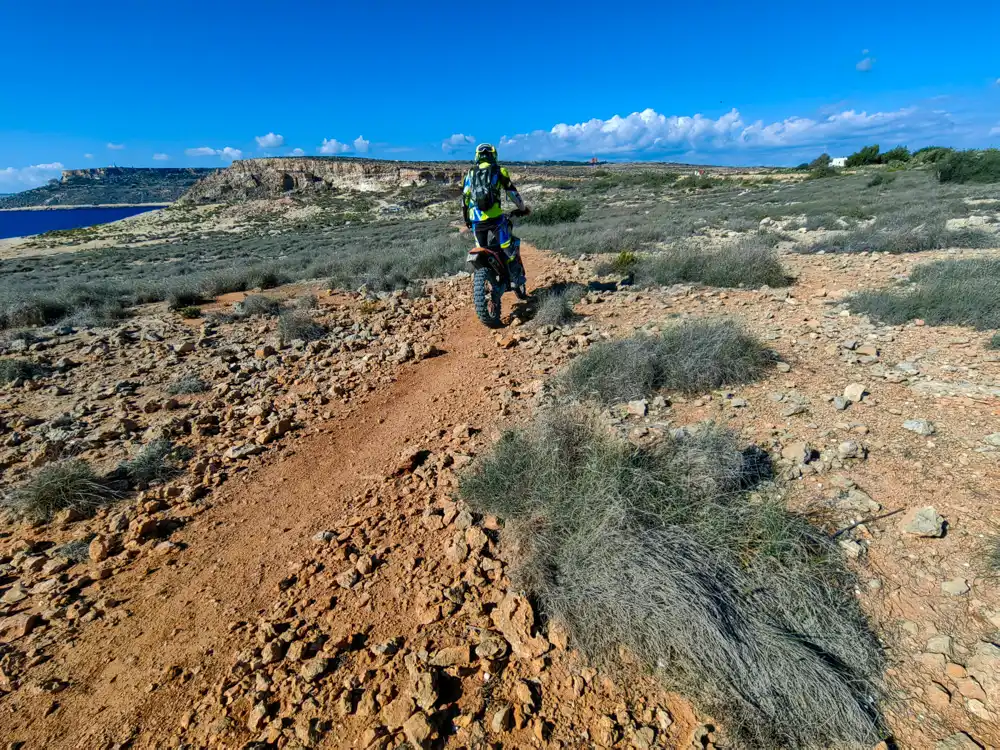 Popeye willage
All awesomeness comes to an end. Even my trail today is over in Popeye village. Call it a village. It is, in fact, an amusement park. The movie sets where the musical of the same name was filmed, and the developers decided to turn it into a commercial machine with everything that goes with Disneyland. Cinemas, swimming pools, restaurants, pubs, pirate sets and houses.
A welcome message awaits you as soon as you enter. The 20€ admission is raspberry, if you like Disneyland.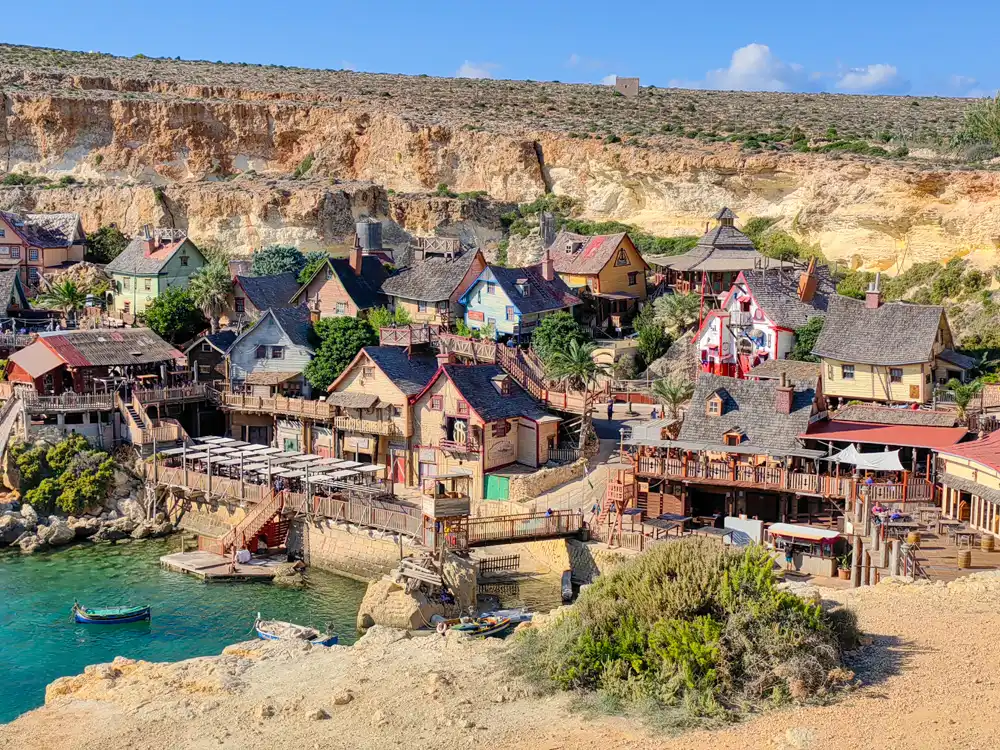 If you have small children or like attractions like this, visit. But if you have higher standards than the painted movie booths and backdrops, I offer you two experiential alternatives.
Free wild swimming
Walk a short distance outside the village, and you'll find a canyon carved out of the rock. It will lead you to a concrete jetty in a nearby bay with cerulean waters and a sandy bottom comparable to the Blue Lagoon. Except there's plenty of tourists.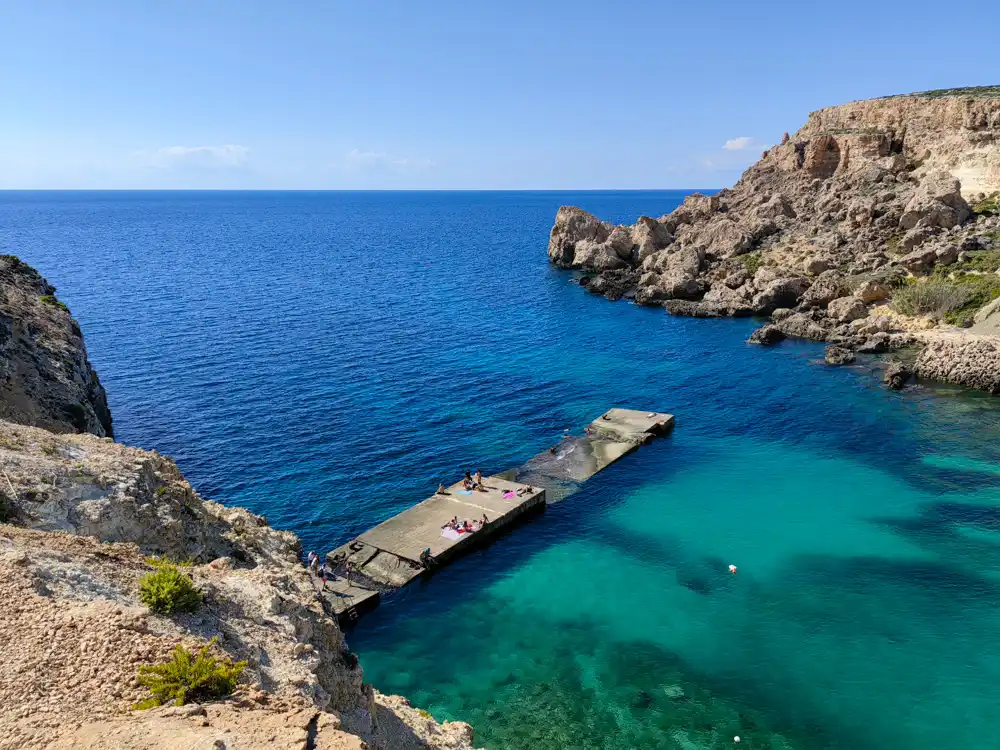 or Marsovin
If you're a wine drinker and don't like fakes, get on the bus and stop by the Marsovin cellars. I guarantee you'll spend the money you save on park admission more purposefully. 🙂 The 2006 Grand Maitre blends Cabernet Sauvignon and Cabernet Franc, aged long in oak barrels. Not a small price to pay for this gem rated 4.9/5 stars by the winemakers seemed much more logical to me than Popeye's admission fee.
Instead of entering the park, I tried both alternatives above, and they were well worth it. 🙂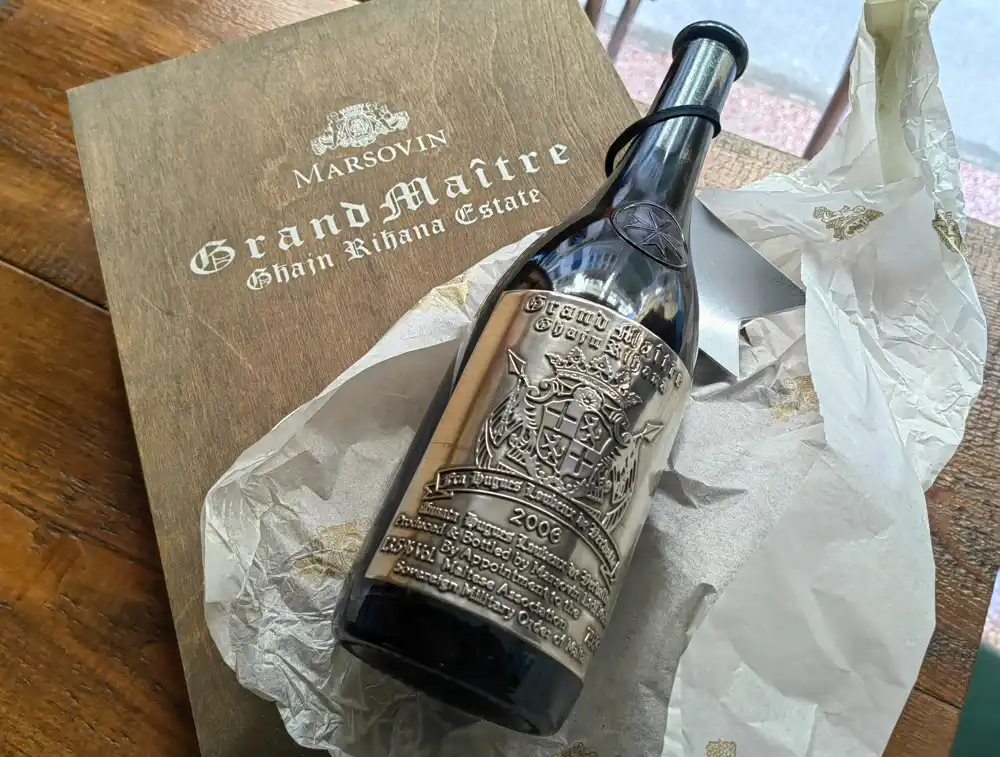 Crossing the Golden Coast on foot
Gnejma Bay, Qarraba Bay, Il Majjistral. In the morning, I had no idea I would have one of the most beautiful experiences in Malta. I am not imposing my vision of Malta on anyone. Still, I prefer something other than sun loungers by the sea or organised animation. I like independence, autonomy, nature, endorphins and adrenaline. And also extraordinary encounters and experiences. Today's trail exceeded my expectations in all respects.
Put Gnejma, Qarraba Bay, on your Malta itinerary if you're in a similar feel.