What to do in Malta if it blows? The original plan was to take a bus to Il Quawra and see the underwater aquarium. However, I got off at the wrong stop. And that was lucky. I made it to the recreation area at the fabled Bugibba Cliffs.
Il-Qawra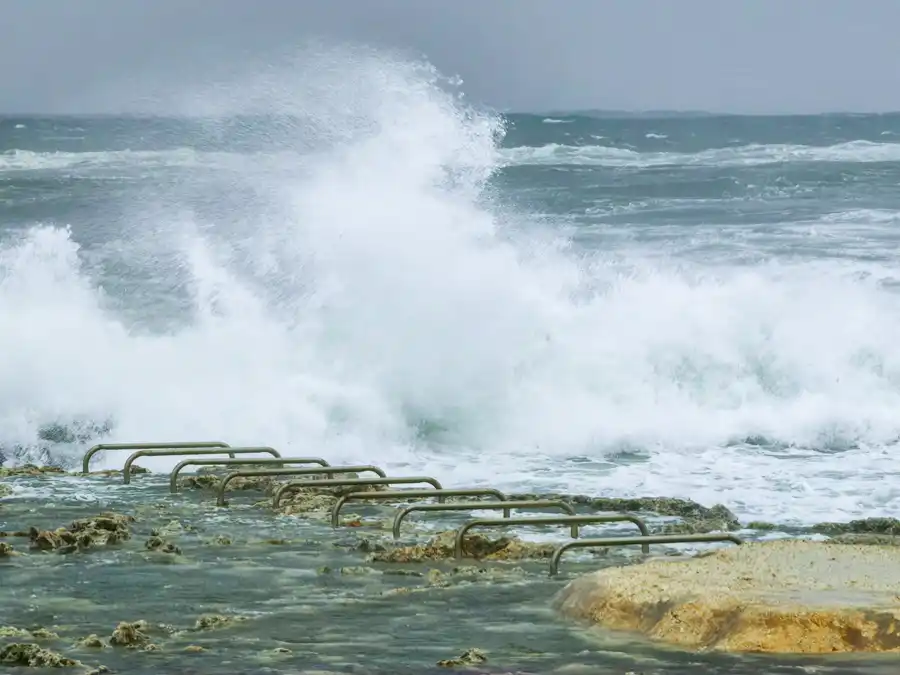 Il-Qawra can be found in St. Paul's Bay in the northern part of Malta, close to the holiday resorts and beaches of Buġibba and Salina. The aquarium is right on the headland of this peninsula. In summer, it's head-to-head here. However, this is only true when the wind is not blowing in from the Atlantic at over 100km/h, and the waves are less than 3 metres. I managed to enjoy the latter moment.
Buggiba cliffs hike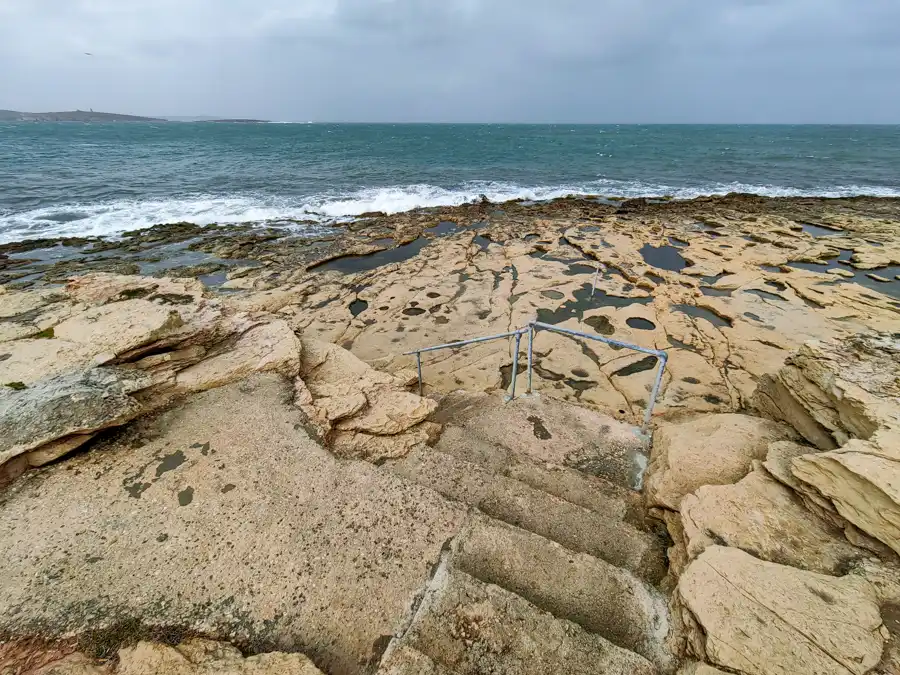 I initially thought I would take another bus to the aquarium. I just happened to wander onto the coastal cliffs, which act as a goofy rocky beach in this stormy weather.
Most tourists are stopped by the warning that climbing unstable cliffs in bad weather is not recommended. I didn't need more. Only a few adventurers and photo buffs continued with me.
The Poetry of the Atlantic
It is extremely inadvisable to step on the edges of the reefs during waves.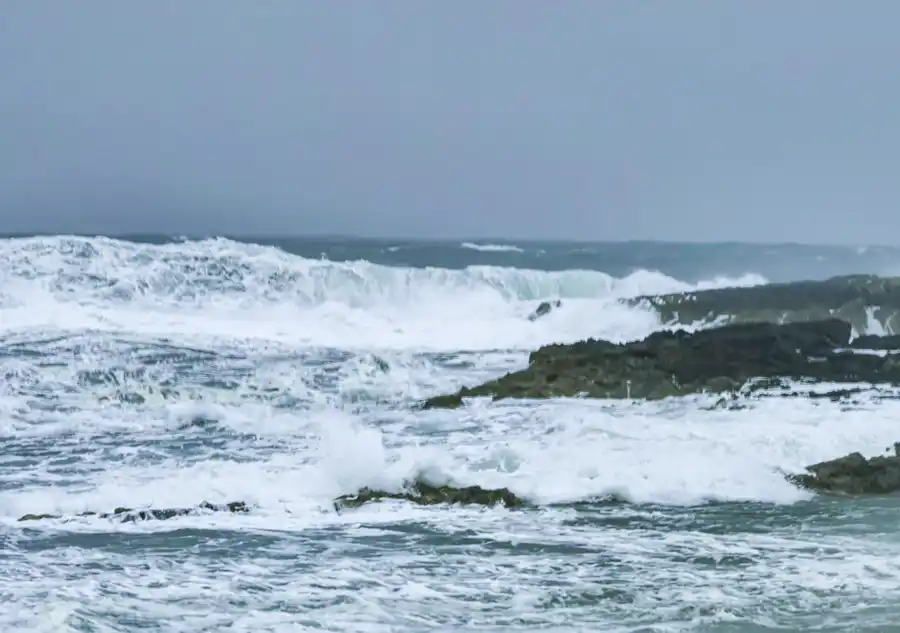 I've experienced it a few times. The last time was on the Portuguese mission Sagres. The waves of the Atlantic are by no means the waves of the Mediterranean. Power, energy, vastness and humility. The wind slaps you from every side. Everything is soaked. You can feel humidity even in your shorts. You're looking for a lee, yet something keeps pulling you to the shore.
Reflections on diversity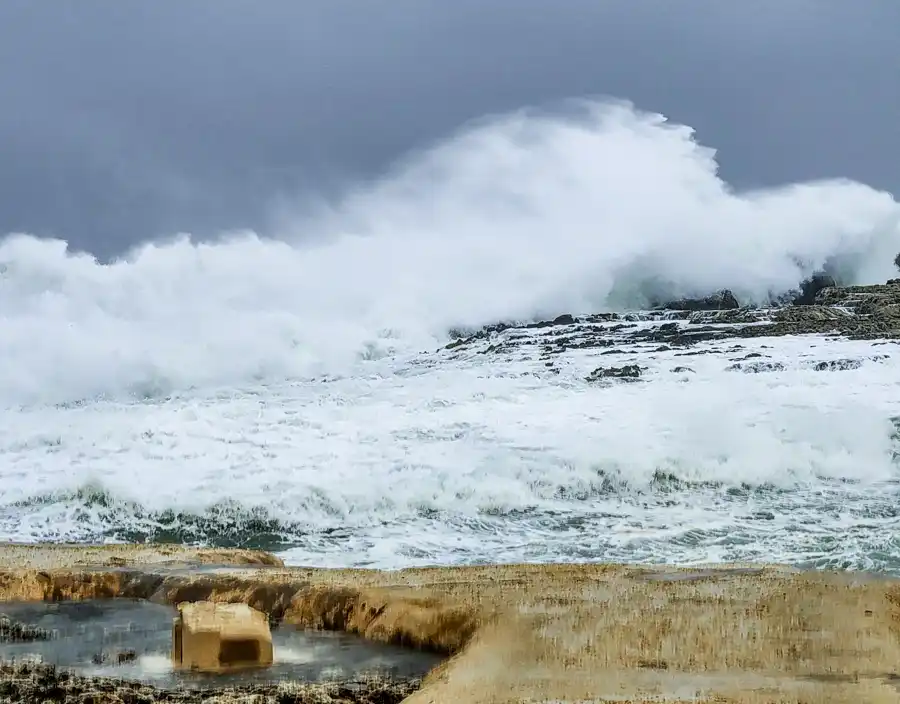 The sea makes me think. The obscurity of the stormy ocean always absorbs me. Why do I travel? Why am I here? I can spend hours here if I listen to the sea's roar and the waves lapping against the rocky shore. It is an entirely different experience from peaceful Mdina.
Travelling independently (often on the wild side) has given me a lot of experience. It has taught me to see things through a different lens. Difference and uniqueness. It was my best school. While experiencing different challenges, peoples and cultures, I could perceive my boundaries and see beyond the main level. How to know real, authentic life. The genius loci of a place. This knowledge makes me more perceptive, friendly, tolerant, and better. I bond easily, and it allows me to see the country through the eyes of a local. To perceive its values, ideals and attitudes. I especially love it if they can give good advice and cook great food. Especially if they can also advise good wine. 🙂
We are like those waves. Everybody is different; everybody is going somewhere else, and in the end, it spits everybody somewhere. But even in that would-be chaos, there is a particular cyclical system. You'll find it if you stop and watch the sea for a while.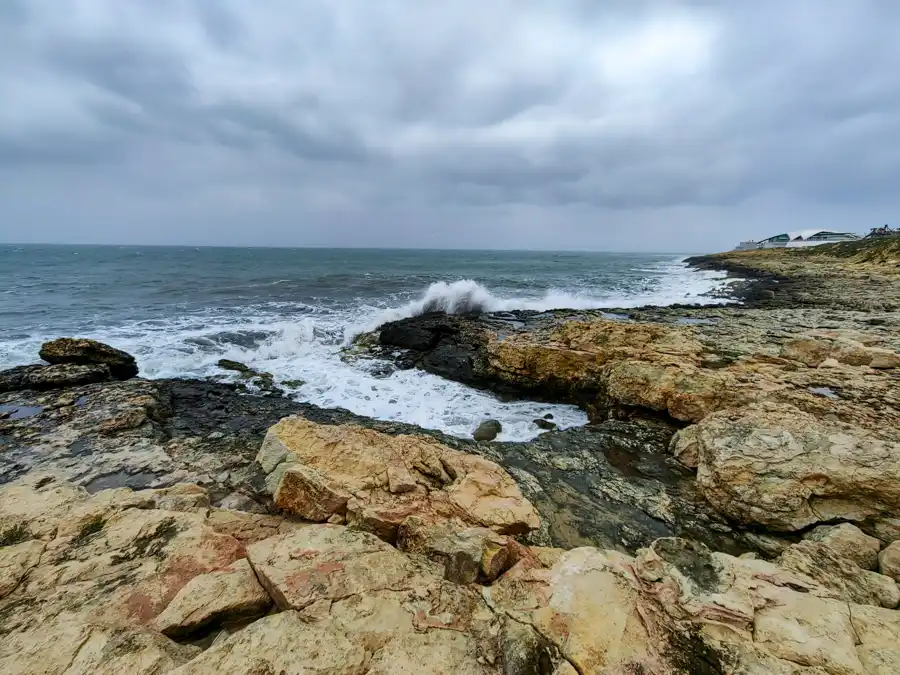 See things differently
I recently became close with a travel blogger. We go to the same places but see something completely different. What we focus on and the show is more the essence of our expectations than a rational view of where we are. One might say that we need to describe the same thing. Rather, we complement each other. We are each discovering something different. 🙂
Just as we have different values, attitudes and dreams, we also have different experiences that we seek out. The only constant is the time we have. And it does fly by. What we fill it with is up to us. Everything else is a matter of personal priority.
And so, while most all-inclusive vacationers grumble about the wind and bad weather, another group shrugs their shoulders at the incredible experience of those waves and the pulsating energy of the ocean. Some spend their time in the pub, in the museum, on a sun lounger with a book, while others lie on the rocks and take pictures. And they're all right. It's their time, their experience and their fulfilment.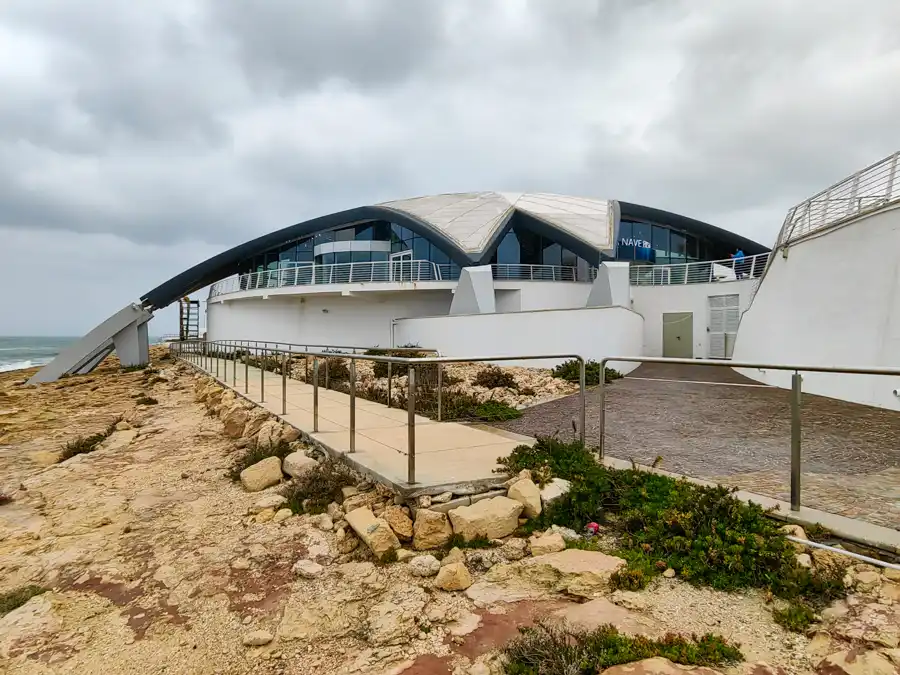 Humility
You wouldn't climb up there today for a gold brick. The sight of a stormy ocean always makes me humble.
Who are we? What are we playing at? What lords of creation? All around us, we are just exploiting, consuming and destroying. And still, we hoard. In doing so, we are the most vulnerable on this planet. We want ever more, higher, and victorious. And why? You can only eat up to one schnitzel anyway. You can drive only one car. And you don't need a bust or a monument.
Restart
I recently dragged a friend who has dedicated his life to his career on a trip. He did not have time to manage vacations or family. Mornings or evenings, Fridays, Saturdays, and Sundays at the office while controlling hundreds of people. He felt irreplaceable. Until the next one came along, younger, more energetic and cheaper. He'd been managing most of his life. Now he's discovered the magic of cycling and hiking, has a personal reboot, and seems grateful for it.
Praise the sea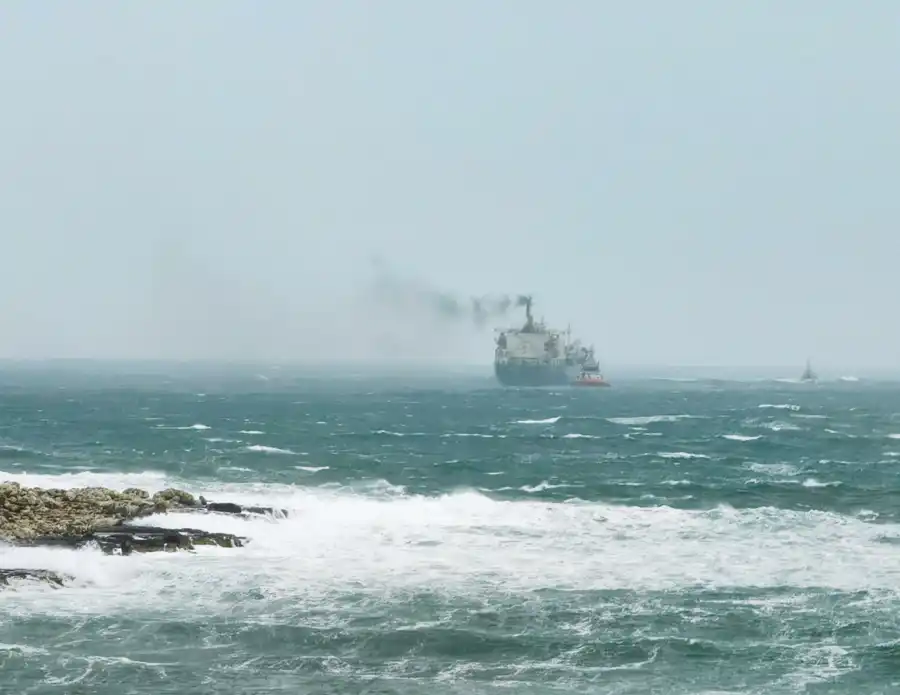 I need to feel the waves of the sea. They are my inspiration, stopping point and natural defence against anything that can damage and hurt my soul- the crashing of the waves, the reflection, the refraction, the light, the diffraction. A photographer emerges from me. "Nice little trail. I'll walk it as far as I can" I slowly walk towards the aquarium. I'm soaked. I can smell the ocean in the air, fish, shells. Problems gone. All that's left is me and the trail.
Ocean. Beneath those waves live most of the living creatures on this planet: chaos above, complete calm below the surface. I see the wind and the rain that is already beating me properly as a friend; I like to be friends with wind. I've been hanging around for two hours and still haven't had enough. Every wave is different. Each one is extraordinary. I'm happy. Once again, after all these years, I need to take pictures to record. But can the ocean be recorded at all?
Thoughts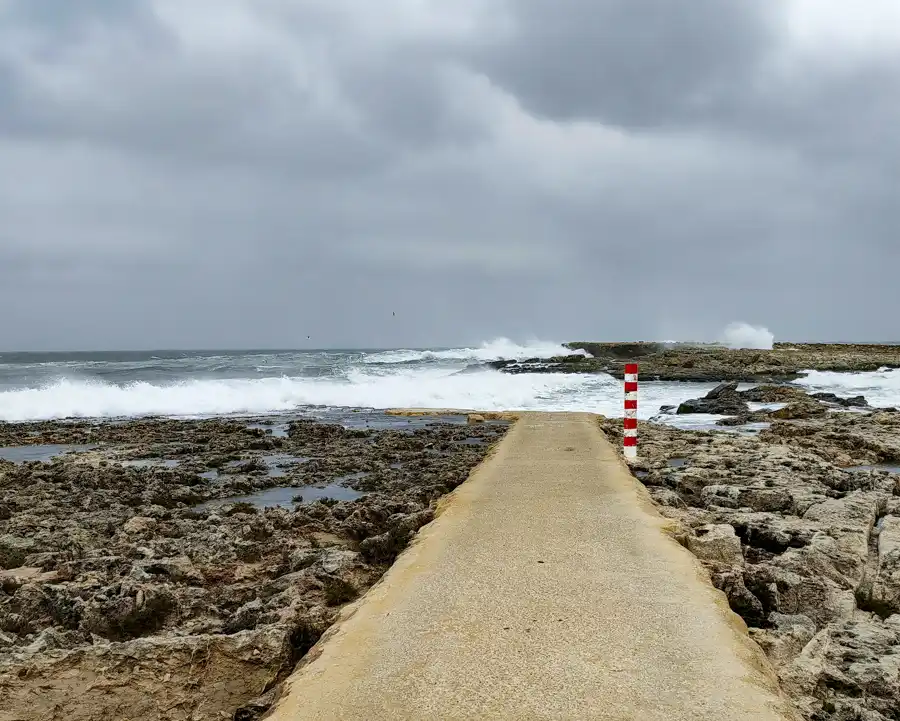 I like hiking on sea cliffs. At such moments thoughts flow through me spontaneously. They flow out through me. Then I come home, I want to record them, and all that's left of my thoughts are scraps. Yes. It's age, too. 🙂 I recently bought a fountain pen and started writing with it again. Ideas flow more gracefully with a fountain pen somehow.
But is it necessary to write at all? For whom and why? Perhaps just for myself. No one wants to listen anyway.
I'm thinking, and it's not getting into my head. When I look at social media and the level of some discussions, I need to shut myself off from the outside world.
We were meant to be a friendly, good-natured and hospitable nation. But Slovakia has been poisoned by hatred, selfishness and anger recently. Where did it come from in the people? Maybe it was always there; we didn't notice it. And it has been bubbling quietly under the surface.
Bugibba Cliffs Malta
Walking along the Bugibba coast was a compelling experience for me- a reason for various reflections. I should end with something original. A friend once told me, "Lead children to sports, nature and the mountains. You can't go wrong with that." I tried.
Cape Qawra ends behind the aquarium. There's already a splash here. Dozens of people want to see what the hell the Atlantic can produce. We are as diverse as that sea, and there is beauty in that diversity as long as we are prepared to perceive that beauty. Locals told me over a beer that they hadn't seen waves like this in two years. There is no reason to cry because of bad weather. It's a challenge.
We know very little about the marine world. Hence the aquarium. It has been a long time since I have been in a proper one.
Malta Aquarium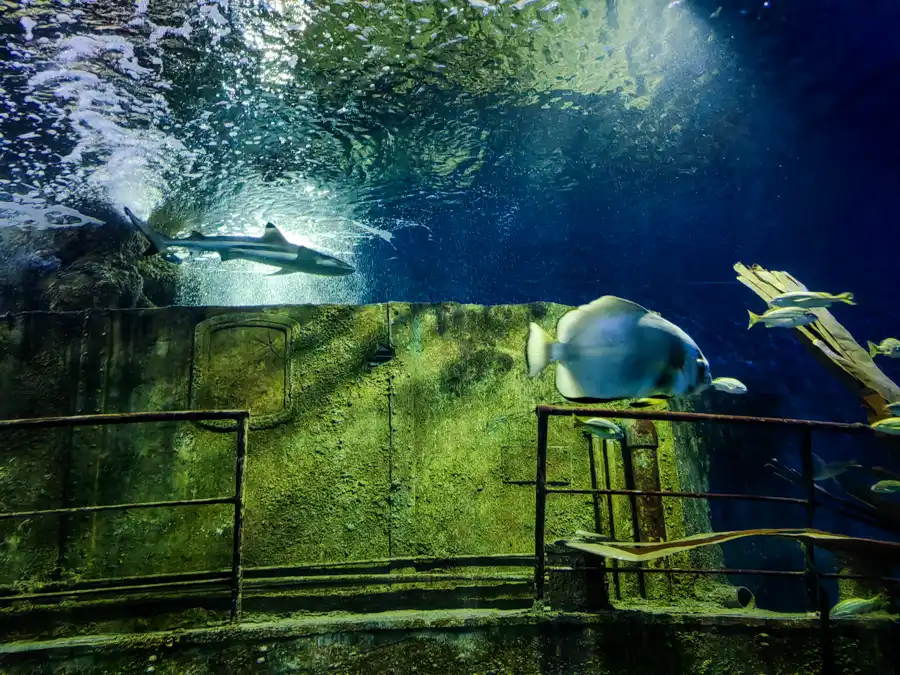 Bugibba cliffs hike is incredible in the storm. There's nowhere else to go. I'm coming up the path by the Maltese Aquarium. It's well into the afternoon. I've been hanging out on the rocks for 3 hours. It wasn't enough. Is it better if they charged admission for the sea and the cliffs instead of the aquarium. 🙂