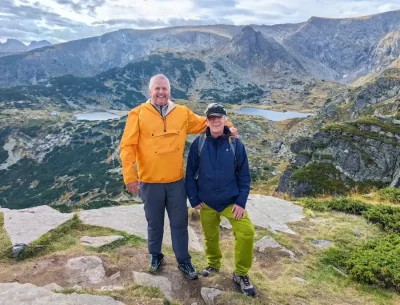 Seven Rila Lakes hike is considered one of the most beautiful hiking trails in Bulgaria. From Sofia you can discover the Pirin and Vitosha.
discover the world
Meet today's challenge: Overcome the hardest ridge – get off the mattress!
Travel and Explore. We don't lounge on the beach or sit at all-inclusive buffets. We are independent. We explore the most beautiful parts of the world on foot or by bike. Real experiences only begin when you leave your comfort zone. Authenticity, spontaneity and sincerity without commercial ballast and advertisements.
You will only find real experiences in our stories. Travelling blog for active life. Connect yourself.
Hikevent is an international version of the Slovak startup Reštartnisa. However, we believe that you will read better in English. What unites us is the desire to live a better, quality and active life—a sincere desire to explore something new and push our boundaries further.
Travel, discovery and challenges are in our DNA. We create challenges and stories. We don't lie on deck chairs. We run, bike, climb mountains, scale gorges and mountain passes, and push boundaries. But we also discover different cultures, history and art. We seek out what is valuable and unique in the world. We enjoy life to the full. We are discovering places hidden from commercial tourism, and in doing so, we are finding ourselves.
Join. We will infect you with endorphins, movement and an active lifestyle.
The world is an amazing wonder. We are creating a community that craves active change, life fulfilment and experiences—yearning for a better, open world. Full of experiences, emotions, friendship, learning about cultures and mutual understanding. We bring active people together because they create a kinder, more prosperous and more exciting world.