"Are we going to that Terina Nozdra?" Lubko asks me.
"Terra Nostra Park." I correct him.
"Koza Nostra?" He makes a dirty face.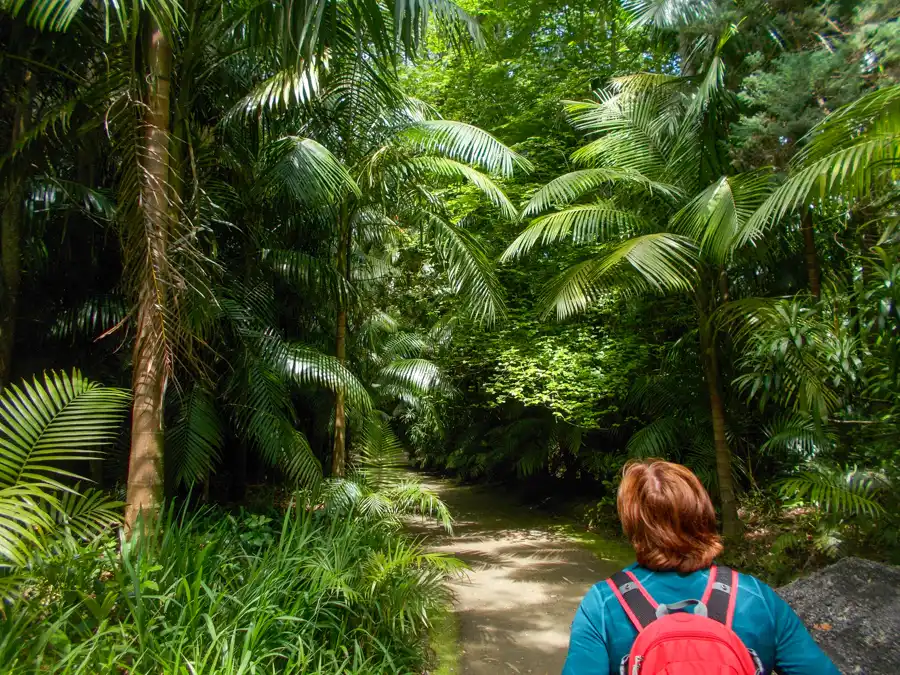 Terra Nostra Park
Terra Nostra Park is a beautiful botanical garden connected to thermal pools where you can swim. Park is in the village of Furnas, from which we took the trail around Lagoa das Furnas on Sunday. Today we plan to spend a relaxing day here. In the two hundred-year-old gardens, you will find typical Macaronesian flora and plants from other countries that suit this climate. There are rhododendrons mixed with camellias and magnolias, as well as azaleas, hydrangeas, water lilies, lilies and flowers and trees from all over the world. The Gingko Alley particularly enchanted us.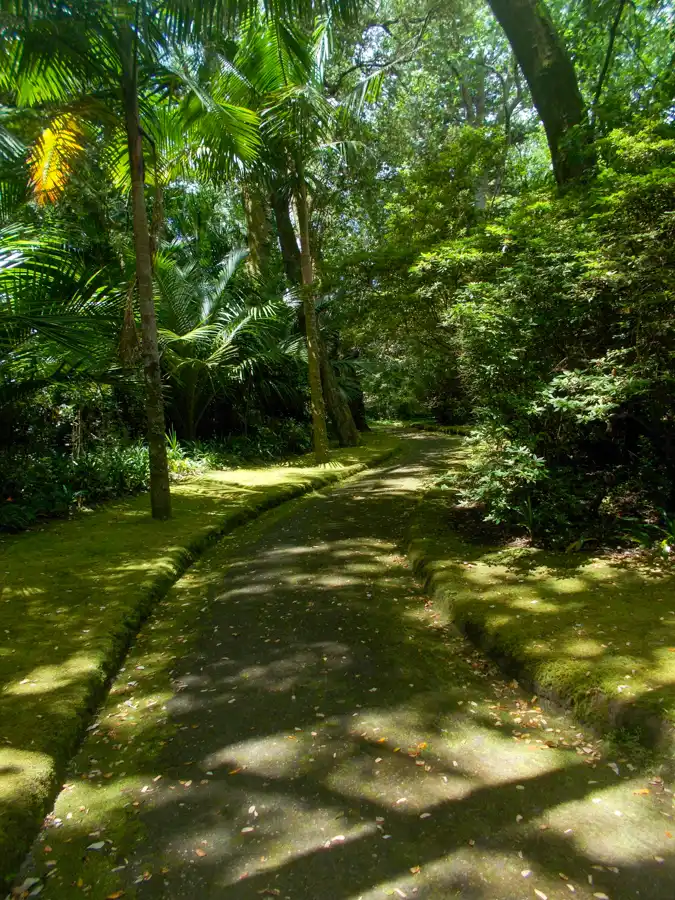 The Furnas Valley
The Furnas Valley has hundreds of springs and streams, and the gardens in the park are located right in the middle of this water system. We are told it is designed to cure several health problems, such as rheumatism or obesity.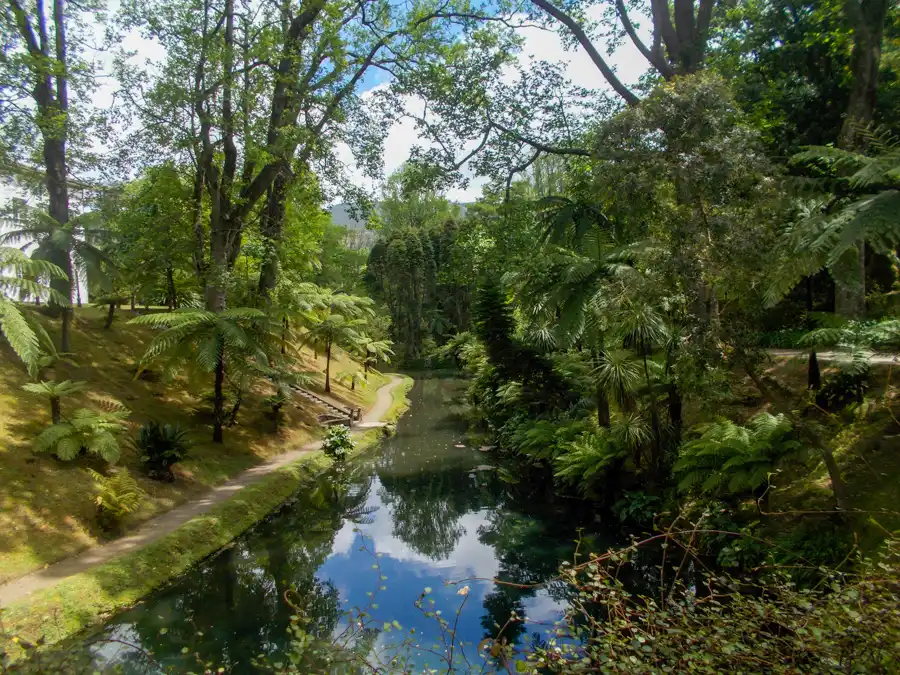 Curing obesity by bathing… we like it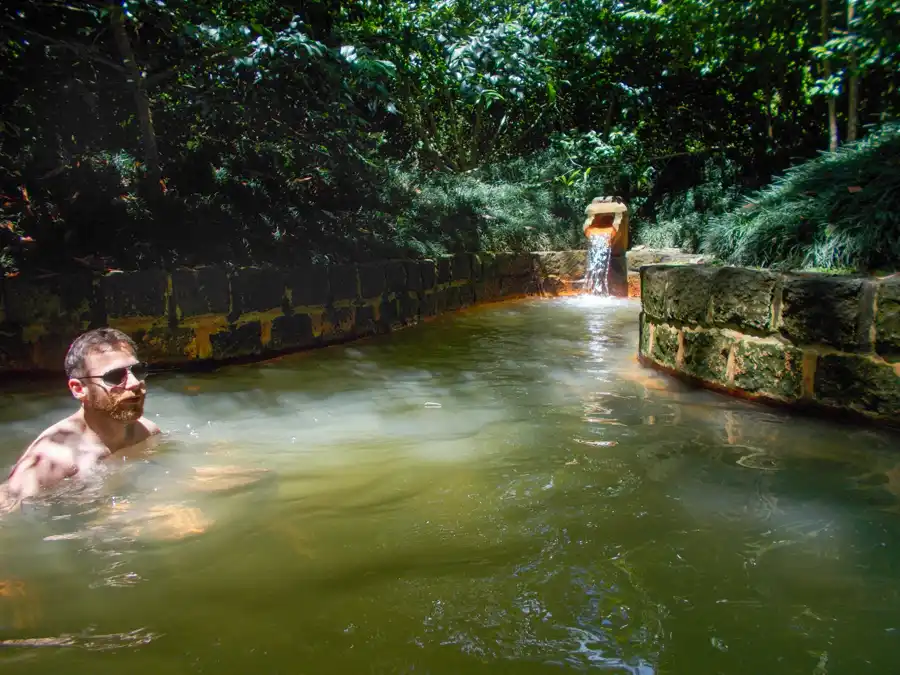 "Curing obesity by bathing…." Lubko reads the brochure in disgust.
"The same filth as all those vibro trainers and those electro-stimulators and similar nonsense." He thunders.
"I'm going to try it. Maybe it'll suck me a little!" I shout from the booth and plunge into the hot thermal water. In a moment, Lubko is also heating his bones, immersed in the brownish sulphurous water.
"Something's the matter. I'm getting hungry," admits Lubko after bathing. We go to lunch at Tony's restaurant in Furnas. On the way to the car, we are joined by three large dogs with no master nearby.
It's not the first time this has happened to us here, it's disturbing, but these dogs can't do anything (If you look like you could defend yourself effectively if you look weak and sickly, they'll probably tear you apart. Note to Lubko).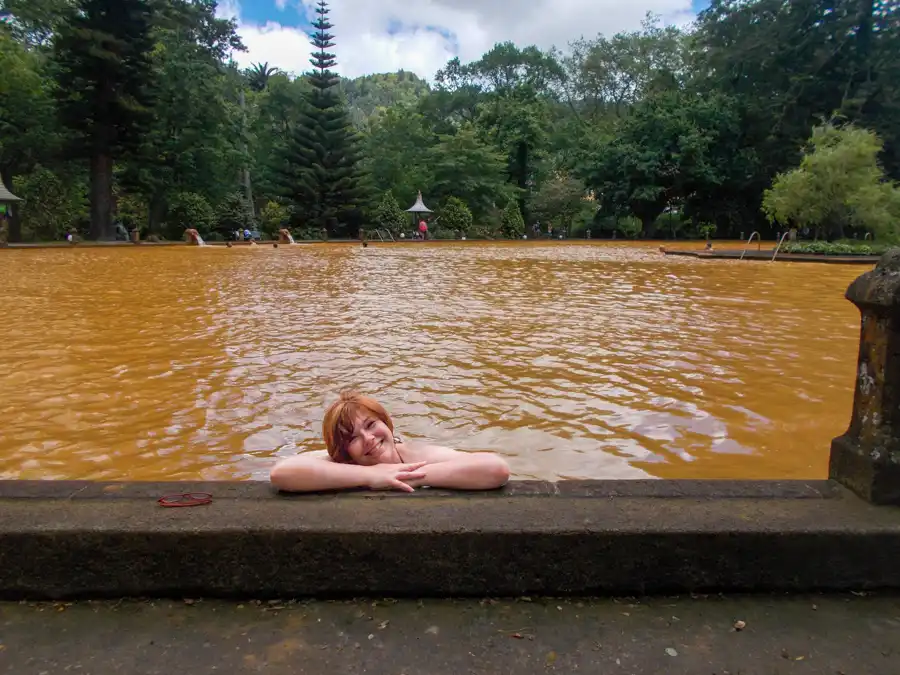 Sunset
In the evening, Renato recommends we watch the sunset from the tower located in the campsite. Renato tries hard, he takes excellent care of the camp, and he takes care of the visitor as well. We listen to him and admire the sunset on the islands. The only thing missing is a good glass of wine in our hand. The atmosphere is spoiled by Lubko when a grazing cow calls from the next plot, "Moo moo."
"Did you say something?" He asks me with a serious face. I nudge him hard under the ribs as punishment.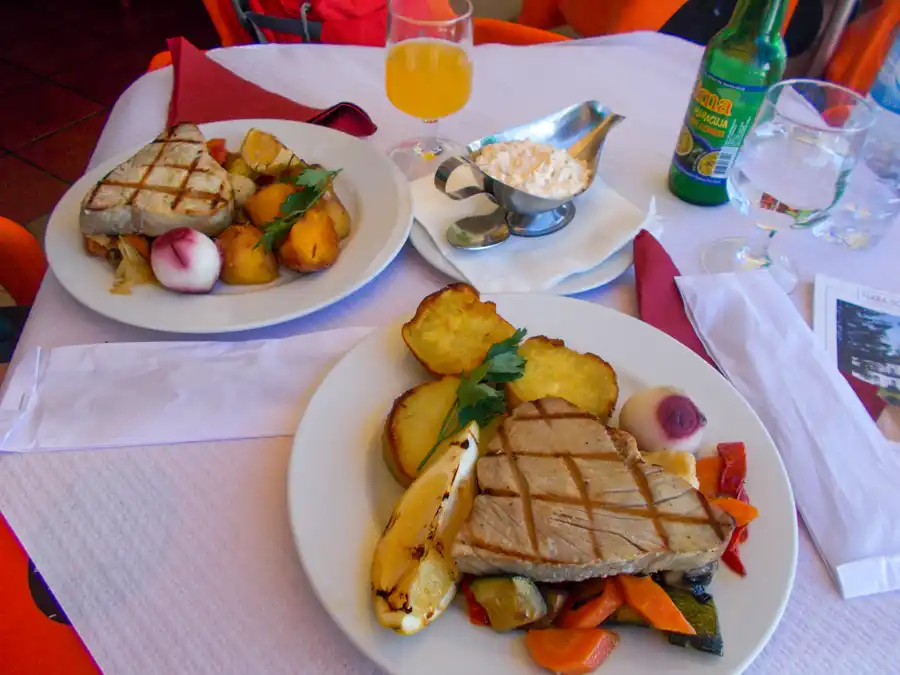 Villa Franca do Campo
The next day is cloudy and quite cold. Fortunately, we are not pressed for time, so we enjoy the quiet of the campsite. That's what you need on holiday too. Refrain from constantly chasing experiences.
But it's too long to sit down in the afternoon, so we at least visit the Villa Franca do Campo chapel. Only recently, in 1522, on October 20 to be precise, an immense tragedy struck this place. A powerful earthquake struck the then capital of the archipelago and the most important settlement of the Azores. Around 5 000 people were killed in the earthquake and subsequent landslide. Many inhabitants were buried alive.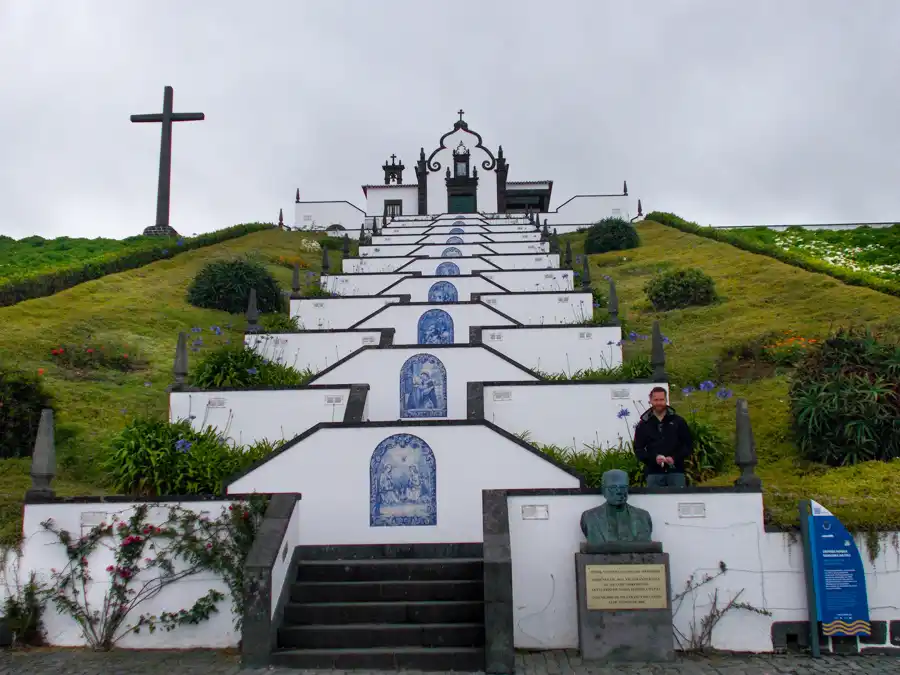 Ponta Delgada became the capital, where economic activity and settlement began to concentrate. It is still the capital today.
Chocolatinho
On the way back, we stop at Chocolatinho, where I happily finish my cappuccino and a cookie. I think I'll leave this holiday a few pounds heavier…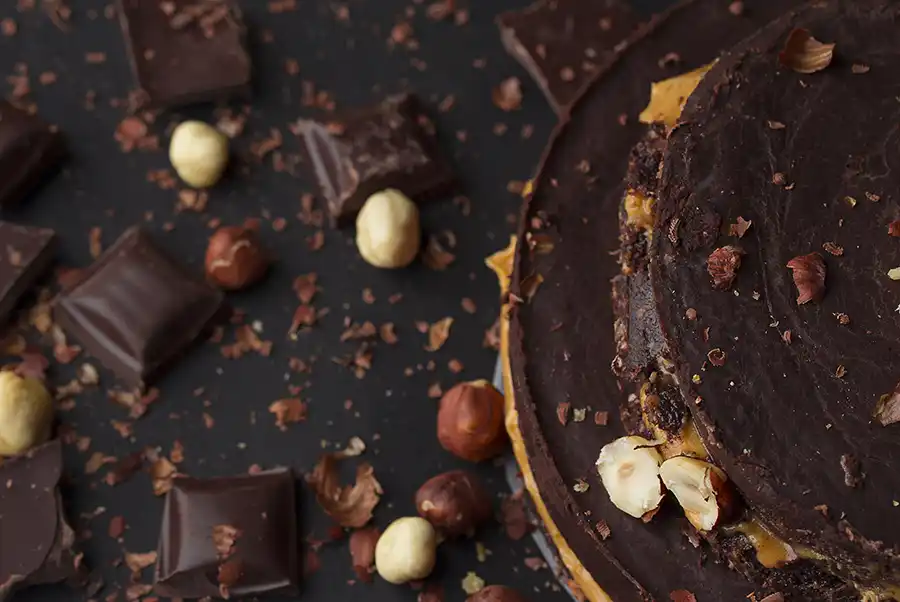 We go shopping. When we return to the campsite with two bags full of groceries, Renato, the campsite owner, asks us with interest if we have been to buy groceries. We reply that we have yet to and enjoy walking around with full bags. He giggles, he has a sense of humour. Then, Renato and I recap what we saw and have yet to see in the main room by the big map. We discover that we still have more to do.
We miss Lagoa do Fogo, the trek to the Salto do Prego waterfall and swimming at Ferraria Hot Springs.