With the words sustainability and green-friendly, we decided to try electric mobility in Madeira. Thanks to our local partner, Rent Car Madeira, we rented an electric BMW i3 and drove it for a week through the hills of this beautiful island. Let me take a closer look at our experience. What is it like to drive an electric BMW i3 in Madeira?
First, a little bit about renting a car on holiday
Like the Spanish company, Cicar and its subsidiary Cabrera Medina, Rent Car Madeira was very close to our hearts. I'll admit I've long been disgusted by the EuropCar network's airport offers, which look enticingly priced at first glance. Still, on closer inspection, you run into several pitfalls.
Excess fee
It's unfair if someone lends you a supposedly insured car with more than 1,200 eur deductible. It actually transfers any liability to you. Often that borrowed car doesn't even have that residual value. This price stretching is a gross failure. Its purpose is just to get a person to overpay and order additional full-cover insurance, which virtually doubles the rental price. Because if you don't take out insurance, you run the risk of having every scratch, even if you didn't notice it when you picked it up, taken off for reimbursement. And that could be more conducive to a relaxing holiday drive.
Additional driver
Do rental companies really want me to pay extra because the two of us drive the car?
Child seat
This is the only item that has any justification as an extra charge.
But let's cut to the chase.
Full cover
I've learned to seek out rental companies that don't try similar price-gouging practices with me. You won't find the best deal on a car on the internet in an airline advert, but by googling local rental companies outside the main networks. Suddenly you will find a car at a much better price, plus full coverage and without any additional fees. Great.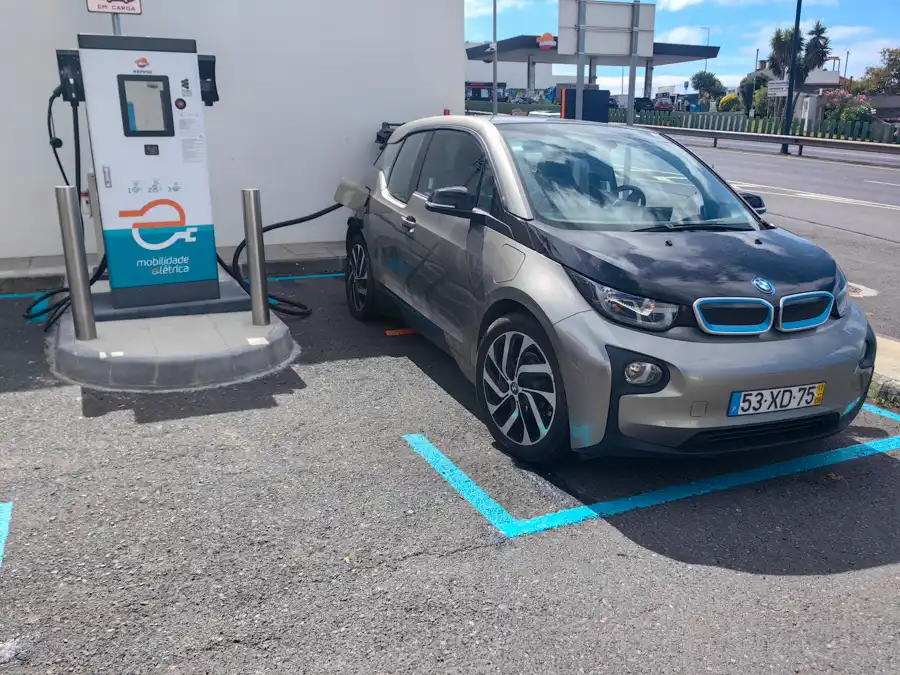 Rent Car Maderia
Rent Car Madeira (independent of renting an electric car) was our top choice. The electro-drive bonus was just a tempting and, I'll admit, adventurous add-on.
Driving an electric BMW i3 in Madeira
First of all, I've never driven a pure electric car. Leanor, our contact person at the rental company and later a friend, assured us it was no problem.
So as soon as we stepped out of the airport concourse, a guy was waiting for us with a nearly fully charged BMW that reported an estimated range of 185 km and a cable that we could use to charge AC the car overnight in the garage without any problems.
Well, home charging… We may have made our base in a large apartment 400 meters above sea level but try stretching a cable in a terrace house where your entrance is 50 meters and 2 floors from the car.
But in order
Already the first ride was full of adventure and surprises. When I started the car alone, I noticed my rearview mirrors were down. I looked for levers and tried everything. I had to leave the parking lot within 15 minutes. I finally gave up. I walked out of the parking lot with the mirrors down, figuring it out somehow. I pulled out onto the highway, and all of a sudden… The mirrors opened by themselves.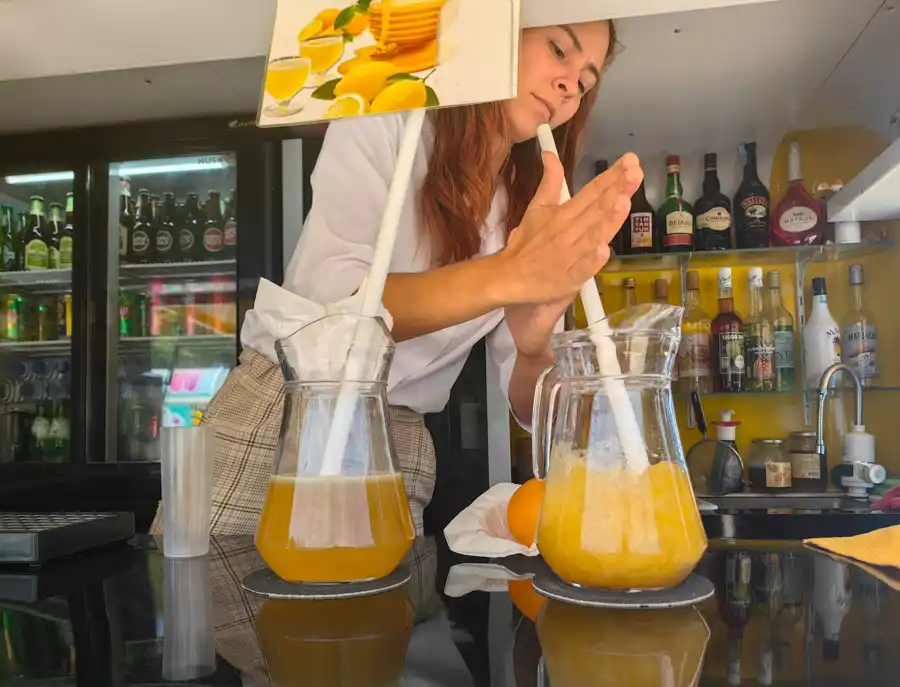 Funchal
The first road led to Funchal. Taste the domestic drink Poncha. If you know Madeira, you know that you can only find flat land on levadas or urinals. Otherwise, it's always up and down. So by the time I had walked the 18km to the tunnel before Funchal (10% gradient), the display told me I had a 48km shorter range.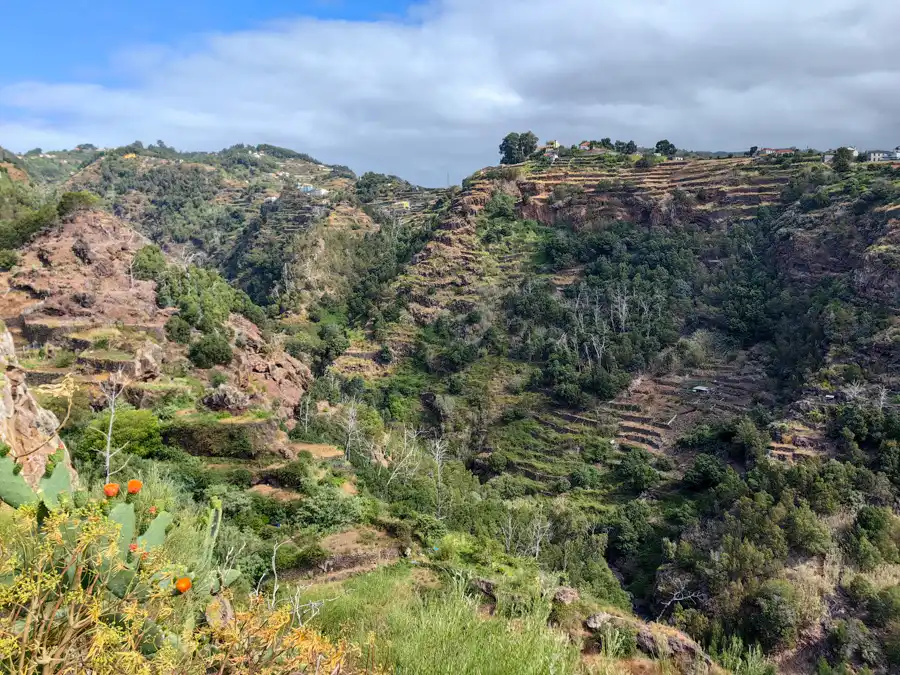 Ugh. With 1800-meter hills and a hundred-kilometre daily ride, I was starting to feel great adrenaline. What if the car ultimately died on the road? Will it handle those hills? When we parked in front of our condominium that evening, we had almost a thousand feet of climbing behind us. We had less than 40 km to go. Add to that the knowledge that we had no garage for our charging cable, which was completely useless.
Factor Energia Card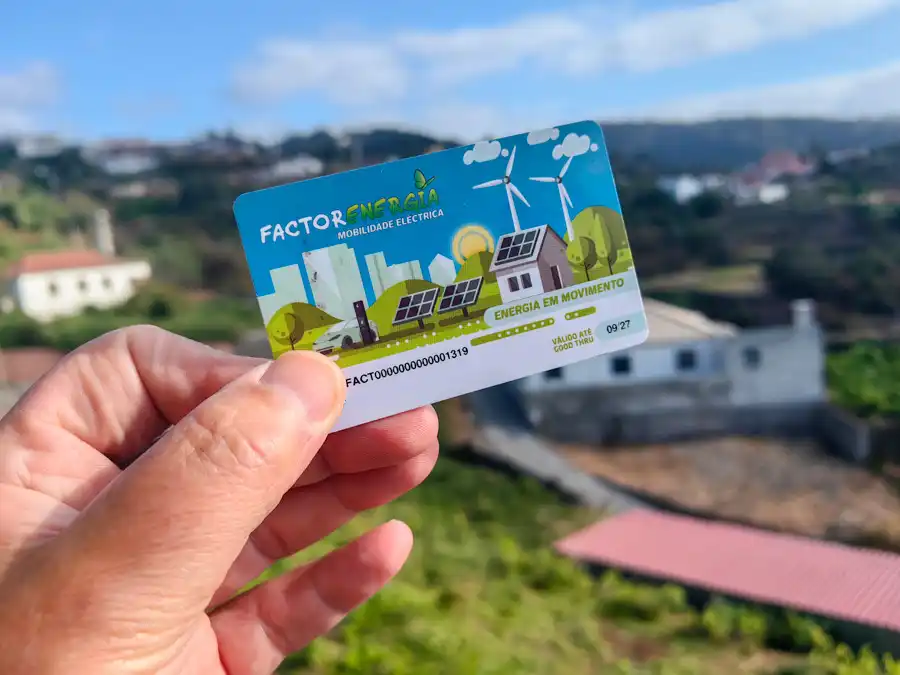 You can only drive with a recharge card. Fortunately, Rent Car Madeira they were prepared for this. In exchange for a 150€ deposit, they loaned me a Factor Energia recharge card, and from that minute on, the world has been ours ever since.
The very next day, we set off for Porta de Sol. Besides having the most sunny and windless days and being a base for digital nomads worldwide, it's also where one of Madeira's most famous trails Levada Nova starts.
We stopped at the Repsol gas station in Ribeira de Sol (almost on the highway) and started our first charge. Without the assistance of the service station attendant, we would still be charging to this day.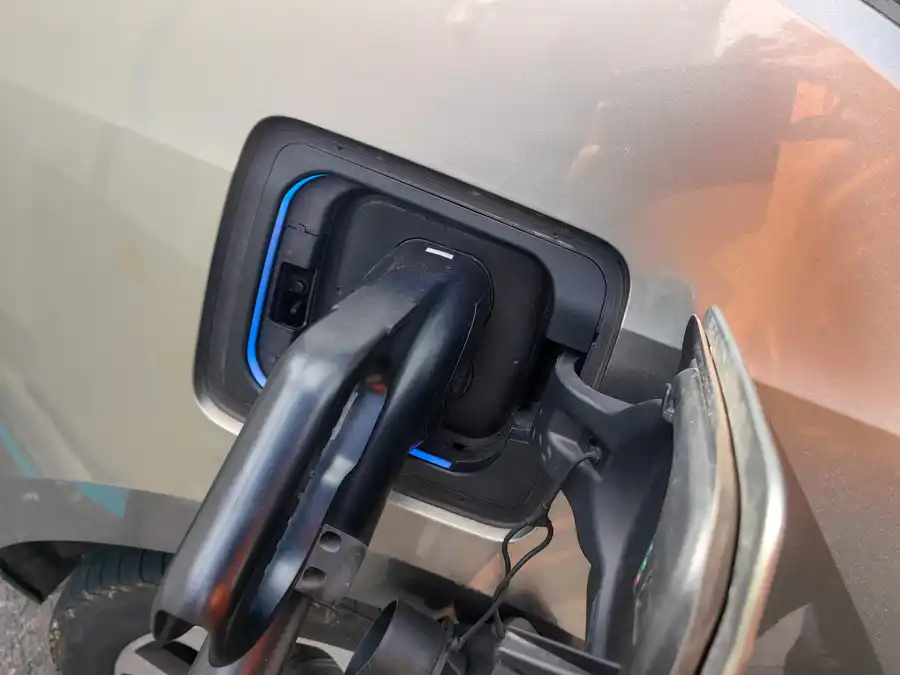 But then it picked up speed. A 70 kW/h DC station charges the car up to almost 95% in less than 20 minutes. We understood that we didn't want any other slower chargers from now on. Every other charge was a piece of cake.
Pico Ruivo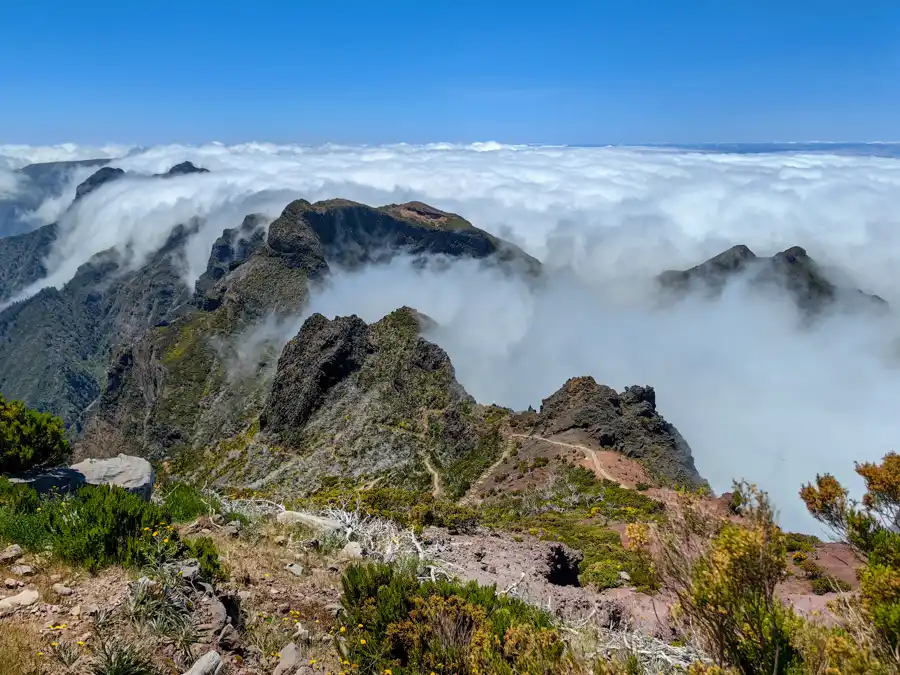 The next day we decided to test what the car could really do. We drove through Porto da Cruz and Santana to the bottom of Pico Ruivo at 1862 m. After charging, the car showed us the range, 210 km. After arriving in Santana 146 and a 12 km climb with 1500 m of elevation gain below Pico Ruivo again a cheerful 62 km. When we descended back, recuperation recharged us to 140km again. We only discussed how the BMW's range algorithm works from that day. It's definitely worth paying attention not only to the km value but also to the battery status itself. And believe me, downhill, the BMW will regenerate the battery generously again.
Porto Moniz, around the island
We also tried to go around the island. Will the torch go the whole circumference of the island without recharging? We knew we would probably make it to the lighthouse on the north side. By Porto Moniz we were almost sure. We had a great trip in Sao Vincente, and a great drink in Barbusano. Amazing ride.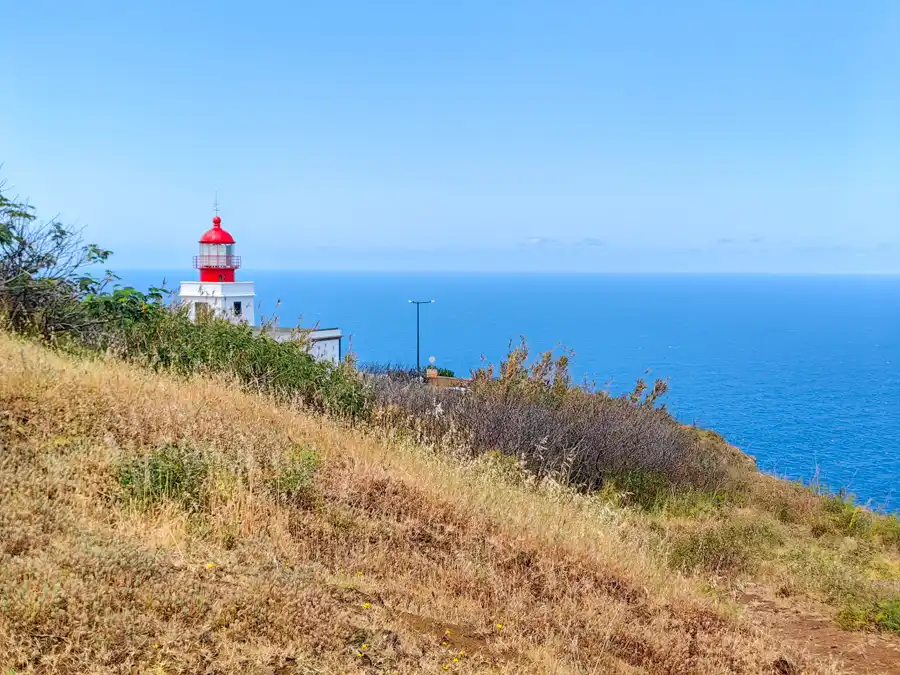 And why am I talking so much about it? If you drive on the island's south side, there's a whole bunch of one-way fast chargers. However, between Ponta do Pargo, Porto Moniz, and Porto da Cruz, there's only one in Sao Vincente. Fortunately, the tunnel through the middle of the island in Sao Vincente will take you to the other side of the island in a few minutes.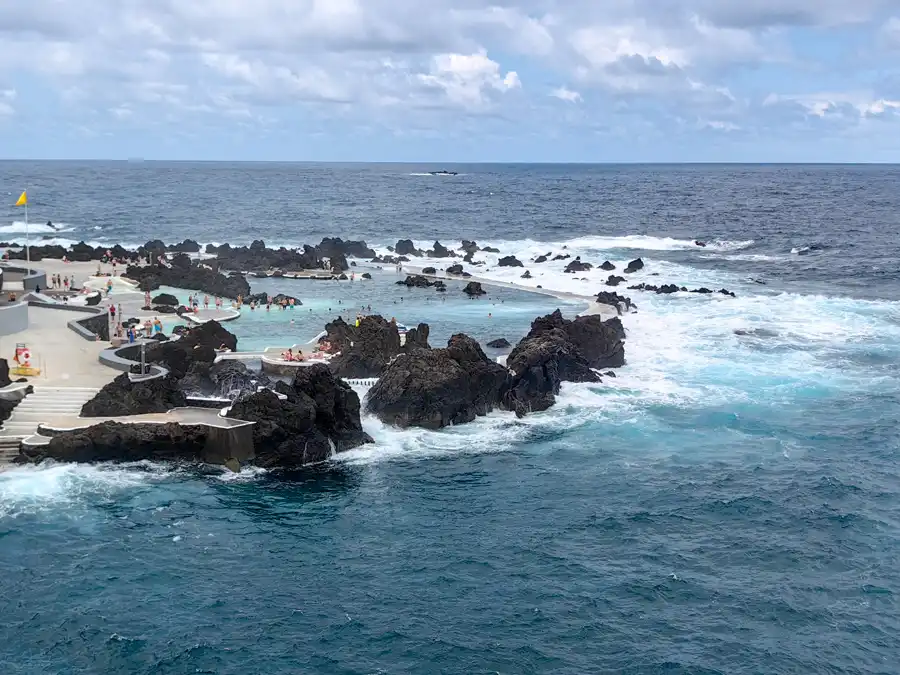 Driving an electric BMW i3 in Madeira
In total, we recharged the car 7 times. Apart from one stop in Machico, all at Repsol petrol stations on fast chargers. Not once did we have to wait while doing this. We always found a free spot everything always worked. One time (entirely out of the blue), we had to recharge for more than 20 minutes. Great score.
Driving an electric car is entirely different. It doesn't pay to drive to complete discharge, to drain the battery, and it doesn't pay to recharge to total capacity. Somewhere between 30%-90% of capacity is ideal.
You don't need to rely on the range indicator alone for range. This is very much influenced by your driving. Terrain, heavy foot, etc.… BMW has three driving modes: comfort, ECO and ECO+. The first two are very similar. With the third one, you can see the more extended range, redeemed by weaker acceleration.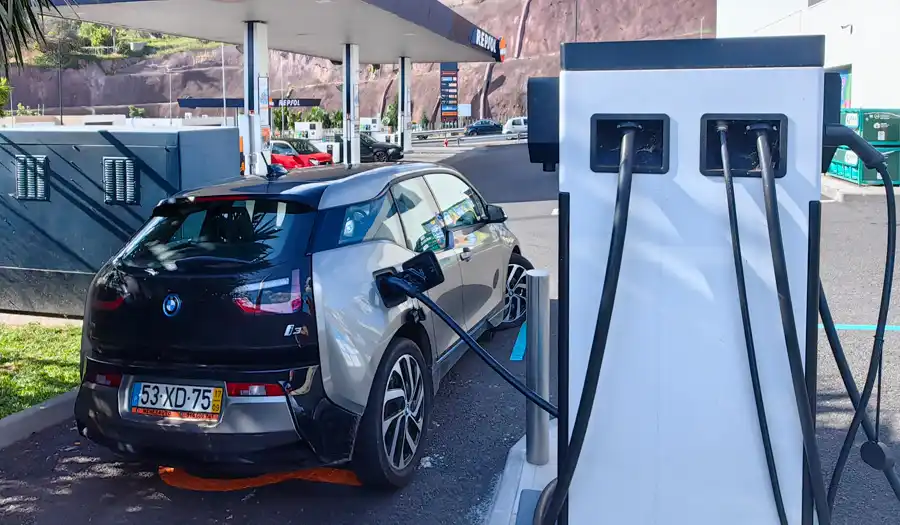 BMW recuperates very effectively. For this reason, there is no need to worry about hills or city streets at all. The battery regenerates very decently downhill.
You are environmentally friendly and economical.
Driving an electric car, moreover one this superbly equipped, is an experience. Driving the car is like a Bolt scooter, where you mainly only affect the gas (acceleration) pedal. Downhills, you don't need to apply the brakes because the regenerative braking does all the work for you. Moreover, the BMW i3's interior is extremely comfortable, spacious and well-equipped for driver and passenger, with excellent infotainment.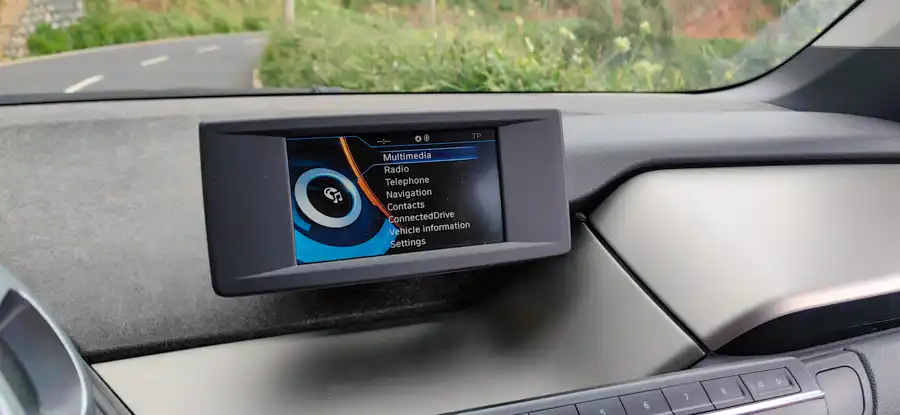 Full, full. At final checkout, we'd spent 75 euro on recharging for the whole week. Which is roughly a third of what we would have spent on petrol or diesel on conventional internal combustion engines for the same journey (about three tanks). However, the comfort of driving an electric car is endless. I have become an electric car fan.
Thanks to Leanor and Francisco for lending us the car. Next time a cabrio 🙂
Rent Car Madeira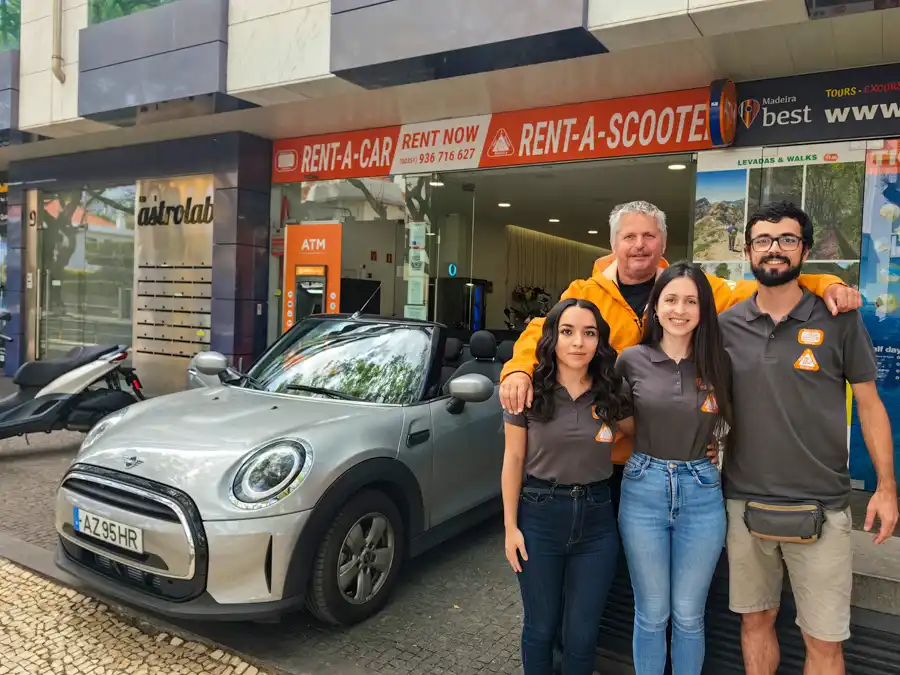 Young and helpful people straight from Madeira. In addition to renting regular and electric cars, they also rent electric scooters. Exploring Madeira is also a good choice. Rent Car Madeira has an office in the heart of Funchal, but if you rent a car from them, it will be waiting for you at the airport. But most importantly:
You'll get a great price without extra fees and figleys on insurance. Definitely the best choice for us.