Legends about Madeira wines circulate among Slovak winemakers. Mostly, however, they talk about the original cask wines intended for sea voyages, which were rolled at higher temperatures and supplemented with brandy (similar to port) for extended durability. The history of these Madeira wines dates back to at least the middle of the 16th century. I was all the more surprised when Leanor recommended visiting Quinta Do Barbusano, a local winery in Sao Vincente specialising in dry varietal wines.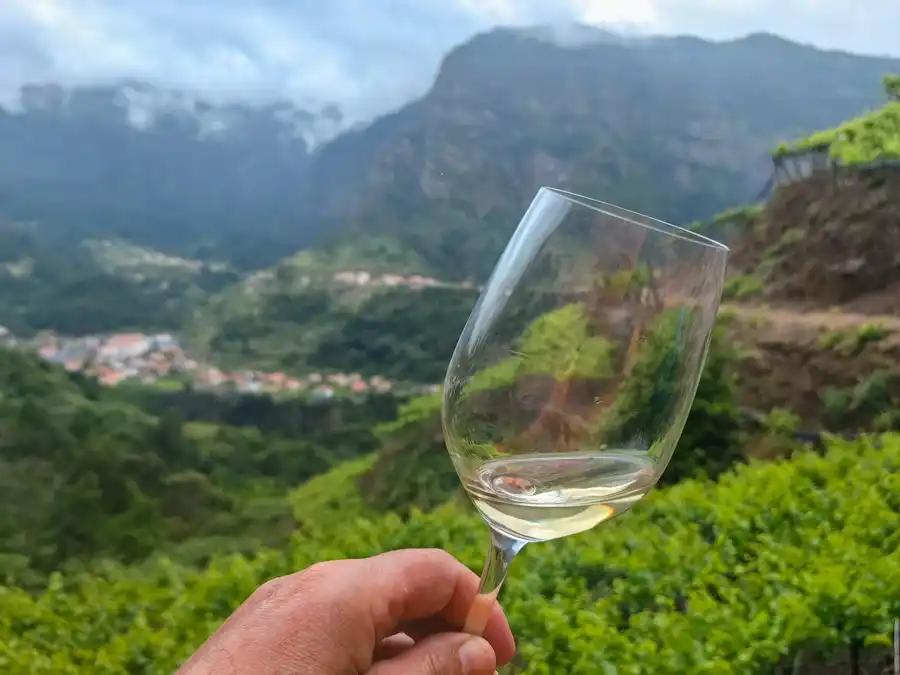 I didn't dawdle and arranged to meet Jessica, the winery manager, for a short chat.
Hi, Jessica. Tell us more about your winery.
We are a small winery. We grow our vines on the northern slopes of Madeira, where the sea and the great minerality give them exceptional flavour and characteristics. Our main vineyard, where we are also located, is in São Vincente. On 12 hectares of vineyards, we grow 2 grape varieties, Verdelho and Tinta Negra. We have another 13 hectares in Ponta Delgada and Porto Moniz. In Porto Moniz, we have the red varieties Aragonês and Touriga Nacional. In Ponta Delgada we have Verdelho and Arnsburguer.
Tell us a little about the traditions.
We want to focus on tradition and quality. You find our wine in restaurants and tastings rather than in shops. Although a few traditional Madeira shops have us on their menu.
Mr António Oliveira, the owner, has been growing grapes and making wines for more than 20 years. Aragonêz and Touriga Nacional varieties are used to produce our red wines. Their proportion varies according to the season, but they always get a touch of French oak. Sometimes oak barrels and always a touch of shavings. The wines are aged in wood from 6 months to 2 years. Last year we also established another new vineyard on the island of Porto Santo. The grapes from this island will enrich Barbusano's flavours every year.
If you had to choose one bottle, which wine would it be?
Probably the white Verdelho 2019. Verdelho has been a classic Madeira grape variety since the 17th century. It requires higher altitudes, deep soil with a specific degree of humidity, and it suits the northern sides of the island. Verdelho has a low yield and ripens early. It has an unmistakable flavour and is grown in São Vicente, Ponta Delgada and Arco de São Jorge for this very reason.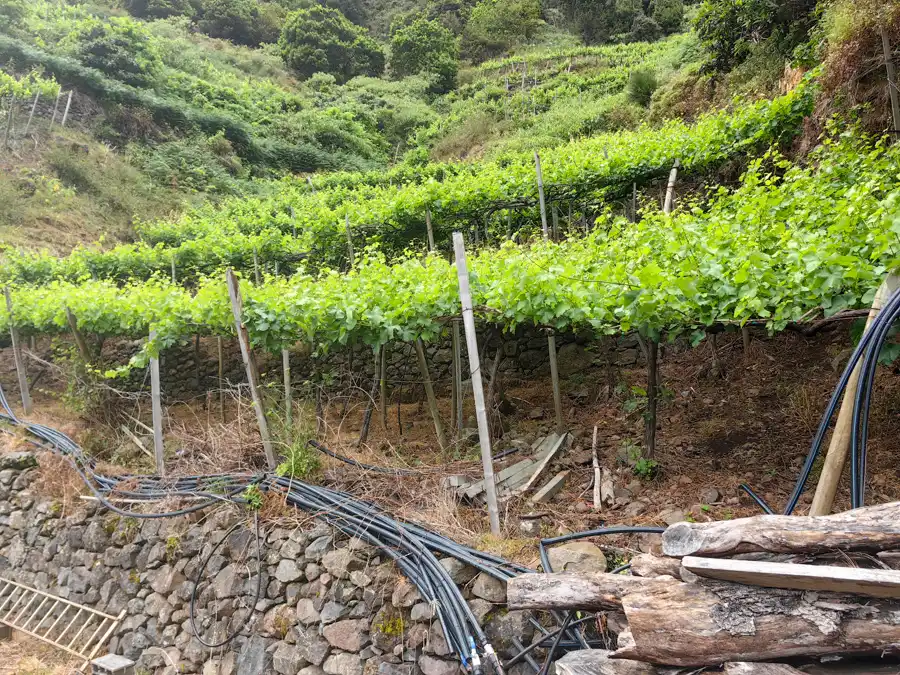 I heard that you make wine the traditional way, by treading…
Yes. Every year we organize oenological events associated with tastings, harvesting and traditional treading of grapes. Harvesting and treading the grapes is a feast for all involved. In our vineyard and tasting room, for the second year, we also offer guided tastings combined with traditional Madeiran gastronomy and a walk in the vineyards.
Winemaking in the traditional way by treading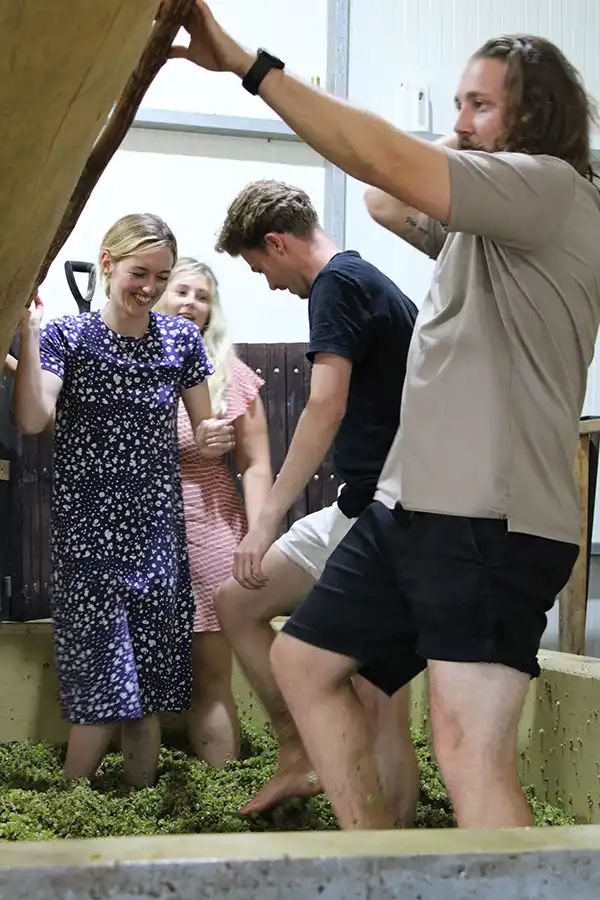 foto: Quinta Do Barbusano
How does the average tourist find out about them? Do I need to make an appointment?
If you want our person to attend to you in high season, it is better to call (+351) 926 637 730 and make an appointment. During the rest of the year, you can turn up. Couples, wine lovers and whole organised groups come here. Sao Vincente is charming in itself, and the vineyard will show you a different soul of Madeira. Our main goal is to provide a unique experience for those visiting us!
Quinta Do Barbusano Vineyards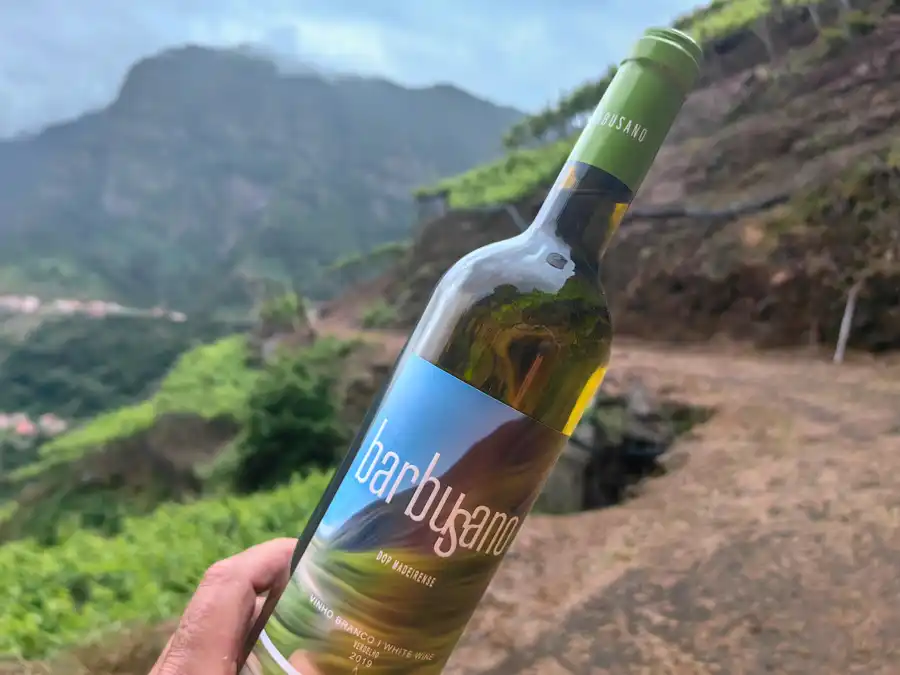 We leave Jessica for a while and go to the vineyard to catch our breath. A wonderful walk coupled with a full glass. Through the shoots of the vines, I look up the opposite hill with Our Lady of Fatima Church.
However, the slopes of Sao Vincente also offer great hiking trails from the sea to the Bica de Cana lookout and the Levada Faja do Rodrigues, with endless views of the valley.
A walk through the vineyard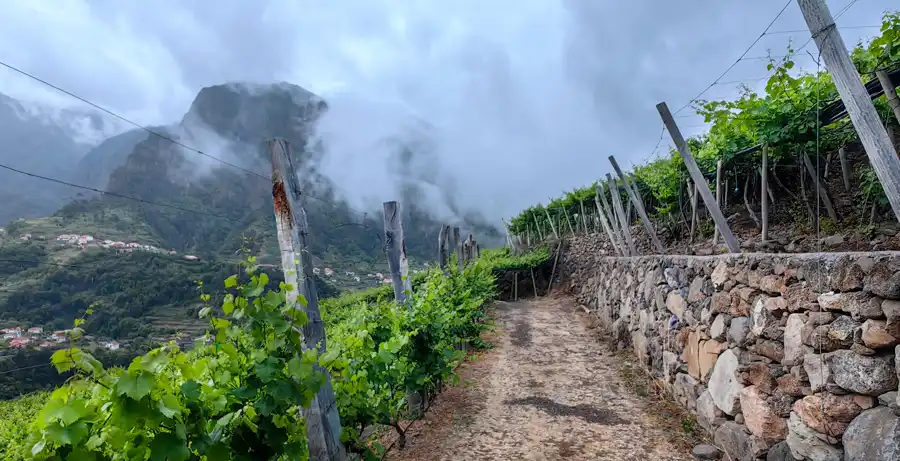 Walking through the vineyard fills me with peace. The vineyards are lovingly cared for here. Another terrace, a beautiful view, a table as if waiting for my goblet. Time has stopped. All I notice is the peace, the quiet and the atmosphere. The clouds are flying overhead, and a sea of thoughts are flying in my head. It is necessary to stop and enjoy life. Where to hurry. A brief shower of rain interrupts my reverie.
I turn around. I still have a tasting to do.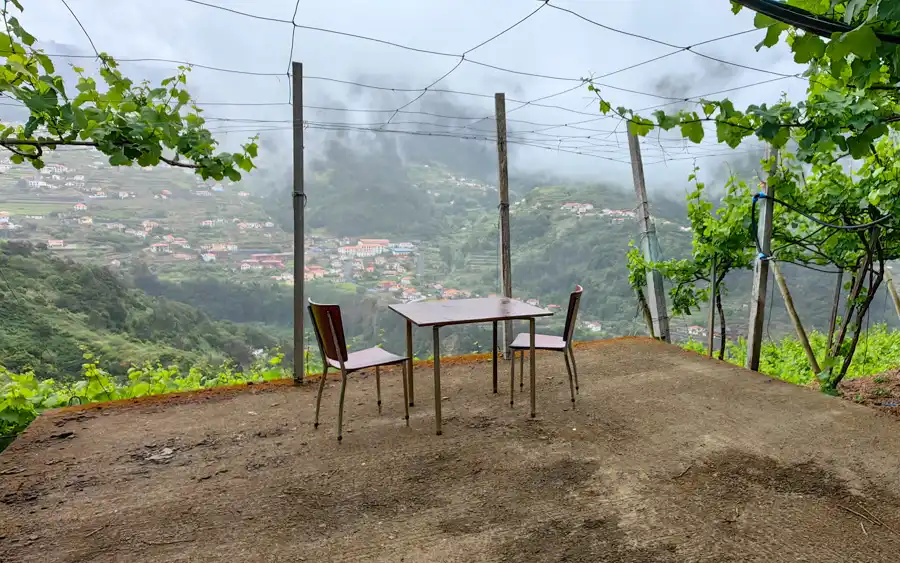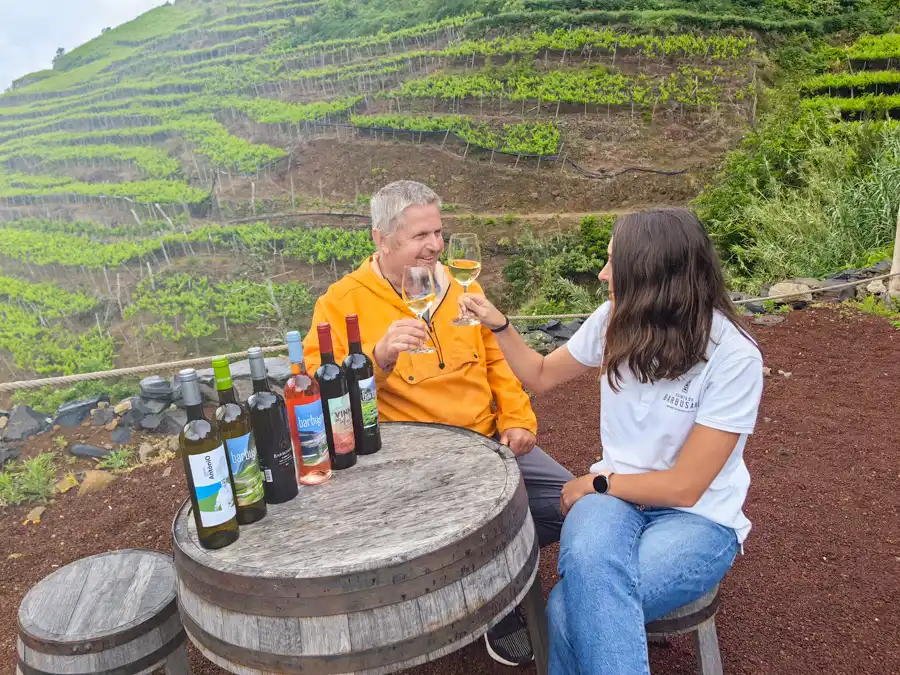 Wine tasting
The centre of the tasting room is dominated by a vast wooden olive press with the coat of arms of Quinta Do Barbusano.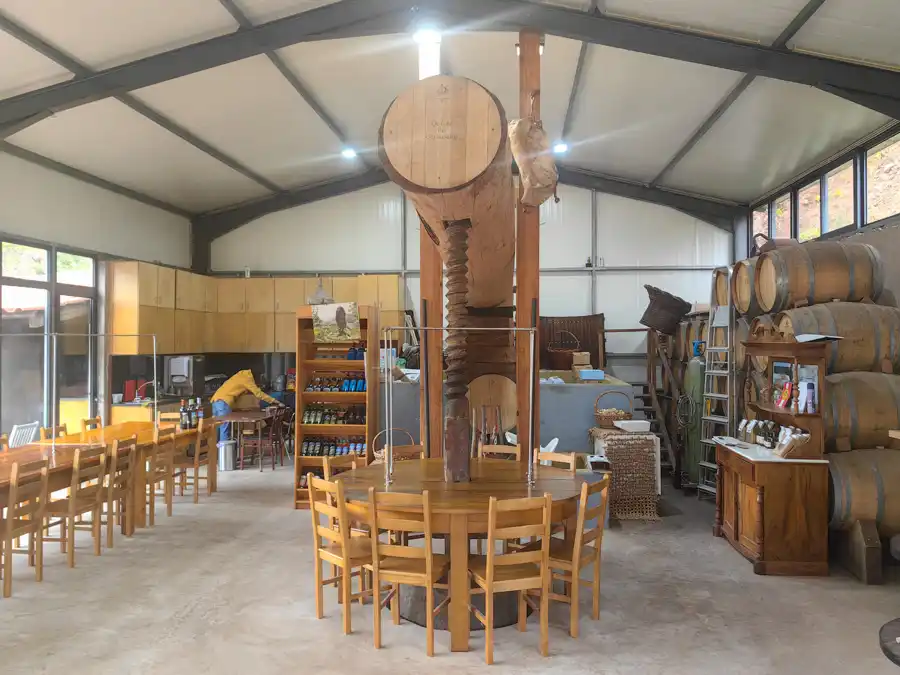 Jessica and I were hosted by a friendly taster who knows how to talk about the wines from these vineyards. Plus, she wraps her information in wit, understanding, humanity and pleasant smiles. We tip the tasting mouthfuls over to neutralize the flavours with apples. We keep score. Aroma, colour, smoothness, body, flavour, reverb,…
Fu. It's always a race.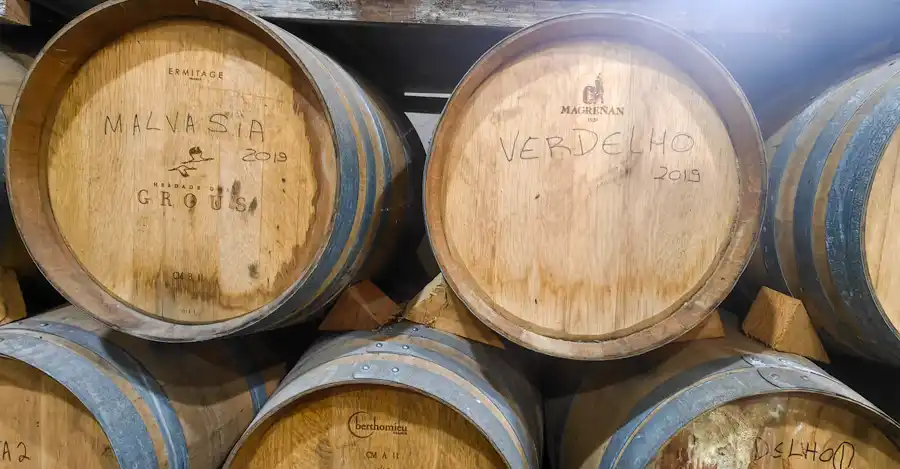 In the end, I'm leaving with my two favourites. Verdelho. She didn't lie. 🙂 And the red cuvee Vinhas do Antonino. Smooth as velvet, balanced, fruity, full of aroma and flavour. I'll meet the owner in person when I buy it too. Antonio is a great guy. You can tell he's a hard worker and a heartthrob in every way.
He doesn't care much about looks. He's more interested in my choice and opinion about the wine. He lives for his vineyards and wine.
I'm looking forward to tonight. On the way, I'll finish my tram. I fell in love with electric cars in Maderia. My decision not to burden this beautiful place with an exhaust stink has taken on a new dimension.
Quinta Do Barbusano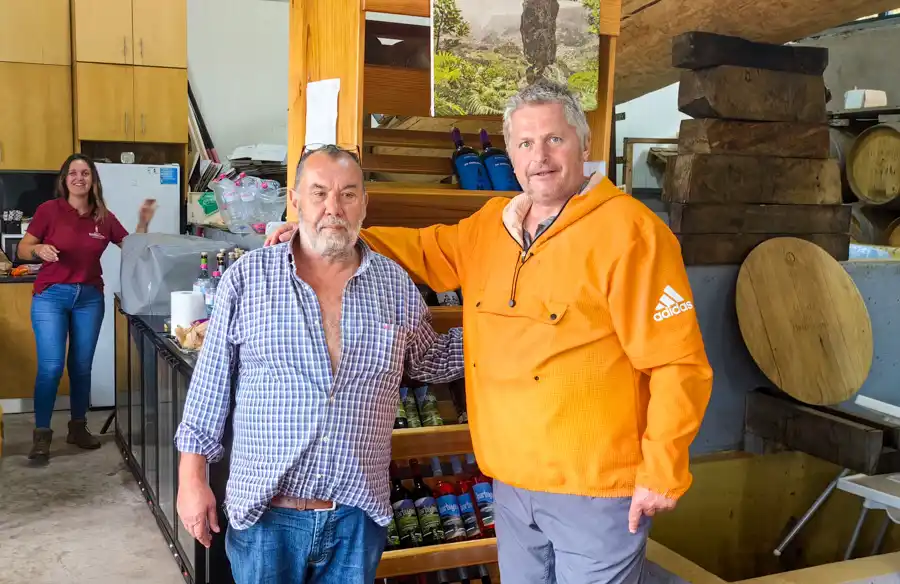 Epilogue
I wake up in the morning, and the first thing on my tongue is yesterday's Verdelho. What to say. Wine is something to remember, even after a long time on the tongue. When I fly out in a few days, I discover the entire Quinta Do Barbusano line-up at the airport. So, after all, they sell it somewhere. 🙂
Madeira is famous for its beautiful sights and wine. Do you like beautiful views and wine? You will discover the two most beautiful ones in the San Teodoro vineyards in Quinta Do Barbusano. No need to book out of season.