Slovakia Alps by bike. I have been planning this trip for years. To cycle from the Alps to Slovakia was my dream 15 years ago. In the first part of the report, we cycled through 3 countries (Austria, Liechtenstein and Switzerland to St. Moritz. Today, we continue to the Stelvio Pass.
Day three, the dream Stelvio
I'm up first thing in the morning. We already agreed in the evening that we would split up today. I can't do it, and I have to go to the Stelvio, as the weather forecast is excellent and I have enough strength. My partner will take the original route, and we will meet again somewhere after Landeck in Austria. I'm leaving relatively early; the plan is to get to Santa Maria, where there is a campsite and the next day via Stelvio.
But it's close to the campsite, so on the way, I would like to know if I will do the Stelvio today. After yesterday, the initial climbs over the Ofenpass gave me a proper hard time. All day, I've been circled by honking competitors of some scrap rally, as everyone likes to do now. We saw one car with an inflatable pelican on the roof, another with plush and a big bear, and another with grass and a lawnmower.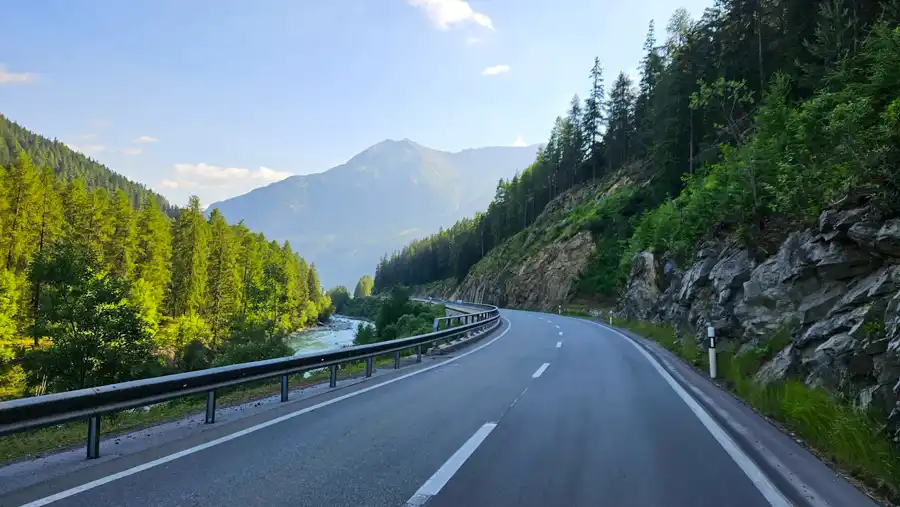 From Livigno
I'm coming to the tunnel to Livigno. I already know this place from the maps. I must go back here sometime. But now I have a different goal, and before that, I arrive in Santa Maria. It becomes clear that camping at this time is foolish, so I follow the signs for the Umbrailpass and the Stelvio.
I'm in for a lovely afternoon, 14 km and about 1300 vertical. Surprisingly, despite the incline, the opening kilometres are pretty acceptable. The cessationists pass me, and everyone nods their heads in support and appreciation. I rest after about 2 to 3 km. Above the forest serpentines, I see the road ahead of me.
I'm droning along in a gusty wind, and upon landing, I see that I've lost my Strava bike cap, which the gusty wind has blown into the ravine below the road, damn it. And I put it on for the first time today for this special occasion. I'm gradually getting more and more rested, though. As I gain altitude, I realize that I've only eaten breakfast today, which is a miserable one.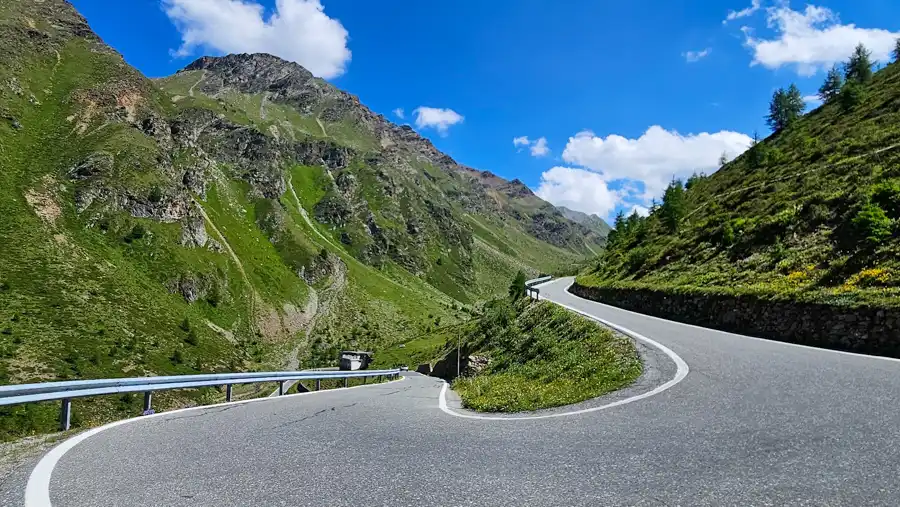 Umbrail Pass
I was pedalling to Stelvio, Alps Slovakia, by bike. I am strengthening with gel and everything I have. Unfortunately, it was only Haribo candy. I watch the buildings in the distance, hoping it's already the Stelvio. I'm worried about the clouds, but hopefully, it will hold out without rain. A Lamborghini and a Pagani Zonda circle me. I wondered momentarily if I was hallucinating already, but I wasn't. It's just that I've finally made it to the Italian border.
Sportbikes and motorbikes rumble through the valley. I'm on the Umbrailpass and gradually suffer the last 4 kilometres. I'm resting every moment now, but I'm not pushing, and I'm slowly getting to the top.
Stelvio Pass
It's a beautiful feeling; I take a photo by the sign and meet the first Slovakian, although he doesn't notice me from his BMW. At the top, I buy a spare Stelvio cycling cap, enjoying the views, but the sun is slowly setting behind the summit, so I continue down quite quickly.
I'm standing again now and again. There are incredible views, an incredible road, and a hill of cyclists still climbing, even though the sun is already over the hill. So I enjoyed the endless downhill, but my eyes were looking for the nearest campsite. The first attempt in Prato was unsuccessful, and I had to go to the nearest village, Glorenza. No one at the reception, but I don't care. I pitch my tent and get equipped for the morning. After a day's hunger fast, I cook a three-course dinner and fall asleep relatively quickly, tired as well.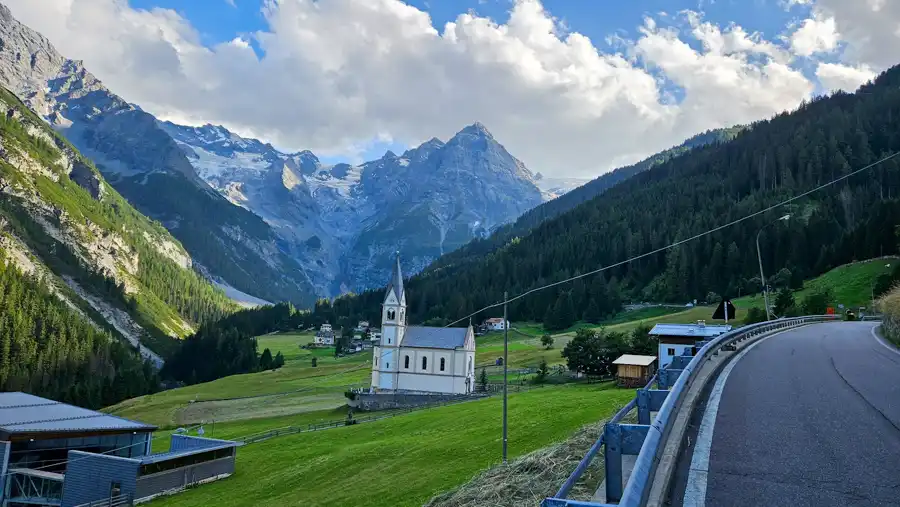 Day four, catching original route
I woke up early in the morning. My partner texted me from Austria. I'm still in Italy and want to catch up with him today. I'm packing my bags, and there's still no one at the front desk, so tonight's overnight stay was complimentary.
I set off along the beautiful cycle route to the lakes, but only the introduction was beautiful. After breakfast at the bakery, I climb a road just outside the village where suddenly the gradients are well over 16% I don't give up on the last one, and for the first time, I even push it twice.
Lago della Mutta
The buzzing of an electric bike passes me, and after some time, I hear Slovak, a woman passing by and encouraging me. After a while, just in front of Lago della Mutta, I hear again, Are you Slovak? We are already talking, and I have a passenger for the next few kilometres. He is working in Italy during the summer season. I tell him about my journey until we arrive in Reschen.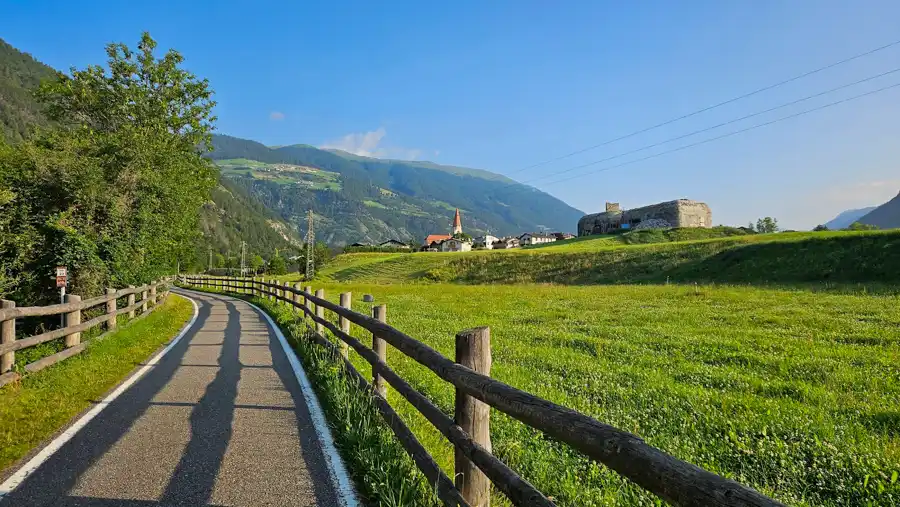 Reschen Pass
At least my journey through the last climb went better. We are saying goodbye, and I am finally looking forward to the descent and the trip along the rivers to Slovakia. It starts fine; I'm finally descending, and packed cyclists are puffing uphill against me.
Through Nauders, serpentines and tunnels, I finally reach the original route by the Inn to Pfunds. The only problem is that my power bank is dead, and my phone is draining the last per cent of its battery. After two refusals to recharge in the shops, I'm recommended to an e-bike recharge spot in a restaurant to have lunch and recharge as much as possible.
Just as I'm about to leave, a group of torchbearers arrive, and I leave in good time. The road alongside the Inn was a bit disappointing at first, still gravelly. I couldn't even see the river; the constant climbs up and down were wearing me out, and the Landeck wasn't getting any closer.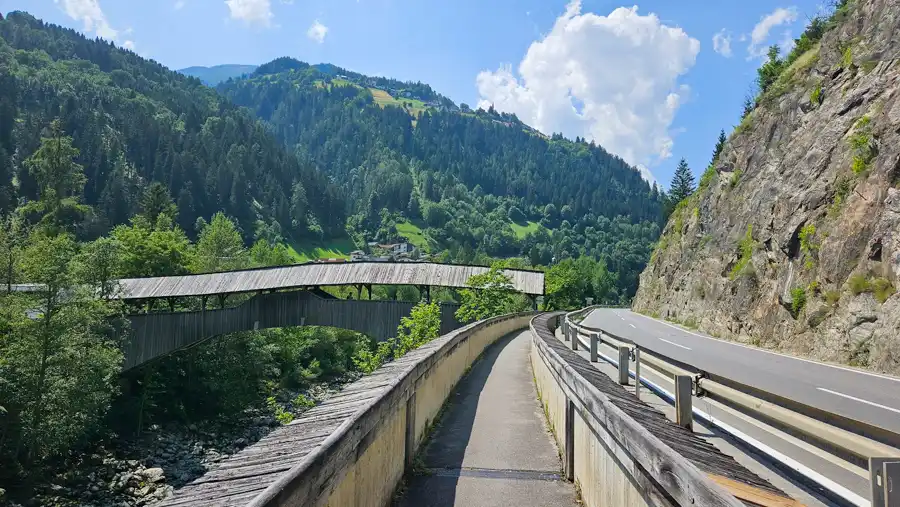 Landeck
Moreover, my friend had already texted me somewhere from Innsbruck, so my plan to catch up with him today fell through. I find a nice place to rest in front of Landeck, take out my hammock and hang out for an hour to relax.
It was great, except my diopter glasses fell off, and I only notice that when I'm standing on them, damn it. I straighten my glasses, pack up the hammock and pick up the pace. I've found a campsite above the village of Stams, so hopefully, it will be possible to check in after eight. The road and detours made me nervous at times. I was kicked up a storm by a 6 Euro petrol station radler, but I arrived at the campsite happy as the sun was still high above the horizon despite not shining for over an hour earlier and hiding behind a hill.
It is a significant and expensive campsite, but I got a nice spot with some Germans on the edge of the camp for 28,50 Euros, a luxury spot. But it's warm. I've only half covered the tent, and even then, I hardly fall asleep in the heat.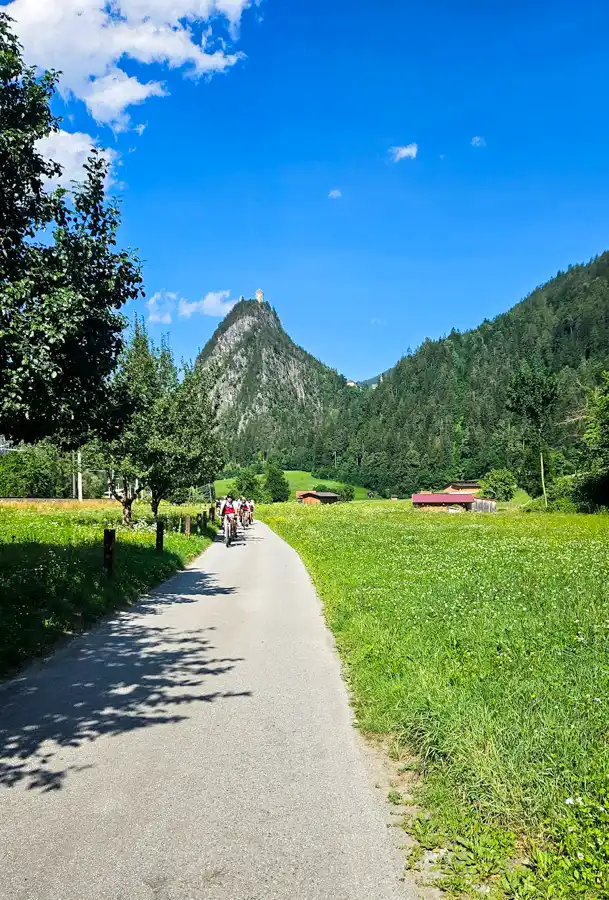 Stelvio: Alps to Slovakia by bike