After six weeks at school, acclimatising and wandering around Cairns, it's time to start stealing the first kilometres of the journey to Sydney. Day zero: Cairns.
The D-1
Tomorrow, the bike portion of the trip will begin.
Of all the feelings I have, at the moment, it's the temperature that's overwhelming. 25°C at night and 36°C during the day, combined with the high humidity, is quite a lot for a bike. When you add to that the extra degrees you get for free from the hot asphalt, it's a living hell. There's nothing to do but set off early in the morning, get going as long as possible, and then ride it out somewhere. I hope the further south I get, the more the temperature drops. The start of the route will be along the coast, so there shouldn't be a problem with refilling water, food, and even a signal to keep me posted back home. According to the forecast, it looks like it will clear up after six weeks of sunny weather, and I'll be at the start of my journey and have to contend with rain.
Garry is persuading me to wait and set off a day or two later, I can stay with them as long as I want, but I'm already on my bike. I'll see how it goes in the morning and decide.
Day zero: Cairns
When I woke up in the morning, the weather was pretty cool. There wasn't much to think about. I packed the last of my stuff, put it on my bike and started to say goodbye. I had mixed feelings. On the one hand, I was looking forward to the bicycle, but on the other hand, I was sad.
I'm leaving new friends, next year though I'm planning a trip to Europe next year and we agreed to come to Trenčín. So see you later, friends. On the way, I stopped by my classmate Zuzana's house, where she and her husband moved in two days ago. We'll have a coffee, and I'll get some repellent from her on the way. At his using it, I often think of Susan later with gratitude. The last photo together, the first separate photo with a loaded bicycle.
Cycling expedition to Sydney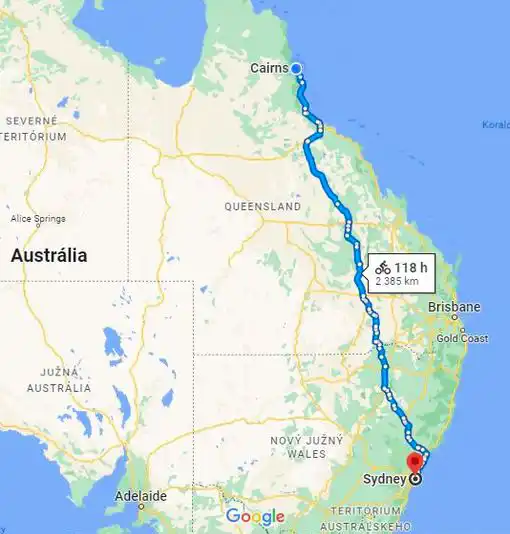 The roads here usually have broad shoulders or a marked bike lane, so I feel safe. It could be better with cleanliness. Even though it doesn't snow here in the winter and the road doesn't get slushy, the roads are full of small pebbles like they are here in the spring. There are also wires and remnants of torn tires lying around, so I would like to know if there will also be some flat tires. I've driven almost 800 km here, and so far no problems.
For the first few kilometres, I tried to find balance and confidence in riding a loaded bike. Just as I was getting hungry, Mcdonald's appeared on the side of the road as if on cue, and the other side, a Coles hypermarket.
Rainy
I turned, and water fell from the sky.
I arrived under the roof just as the rain started. Fortunately, I stayed almost dry. I bought food and ate on a bench under the roof. Cool. When I finished eating, the sun came out. I set off, but after less than two kilometres, it started … it started to squeak again. I found a spot under a bridge to wait for it to stop.
Meanwhile, it was raining twice, and I managed to hide right at the start twice. We'll see how it continues. After I find I'm sitting under a bridge 200 yards from the campsite where I showered when I went to Cairns. So I relocated to the shelter at the campsite. If I needed showers or a toilet, it was freely accessible. You can also camp here for free. I will wait a while and see if it stops raining so I can … or stay the night.
Banana wind
After an hour, it gets clear, and I continue. I was getting used to being greeted by the occasional driver, but now I was greeted by a driver from a train passing by the side of the road. Pleased. Outside the small town of Babinda, I stopped at a stall where bananas were laid out. This one was also self-service, like many others I saw. I pick one myself, weigh it, and put it in the cash box. I pay. They cost $2 a kilo.
Two of the local guys also came to see me. We talked for a while. When they heard my destination, they shook their heads in disbelief, but they figured I'd picked a good because it was now blowing towards Sydney so that I wouldn't be going against the wind. I believed them and was pleased with myself. Then they gave me two more packets of dried bananas they had made there, delighted.
Babinda Boulders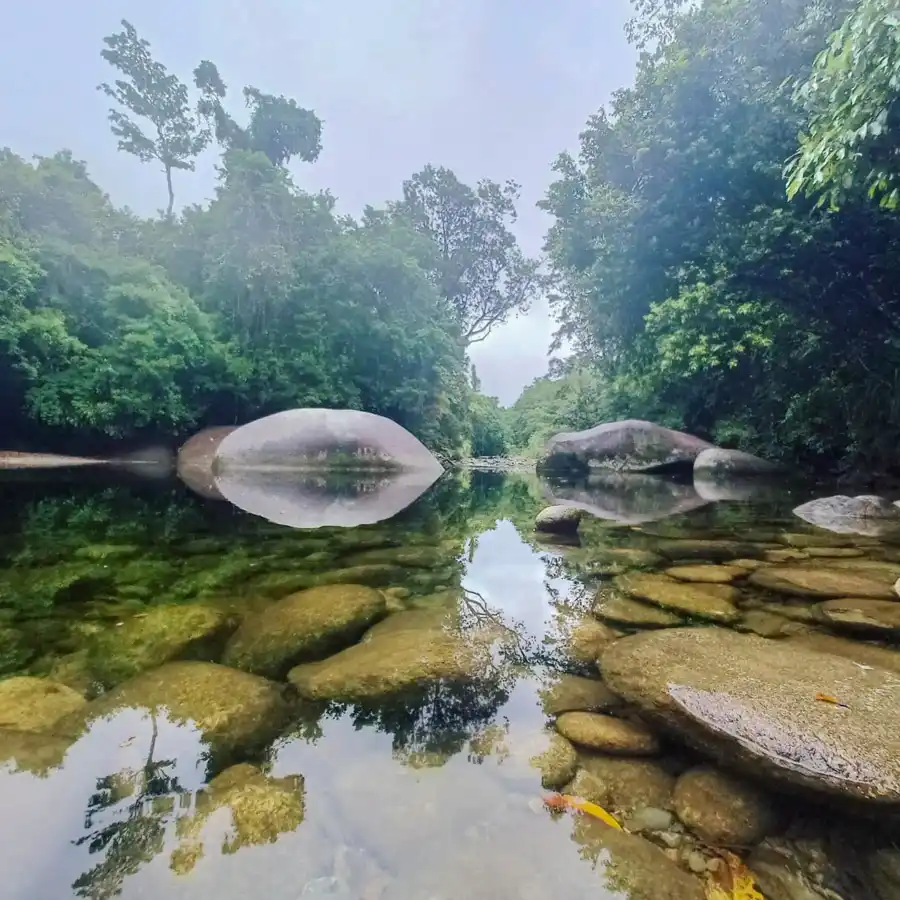 I came to Babinda Boulders Park. The Babinda Boulders, surrounded by lush rainforest, are an iconic Cairns attraction and a popular swimming spot. It's an example of the fast-flowing tropical streams in the area. The stream is lined with huge boulders, and the transparent water weaves between the obstacles to fill large pools where people can swim.
Water and rocks
Visitors to Babinda Boulders are often surprised to find the water relatively cool, even in the middle of summer. Just outside Babinda is Mt Bartle Frere at 1611m above sea level, Queensland's highest mountain, from which the cold water in Babinda Creek comes.
On the fourth time, I couldn't hide from the rain; at the end of the road, I got soaked to the skin.
At least I didn't have to change into a swimsuit and bathed as I dressed—two birds with one stone. I'm bathed, and I've got washed too. You can camp here for free, so it's the perfect place for a first night. I've done my first 70 km warm-up.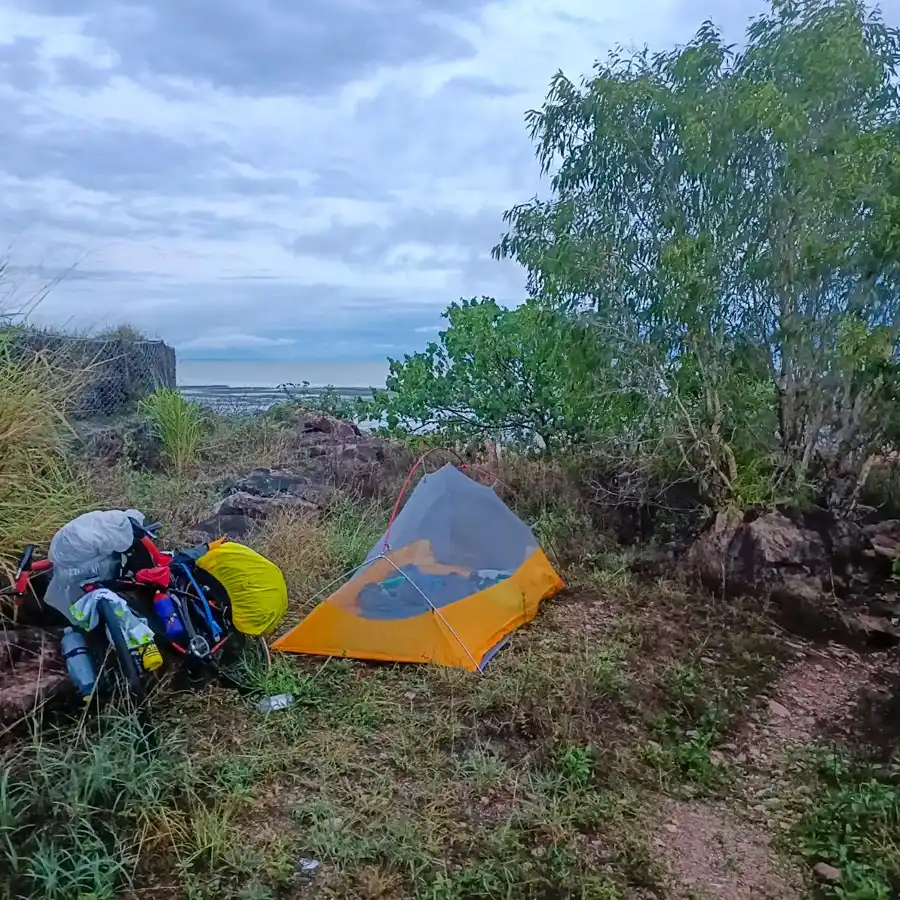 I'm full of anticipation for what the next few days will bring.