The trip to Cairns went smoothly. Sometimes I watch the nature around me with my eyes wide open. Sometimes I close my eyes and fight against falling asleep behind the wheel on the endlessly long Australian roads. When I particularly like somewhere, I take out my bike and go for a ride. I sleep in the car, always near some toilets and showers. Prepared for Cairns studies.
There are many such places here, so I am fine with hygiene. Australians travel a lot and have this built to a good standard here. Even if the sanitary facilities are sometimes older and it shows, they are always clean and always equipped with toilet paper.
Arriving Cairns
After four days, I arrive in Cairns and check in with my new family. She – Kerry, and Garry, are partners around my age. The six weeks I spent with them created a close, even friendly relationship. I also got a taste of the nightlife in Cairns with them. We went to a George Thorogood & The Destroyers concert, a basketball game (we had centre line VIP seating, front row to the deck), hit the local pubs and casino discos, and I went golfing with Garry. In short – relaxation and student life are like an American movie.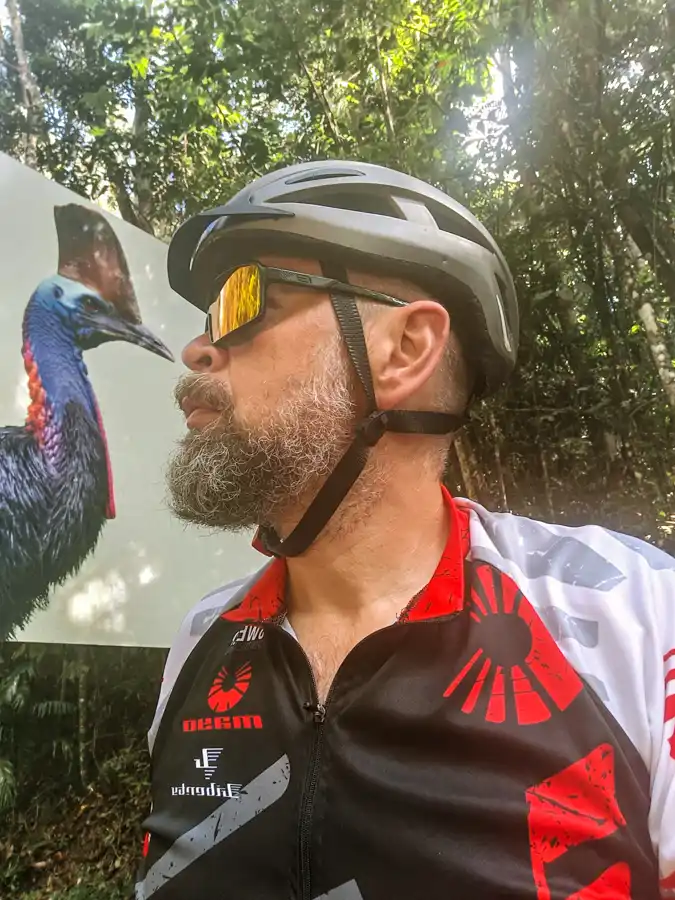 Cairns studies
Not to forget, the language school also lived up to my expectations more than 100%. Great teacher Solen, the fun and inspiring deputy head Jon, who taught us for a week after my intervention during Solen's vacation, and the professional and helpful principal – or as he introduced himself to us on the first day -Principal Ueli Stauffer.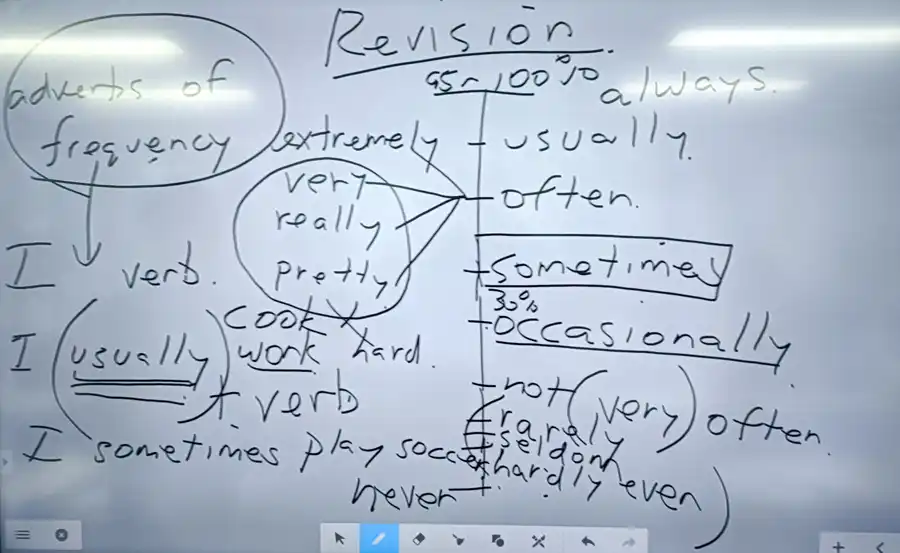 Most of my classmates were Japanese, but there was also Zuzana from Ostrava and a few from various Asian countries. A couple from Slovakia, Majka and Bohuš, were with us for one week, and a couple from Colombia joined us for the last week. Almost all of them were my children's age, some even younger. Gradually we formed a great team, and goodbye at my departure reminded me of a bit of saying goodbye at the end of high school.
Davis Creek
I didn't even let my bicycle gather dust during my stay in Cairns. Every day I walked about 6 km to school and 10 km back 🙂 + rides into town. The very first weekend, I went camping with a bunch of people in the rainforest at Davis Creek National Park. They drove, and I biked 70 km.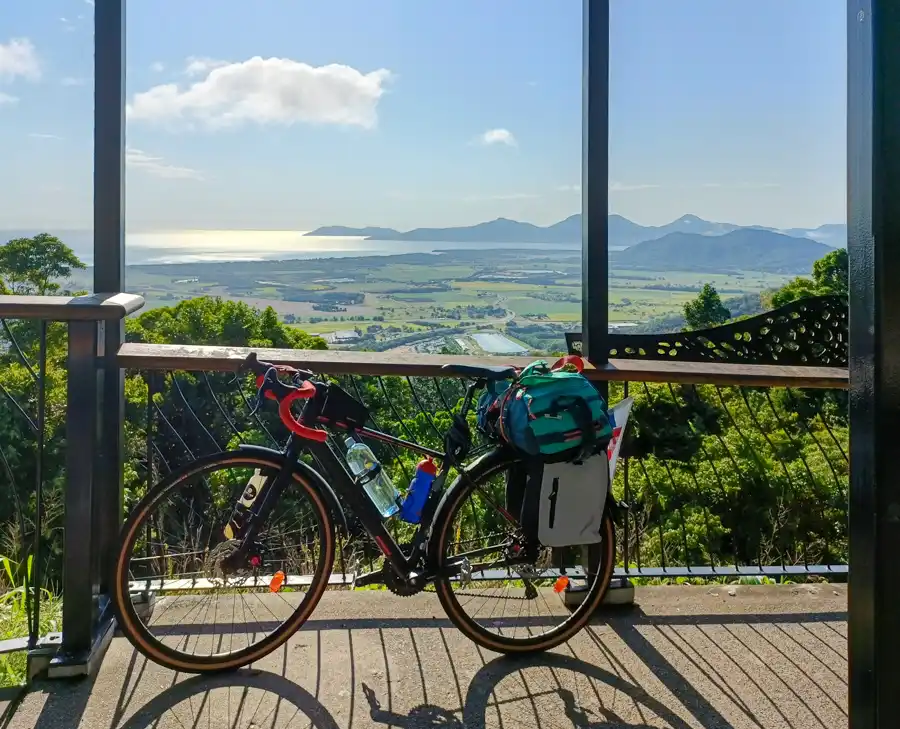 It was the first time I tested a more challenging ride with more elevation gain, and in getting to where we were camping, I felt like I was fighting for survival. Little did I know it would get worse. I pushed my bike up a steep hill on a trail in the rainforest. I wasn't able to go more than 20 meters at a time. I was resting more than walking. I divided the trail into short sections from shade to the nearest shade. I arrived totally exhausted and had to rest for an hour to be able to cook a meal. Riding a bike with a heavy load in the heat is not going to be a walk in the rose garden.
Port Douglas fitness tuning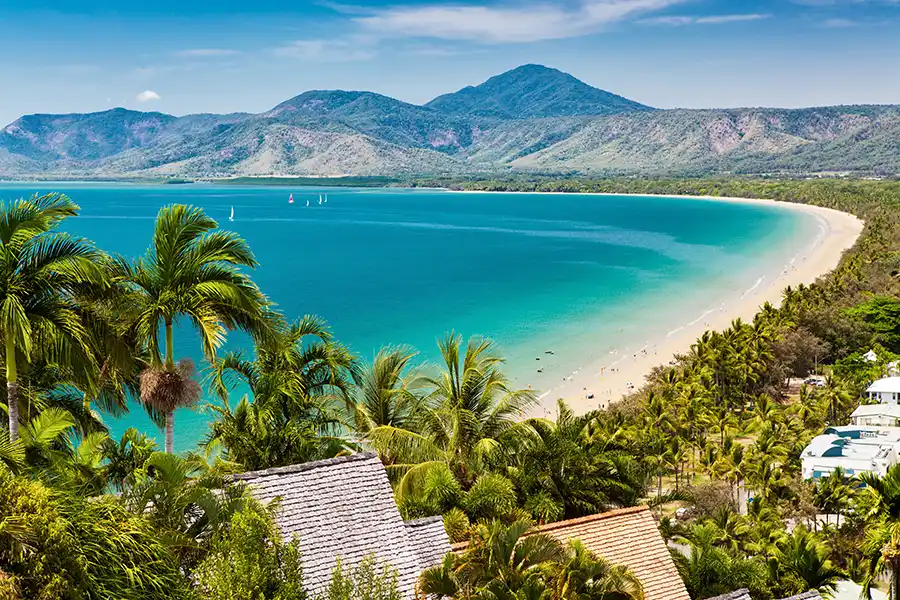 Kerry told me they would have an extensive visit the following weekend, so I decided to make another trip. I pack up and test out my new carrier bag, as the original one had ripped. Destination: 70 km away, Port Douglas. My plan was not to have a plan, so I started wandering the coast once I got out of Cairns.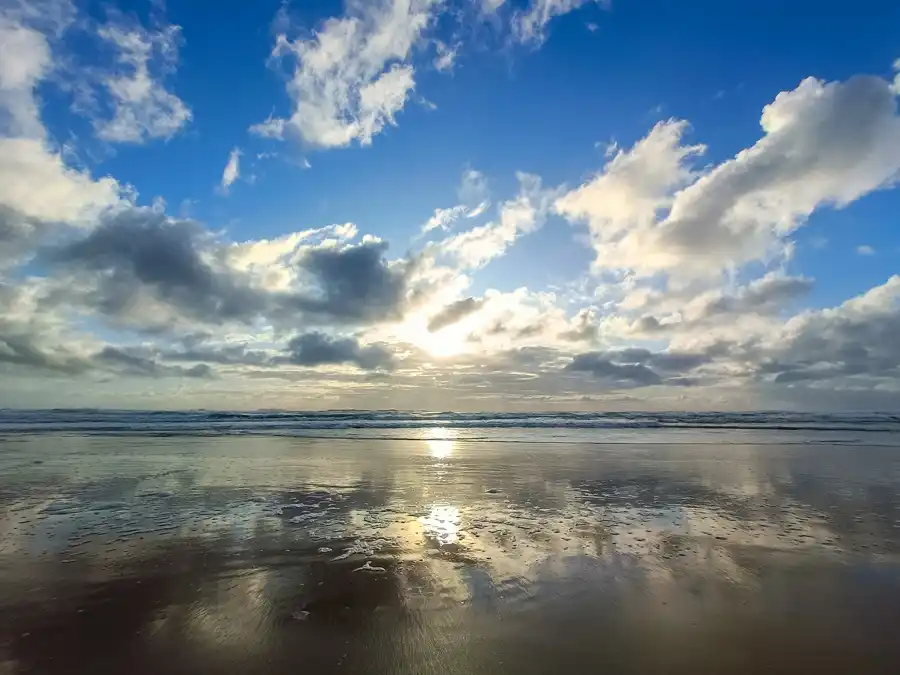 First Trinity Beach, then Clifton Beach. Here I decided to stay the night. I'm still concerned about the crocodile warning signs. I don't know if they are just alibistic or something to be afraid of. I like the place. There are toilets, a shower, drinking water, a shelter, and a beautiful beach. Behind the first trees, I find a small cross with a name and two dates: *13.4.1975 a +18.6.2022.
Beware of Crocodiles
It doesn't add to my peace of mind, but I stay. I try to find a way to enjoy the peace, the freedom and how to get rid of stress and inner tension. So far, I'm not succeeding, but I'm still only at the beginning of the journey.
In the morning, I noticed a nearby sign with a warning, "Do not stay on the beach; there have been reports of crocodiles here for the past seven days." I'm glad none came to visit me that night.
Already here, the "courage of the ignorant" label, aptly used by Marek from Bratislava in a comment on one of my posts, has begun to come true.
At 51, I was reliving the beautiful student days again. Nice Cairns studies.