You can reach Terchová biketour on several paths. Some people prefer the route along the new cycle path with bridges, but I was more enchanted by the route through Dolina Kúr, under the hills through beautiful meadows to Terchová.
Žilina dam
In August, the weather is somewhat rainy, but I don't let it discourage me. So we set off from Žilina in the morning to avoid possible rain. Around the waterworks, along the Váh River to Varín. In Varin up under Jedľovina. It's a bit of a climb, but you can do it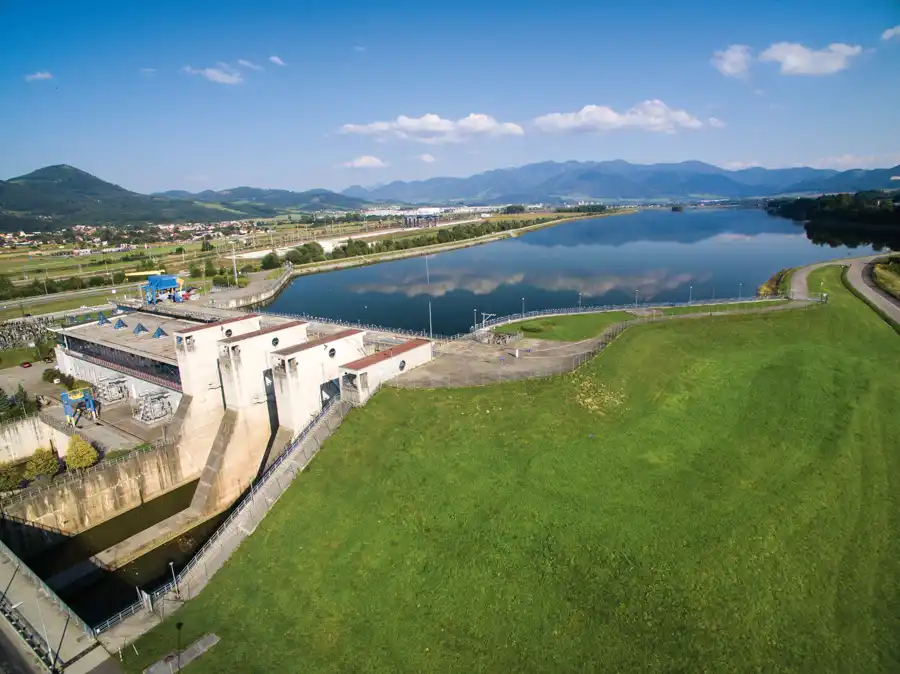 From the signpost below Jedľovina there is a nice descent through the meadow to Kúr valley.
Kúr Valley
Valley spreads on the northern side of Mala Fatra. The eponymous stream flows through it. In the upper part, it branches into the Kukurišova, Prostredná and Haviarská valleys. A blue-marked trail leads through it to the Priehyb saddle. You will also find the Kukuríšova Cave here. From Dolina Kúr we continue up towards Dolná Tižina under Borová skala.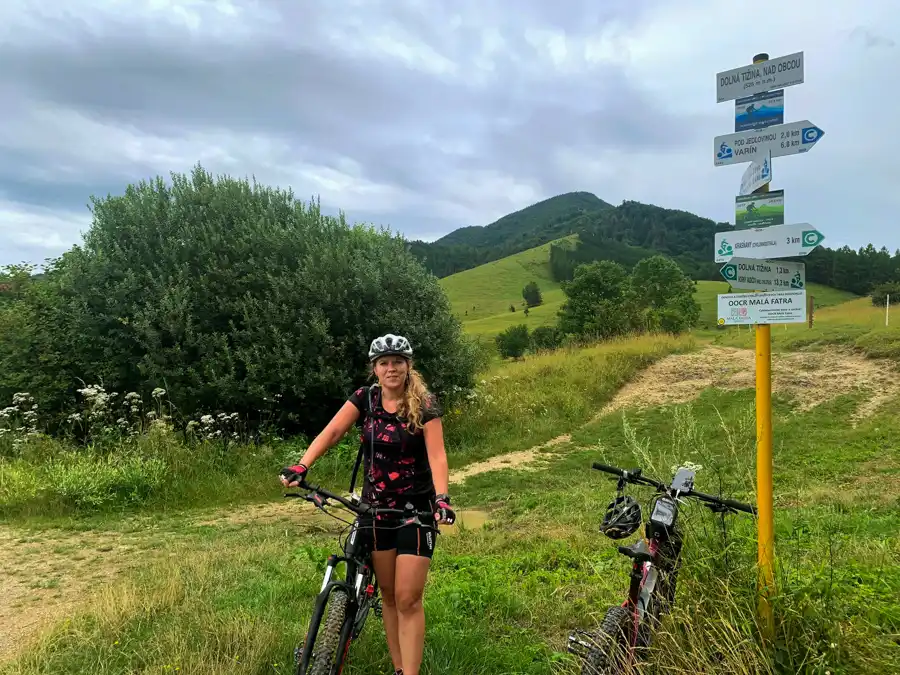 Borová skala
Borová Skala (Pine rocks) offers excellent hiking and views. It has charmed me for a long time, but I have not been there yet. There is no marked hiking trail leading there. But you can see a cross at the top. It looks like we won't go there this time, but suddenly a guy on a bayou appears and asks if we know the way to Borova Skala. Heaven itself sent him.
So we look at the map, and an idea comes: "Let's go there too". It's quite a steep hill. We ride our bikes for a bit, then push them, but finally put them away and decide to run that bit without the bikes.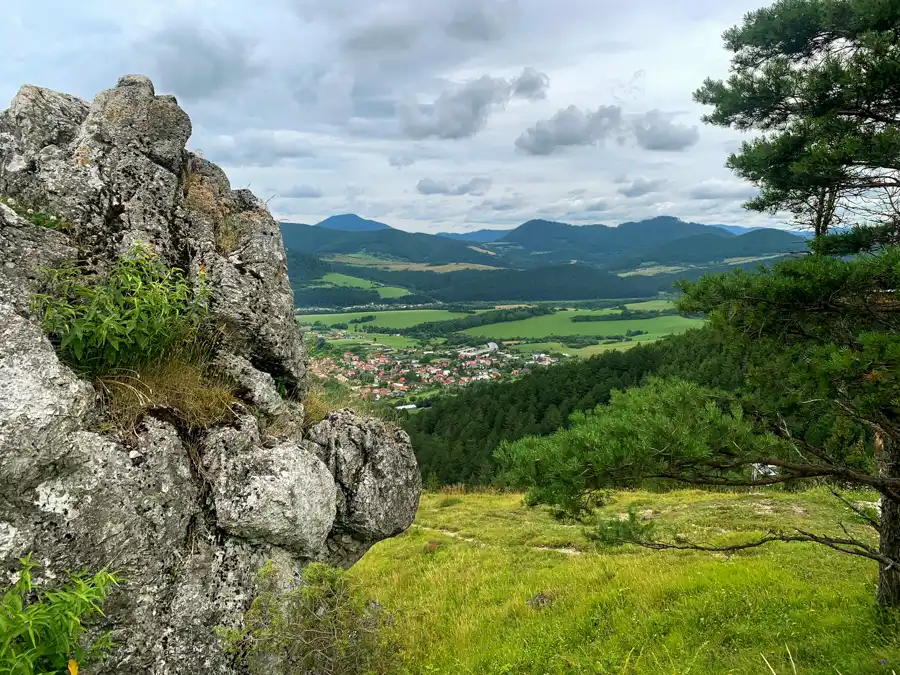 From Borová Skala, there is a beautiful view of the surrounding villages of Varín, Krasňany and Dolná Tižina, the town of Žilina and also the Kúr Valley. But it is time to go down and continue the planned route.
MTB to Terchová
We wandered a bit in Dolná Tižina. It is the only village we need to go down to on this route. We want to cross the meadow, so we pedal up another hill again, which we don't have to. But we will find out only at the top. Cows are grazing in the meadow, so down again under the field, we didn't pass this time and up and down and up again through more meadows…
Soon we will come out a short distance from the Belské skály rocks. But we are not going there today. Our route continues over the bridge over the Beliansky brook again through meadows towards Bránica.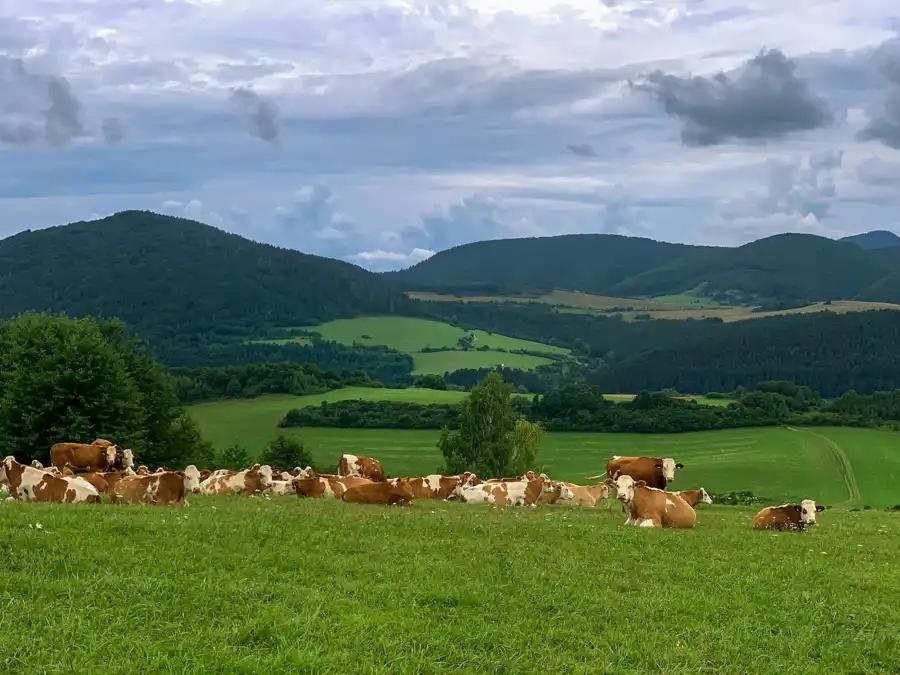 It is a bit steeper at the Hotel Bránica up by the lift, but the trail is worth it. Again we are on the meadows. We pass through the village of Mažgúrovci, Podolina, along the turn to the Obšívanka Valley, and we are in Terchová.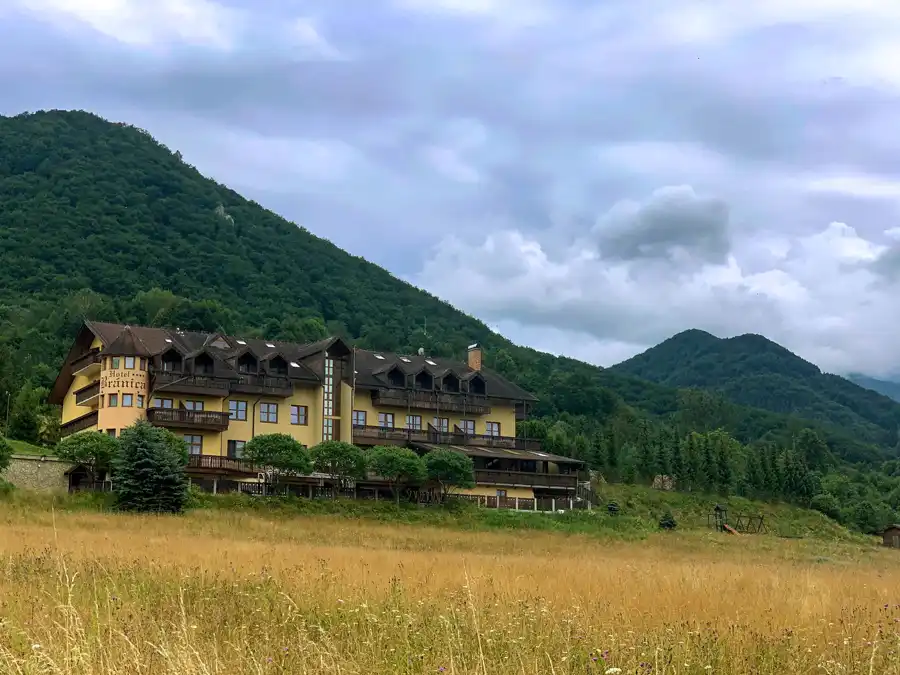 Terchová
The village of Terchová has existed for over four hundred years. It is a typical hill village with a large number of settlements. Iconic not only in Malá Fatra mountains but also in Slovakia. Terchová is the gateway to Vršatec, Vrátna Valley and Jánošíkove diery gorge. Be sure to stop at the Haluškáreň in Terchová. It is local gastro speciality.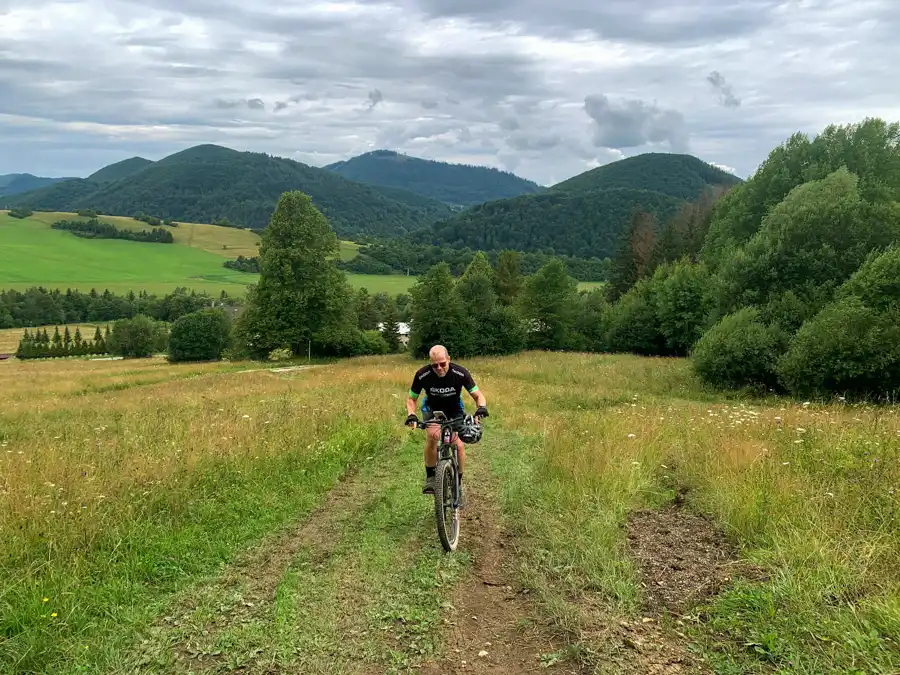 We roll home on a new cycle path with steep bridges (17% gradient). They may plan to run steamers on Varinka, but we will see in time. For a quick return, this cycle path is ideal.
MTB Terchová biketour through Dolina Kúr: a nice trip, although we got a bit wet, and there was no shortage of mud. But that comes with the territory; the weather is not always ideal.