Between Playa del Inglés and Meloneras beaches in the south of the island, you will find the Sahara—the dunes of Maspalomas.
The protected area of dunes made us feel, at least for a moment, the sense of futility of a deserted individual in the desert. The combination of sun and sand dunes will test you.
The trail around the reserve is 5 km long, but after the first kilometre of crossing the dunes, you feel like taking the shortest way straight to the sea. Here's a good tip: If you want to test your morale and fitness, don't take the trail, but cross the hilly dunes. 🙂 It's a different experience than Roque Nublo or Barranco de Los Cernicalos.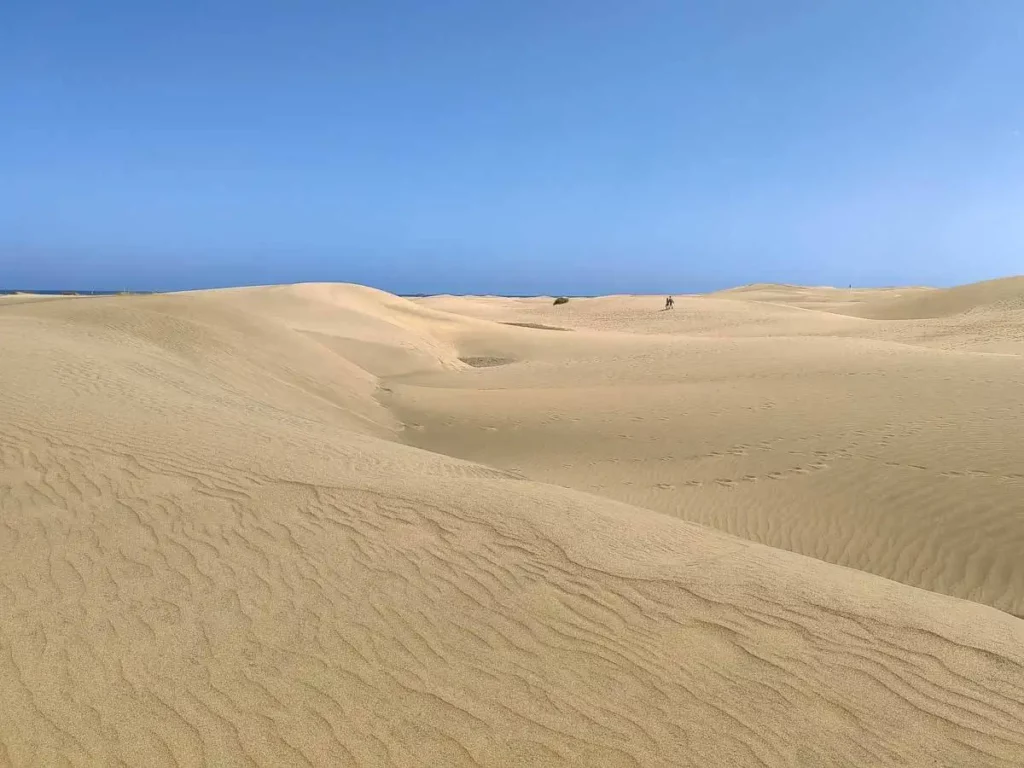 Palmeral, Charca and Dunas
The entire area of the Maspalomas Dunes Nature Reserve arose of three ecosystems: the Palmeral, the Charca and the Dunas (palm trees, pond and dunes), parallel to each other just a few metres from the sea.
The protected dunes
The whole area is a vast, precious natural space. The locals told us that this is one of the few places where Covid has helped, and two years without tourism significantly helped the dunes to regenerate. We appreciate one more thing. The beaches around Maspalomas are so vast that bathing suits and changing clothes are irrelevant here. Nudism is simply sizzling here, and we love it. Surfers gather at the bend connecting Maspalomas to Playa del Inglés.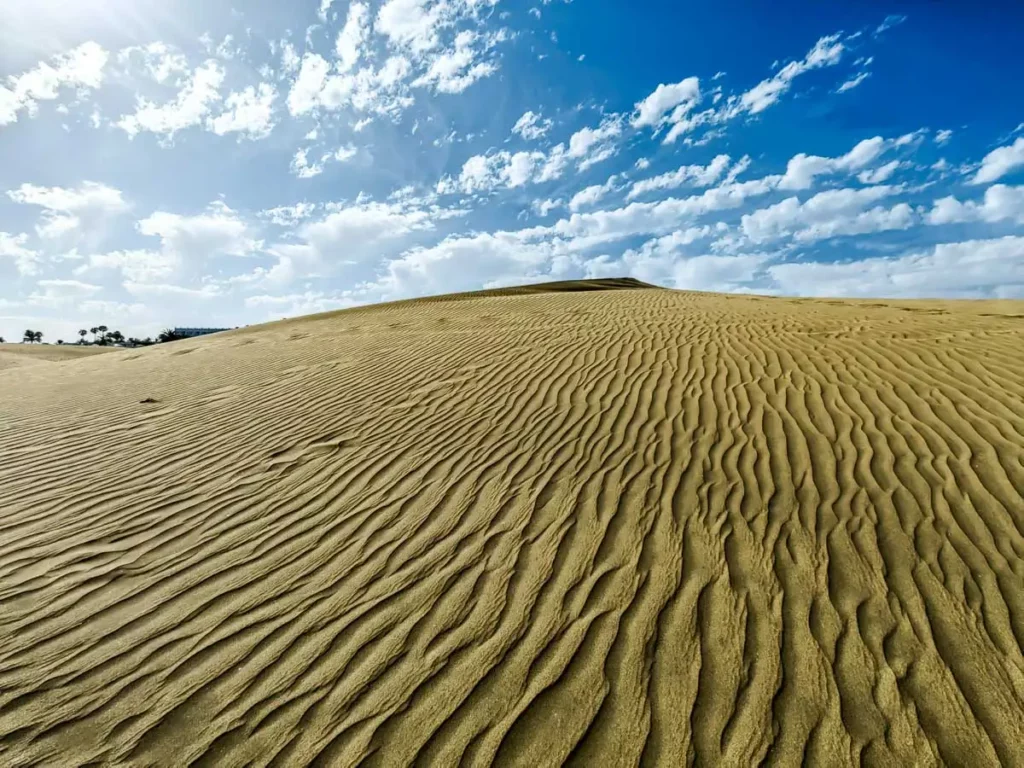 The dunes cover 400 hectares. The ideal time to take pictures is sunset, when the shadows give the dunes an unexpected space and depth.
Many years ago we discovered similar, though not as extensive, dunes in Bulgaria in the south below Nessebar.
There are other curiosities worth discovering around Maspalomas.
Maspalomas Lighthouse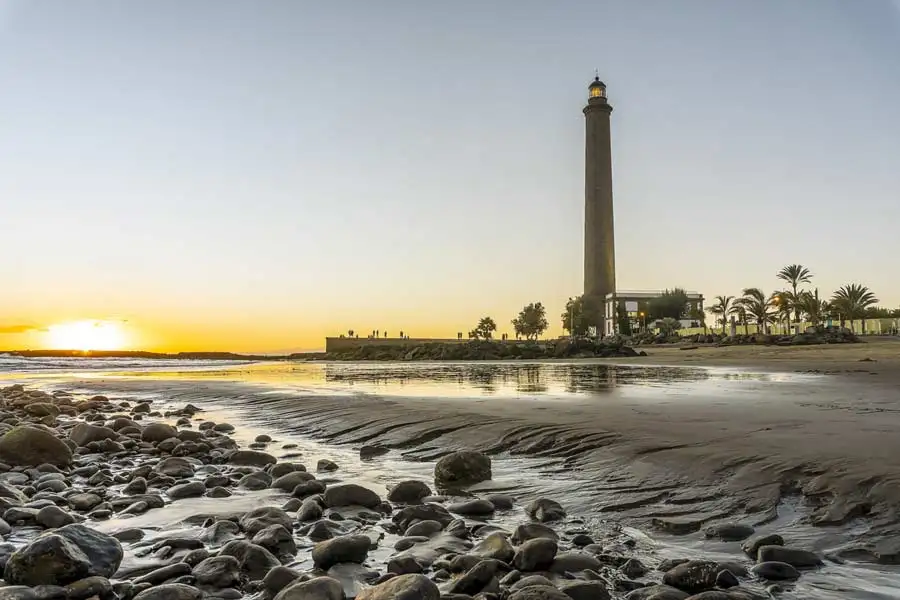 Canaries build a lighthouse in these dunes in 1861. However, it took 28 long years to complete. At that time, the place was an uninhabited desert paradise, cut off from the rest of the island. To build the lighthouse, which is 55 metres high, they used a dock with a small ramp to unload the material, which could only be brought in by sea.
Charca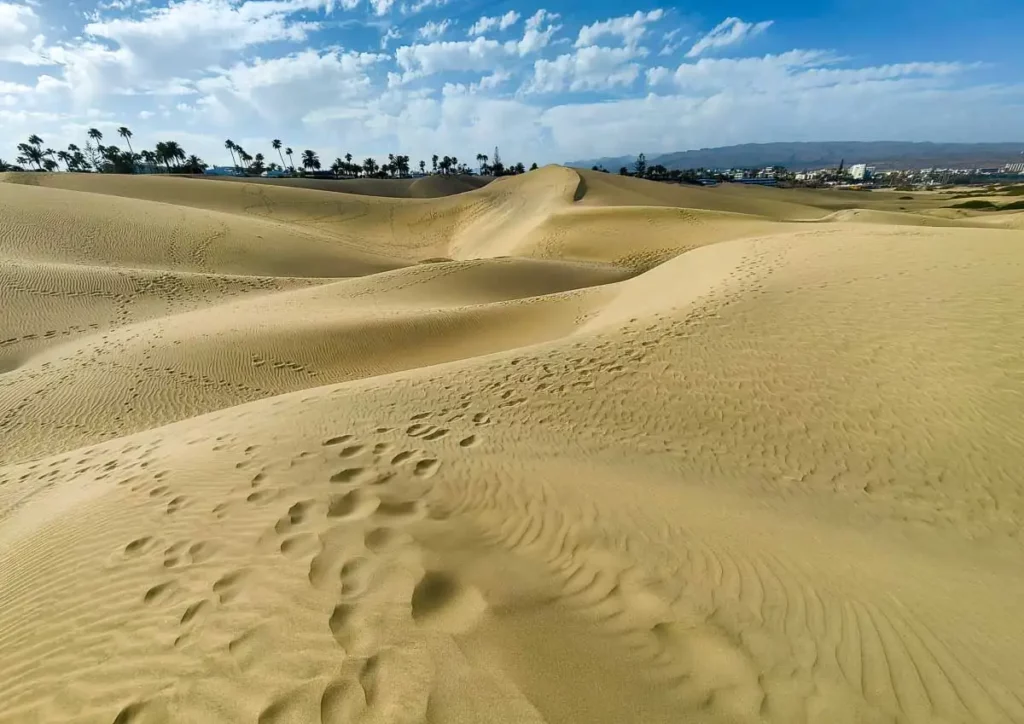 Just a short distance from Maspalomas's dunes, you will find another protected natural area, Charca. It lies between the sea and the sand and provides a resting place for birds migrating from Europe to Africa. A vast area of dunes starts behind this "pond", which is constantly changing shape thanks to the wind. There is also a botanical garden nearby, but we bypassed it for lack of time.