I slept great. Until it started raining. I don't know if the cicadas stopped or if I slept so hard, but I didn't wake up until …when the raindrops were drumming pleasantly on the tent. I was in a dry sleeping bag and didn't feel like getting wet. So, without much effort, I managed to doze until 6:00, when it stopped raining. I packed my damp stuff into my bags again, put on my wet clothes and headed out. Today, I want to get to at least Townsville, where I'll say goodbye to the Coral Sea for a few days.
Rollingstones
I wasn't much into singing in Rolling Stones, and a speech in my rear wheel broke off. The fact that it is on the side of a multi-wheel is almost a given, but that it happened in the middle is no longer common.
Of course, black thoughts immediately popped into my head. One broke off; the others are more stressed now. Will more start to tear? Will the rim hold up? Why did this happen? With the quality of the knobs and rims, we have here at the company where we assemble these wheels. I didn't count on having to deal with a problem like this. I didn't take spare spokes.
After centring the wheel a bit, I can continue on the bike. Townsville is still 50 km away, so finding a service there should be easy.
Hell of an experience in Townsville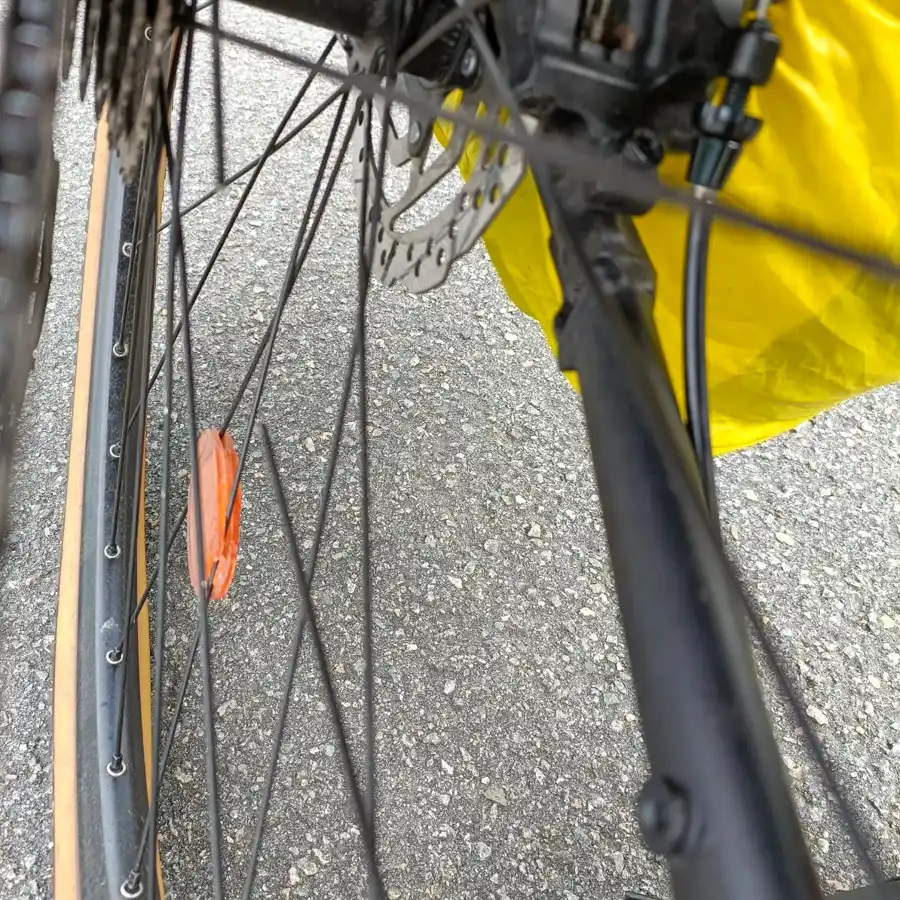 I'm in town before noon and looking for service. I get turned away at the first one. "They cannot do it now". But just around the corner, I succeed. It's a friendly Specialized shop, and a Peter Sagan ad runs on the screen above the cash register. It makes me happy and more aware of what he has done for Slovakia. It takes them almost an hour to service. I'm starting to worry that they are paid by time rather than performance. The final price is 96 AUD, about 60 €. Cheap it wasn't, but I can go on with less concern.
I am looking for some accommodation, but I only find a few affordable ones, but see two backpacker hostels. I failed at the first one because I'm too old. They only accommodate 18 to 38 year olds. On the face of it, I didn't meet the criterion. In the second one, they have a lunch break.
I feel like I can skip the evening, and it's a long way to the evening, so I decide to continue. I bid farewell to the Coral Sea and take an inland course. At the end of town, I stopped to replenish my groceries. I bought one more pump to be safe because the one I bought in Cairns when mine was stolen outside the school isn't worth much. In the shop, a shopping basket on the handlebars catches my eye. After the problem with the snapped spokes, I need to move the weight forward as much as possible. I can mount it on my bike and partially solve the problem; I'm buying that one, too. In the meantime, I'll load the purchase on the rear rack and leave the coast for good.
After 20 km, I stop and quickly eat 750 g of pasta salad. Should I set up a tent and stay here until morning? I'm probably on someone's property, so I don't feel good about it. I look at the map. I hope to make it to Woodstock Village before dark. The name intrigues me, and to say I slept in Woodstock sounds interesting. After less than a kilo of salad, I should have enough strength, so I go for it.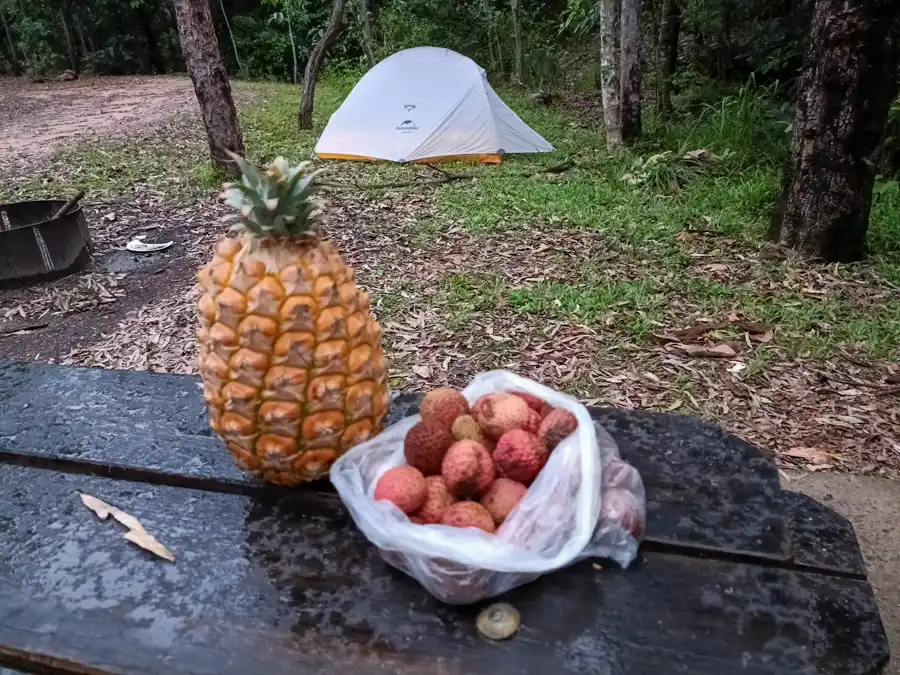 Erotic trail
The lettuce has kicked in, and the miles are adding up fast. In the distance, I see something lying on the side of the road. When I get closer, I can't believe my eyes: an oversized dildo /artificial penis in my judgement :-)/. About 40 cm must be giant. I've lost all sorts of things on the road myself, but how this got here, I can't explain even with all my imagination. When I find a pair of women's thongs a few kilometres further on, plus the fact that I've driven through Rollingstone and will be sleeping in Woodstock, I conclude that this place was rock and roll as fuck. The only thing missing is the drugs.
Woodstock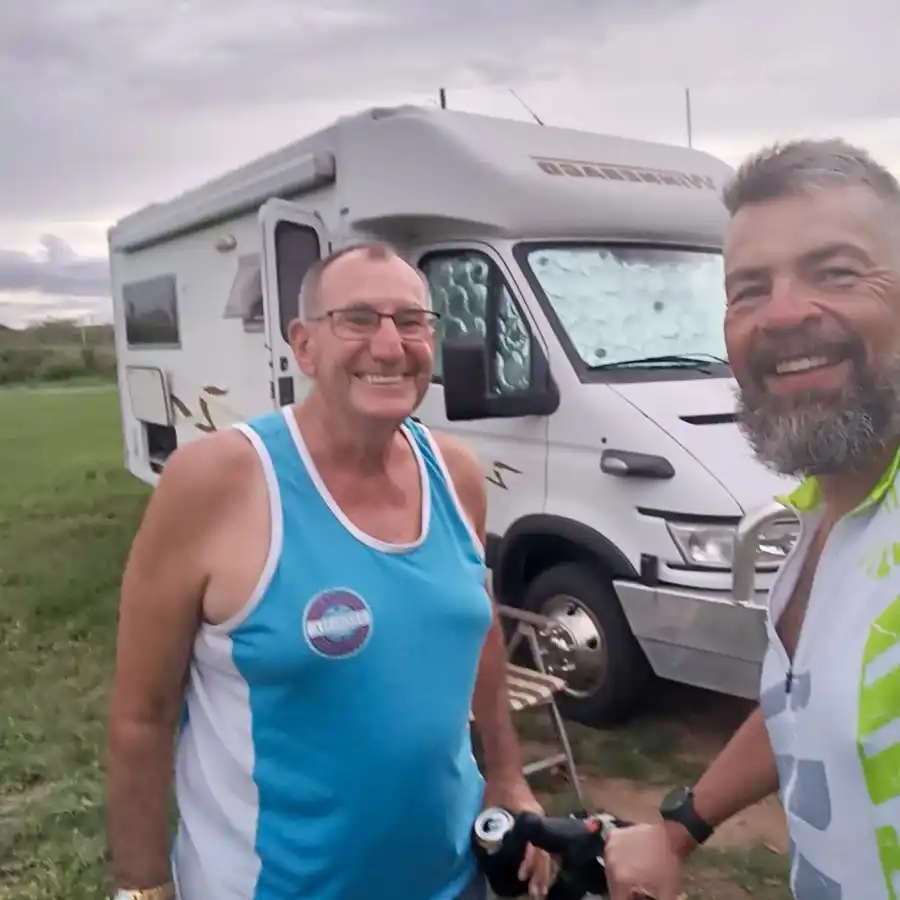 Australia: Rock and roll. I arrive in Woodstock just before dark. I pitch my tent at the local playground. There's a caravan parked there, too, so no one will mind. In the evening, I get acquainted with its owner. His name is also Peter, and he drives road trains (road trains, long trucks with multiple trailers). I learned I will have no shortage of encounters with these colossi on this road. I'm heartbroken about that, but then again, this is Australia.
I still mount the front shopping bag on the bike, which fits like an ass on a sash, and it starts to rain. It wouldn't be the real Woodstock without rain.