I don't know what I'm getting into. My plan is that I don't have a plan. I have an idea and an approximate route. And I still have a Mayo bike and a head full of ideas that I need to sort out. I'm curious to see what will come of it at the end of the year. On a bike across Australia to restart yourself.
To clear your head
How it began? Everything bad is good for something. It started with a fall from the skeleton. Nose broken off the face, knocked out tooth, broken vertebrae, surgery, a year. And a lot of sports to regain my lost fitness. Insurance claim, claim denial, appeal, claim award, payout.
In the meantime, I guess I'm finding out what burnout is. I'm forgetting, I can't concentrate, and my head is in chaos. Things in my life aren't happening the way I want them to. I feel like I need to do something bigger again, something to occupy me, clear my head and allow me to move on.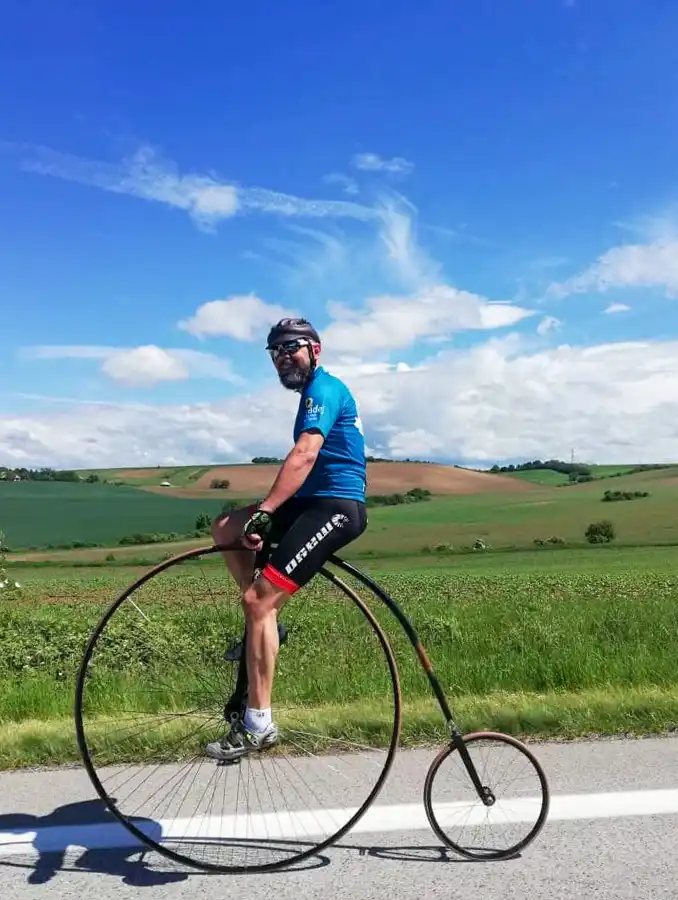 My unfulfilled dream still remains to learn English
It seems as distant as the countries I long to travel to. But suddenly, it looms, clear and very strongly. What I've always made excuses for – that I can't travel and learn the language – becomes small and bland. I have grown children, a good partner in business on whom I can throw part of
of my work (he's pretty much been doing it lately anyway), and out of the insurance payout, I can fund my education and convalescence. I just have to make a final decision, pick a destination and go. Obviously, it has to be an English-speaking country. I have a choice: England, Ireland, Scotland, USA, Canada, Malta, South Africa, New Zealand, and Australia.
I don't want to stay close. I like the exotic.
I should behave at least a bit sensibly and choose a safe country. Result:
Australia
When it comes to booking school, stay, and flights, the agency is not doing too well. The price of the tickets they offer is about 1000 € higher than I can book it myself, time is running out, and the already high price is starting to go up even more. It is definitely decided. I don't wait and buy the tickets myself.
Cairns is a choice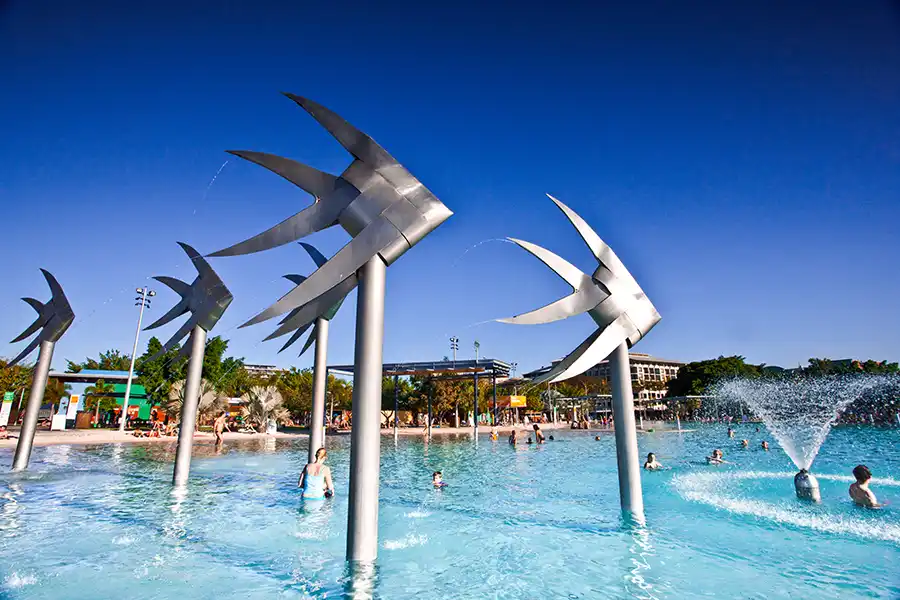 I decide on the city of Cairns. It's a "small" tourist town, which was founded in 1876 as a port for gold mines. It currently has a population of 140,000. Cairns lies in the north of Australia in the tropical, so I don't have to worry about winter there. (That I should be worried about the heat. I've yet to. I had no idea.) It is the gateway to the Great Barrier Coral and the rainforest. Ideal for excursions in the beautiful countryside and recharge your batteries.
I choose return flights from Sydney. I have chosen the option to fly with a transfer to Colombo (Sri Lanka). Once again, the gnome of the extreme has struck me. The visa for Australia is limited to three months, which doesn't seem like enough, so I'm checking out the cycling in Sri Lanka. I found Petra's blog from Czech republic. She cycled around it all in a month. So I just need to stretch the layover to one month. After two days of setbacks, I'm starting to lose hope that I can fine-tune the ticket to fit the seats, the dates (I also had to accommodate Kathy's daughter's graduation) and, of course, the price. But I managed. Flying out two days after the graduation and because of the price "only" to Brisbane.
Happy planning
There are five days to go before the scheduled start of school and a distance of 1700 km to cover. It looks like an adventure right from the start. Renting a car costs about the same as accommodation for five days.
It can't be a car from the airport. Those are expensive. I'll need to get assembled right at the airport, the bike, and head downtown. Occasionally there is some doubt as to whether it will all work out. Still, I don't have my visa and tuxedo shirt for the prom. 🙂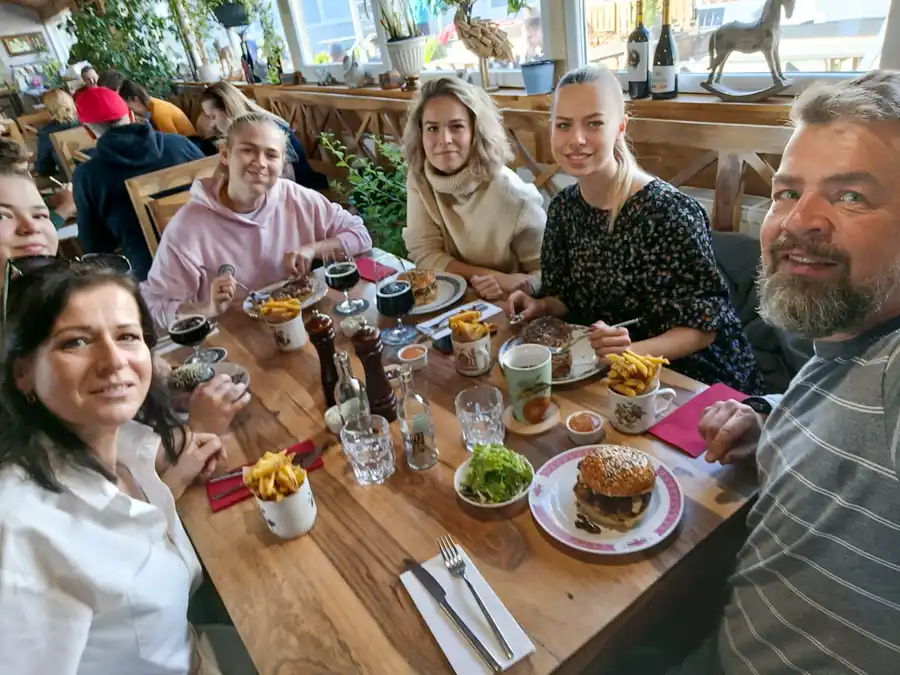 Final preparation
On Friday, six hours before the prom, I buy the shirt and the bow tie, and the visas arrive. It's high time – the bike is already disassembled and packed in a box. Just an aside: it's disassembled almost completely. I'm going to least risk an oversize surcharge. Off went the wheels, saddle, rack, fenders, rams, fork and even the cranks and pedals. It was worth it. I have two pieces of luggage: 19 kg bike + accessories and 19 kg other stuff + 4 bottles of Slovak high-end (slivovitz, pear, apricot, beetroot). They come without extra charge.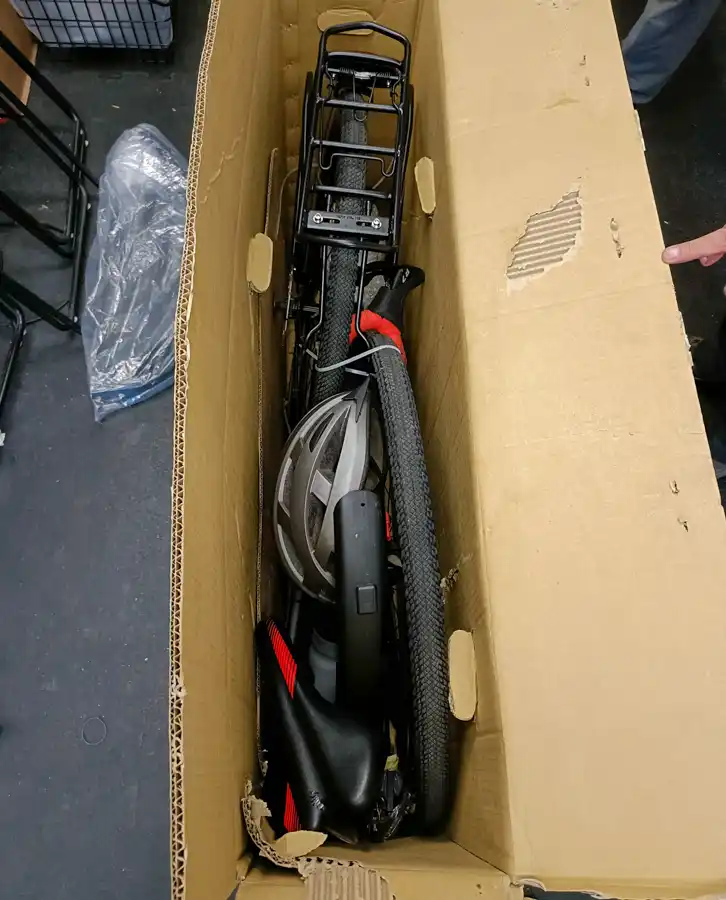 EVA Air is great. Twelve hours to Tai Pei and nine hours to Brisbane.
Fly Australia
Twenty-one hours on a plane is a massacre. But in the end, it's still bearable. We land in Brisbane.
I'm a bit stressed about my passport and customs control if everything goes fine. But it went without no problems. No big question marks.
My suitcases are waiting for me at the oversized baggage claim. First comes the bike, then the box of stuff. So I've got everything; I can go check the luggage. Apparently, there are problems with checking. They do it pretty thoroughly. I can't have, like, a dirty bike or mud on my shoes. That's at customs. I can only have medication for a maximum of three months, even then only with a doctor's certificate.
In the end, however, everything goes very quickly, and I get to the arrivals hall. It is half empty.
Most of it is made up of people from our flight. They all immediately scatter away. Almost nobody is left.
First night in Australia
It's almost midnight. Only the phone operators' SIM card kiosks are working, but they don't have the kind of I want to buy it, so I leave it for the next day. I'll buy one in town. I'll be without internet, but I'm hoping that won't be a problem. Later, I concluded that it was a good decision, because I was rarely without coverage of signal.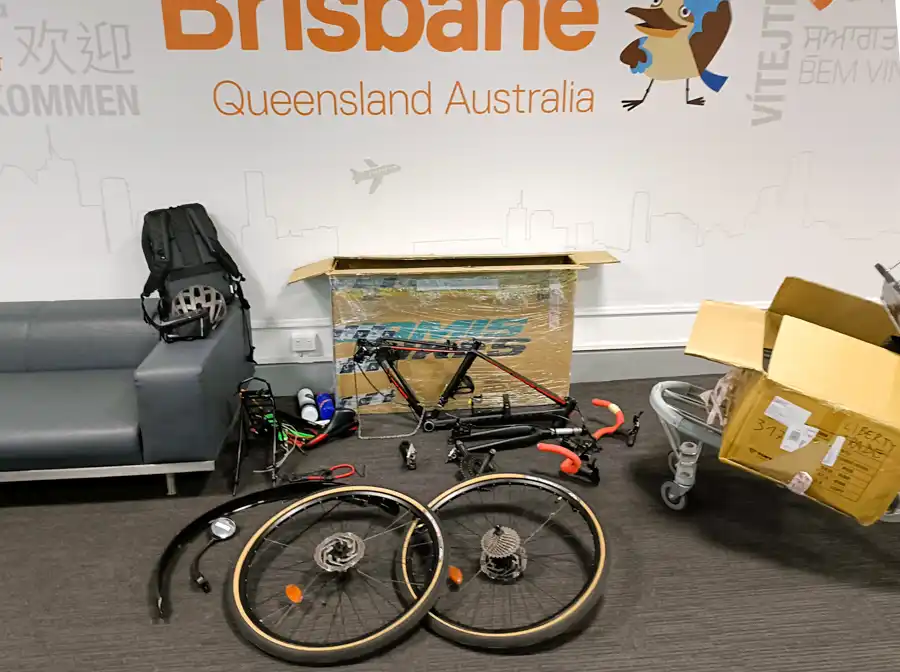 I found a cool spot in the corner of the arrivals hall. A big, comfortable seat next to an electrical outlet, a sink with drinking water and toilets around the corner. A perfect spot, away from everyone, even the few people that are here. I can fold my bike in peace and sleep here until morning. So I unpack the boxes and start assembling.
The birth of Gravel
I find that there are a few odds and ends left on the workshop table, but, fortunately, nothing important. I assemble the bike, and it is functional. A little after midnight, I retire to sleep. A short distance from me, some Indian. He is using good free Wi-Fi and is still on the phone with someone. I lie with my eyes closed and rest.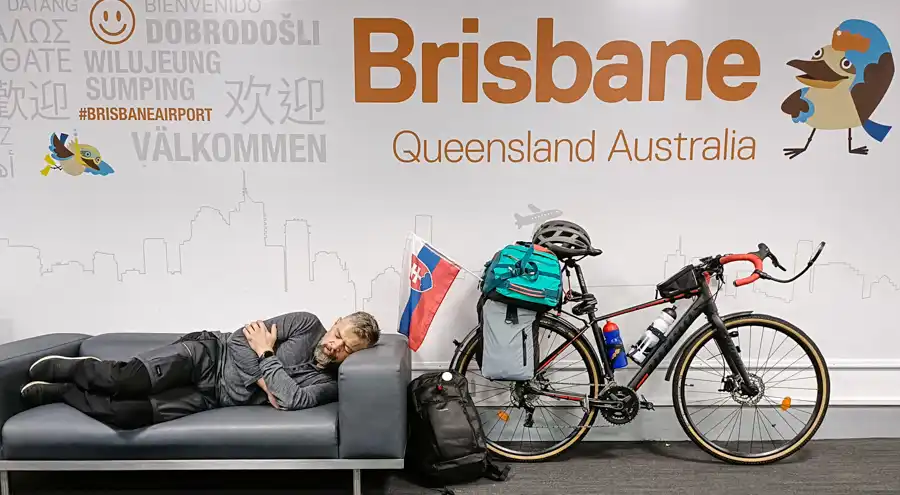 It's such a very light sleep. I don't get much sleep. In the morning, I wake up just before people arrive. I put my stuff away, tidy up and go and throw away the boxes. I also walk with my bicycle, and I come upon a pretty big problem. The entire weight is loaded on the back wheel. You can't even walk properly with a bicycle, let alone ride one. It's going to take some getting used to, but hopefully, it'll work somehow. I hop on and head off towards Brisbane, where I have a rental car arranged. I'm without Wi-Fi and without data. I'm hoping the offline maps will work.
Taste of Australian Roads
I wander a bit at the start a few times as I'm struggling with stability on the bike and fail to turn it off in time. The bike shakes, I shake, and I can't keep track of traffic and navigation at the same time. I'm looking for safety in riding on the left. Now and then, I get where I don't want to go; at times, I'm riding on the highway but in a marked bike lane. After an hour, I arrive at the rental shop and take over a white Toyota Corolla, almost like new. I load my bike into it and set off. Today I just want to get acquainted with the car. I don't need to put any great miles on it.
I'm slowly getting used to it, as well as to driving on the left. There are a lot of national parks next to the road, so I'm stopping at one. I pull my bike out and go for a ride. After a while, I see my first kangaroo.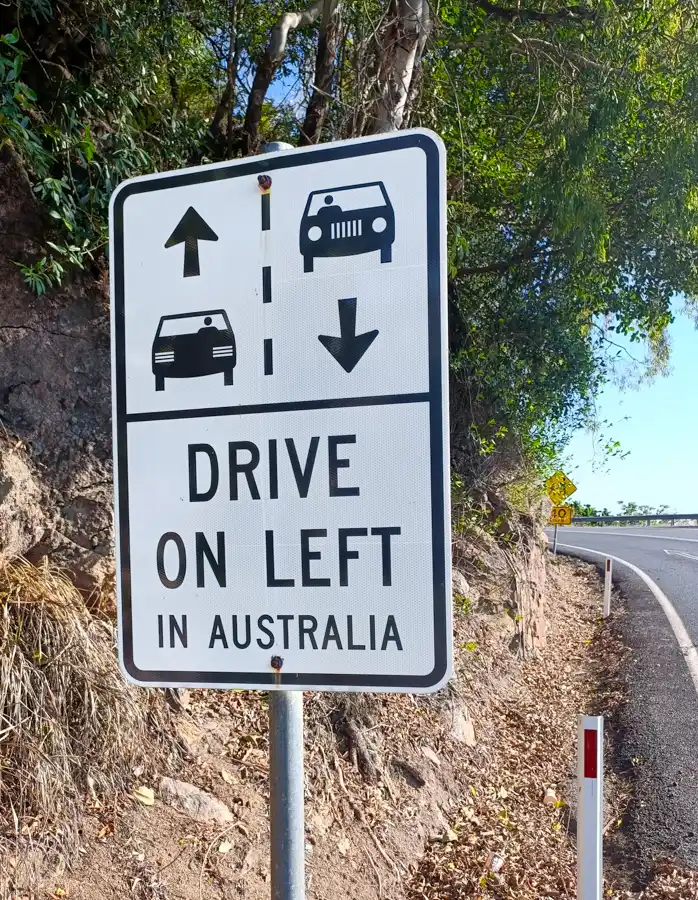 So I really am in Australia
I will ride a total of 15 km in easy terrain. It's enough to come back with muddy wheels, which means my whole new car is muddy. I'm tired, I haven't slept properly for two nights, and my eyes are closing behind the wheel. I don't want to take any unnecessary risks. I find a nice parking lot 20-30 meters from the beach, also with toilets and showers. There is a parking and camping ban, but I'm not standing here alone, so hopefully, that won't be a problem.
On a bike across Australia, Good night.